Electric Rail Transfer Wagon, Motorized Transfer Trolley
Henan Perfect Handling Equipment Co., Ltd
. is a collection of research and development, design, manufacturing as one of professional international manufacturing company of Rail Transfer Car. Our company has been founded for 13 years and has become enterprise in the motorized Rail Transfer Car business.
The BJT Series Rail Transfer Car is powered by cabled drum. The power source 380V alternating-current is supplied to the traction motor by cable. Cable is collected and released by coiling device mounted underneath the car. The Rail Transfer Car can realize full automatic operation by PLC system. The Rail Transfer Car can be applied in the environment such as severe environment,high temperature, anti-explosive etc. Simple structure and low cost make it popular for workshop transportation. The Rail Transfer Car can be applied in the occasion with any loading capacity and high using frequency. If the running distance is beyond 50m, the Rail Transfer Car needs to install cable arranger to help with cable rolling. The max running distance is up to 200-400m.
Model
BJT-2t
BJT-20t
BJT-50t
BJT-100t
BJT-150t
Rated Load(t)
2
20
50
100
150
Table Size(mm)
Length(L)
2000
4000
5500
6500
10000
Width(W)
1500
2200
2500
2800
3000
Heigth(H)
500
600
700
1000
1200
Wheel Base(mm)
1200
2800
4200
4900
7000
Rail Inner Gauge(mm)
1200
1435
1435
2000
2000
Wheel Diameter(mm)
270
350
500
600
600
Wheel Quantity
4
4
4
4
8
Ground Clearance(mm)
50
50
50
75
75
Running Speed(min)
0-25
0-20
0-20
0-20
0-18
Motor Power(kw)
0.8
2.5
5.5
11
15
Running Distance(m)
25
30
50
50
50
Max Wheel Load(KN)
14.4
77.7
174
343.8
265.2
Reference Weight(t)
2.5
5.6
7.8
14.1
26.2
Recommended Rail Model
P15
P24
P43
QU100
QU100
Detailed Image Of Rail Transfer Car
Processing Line Of Rail Transfer Car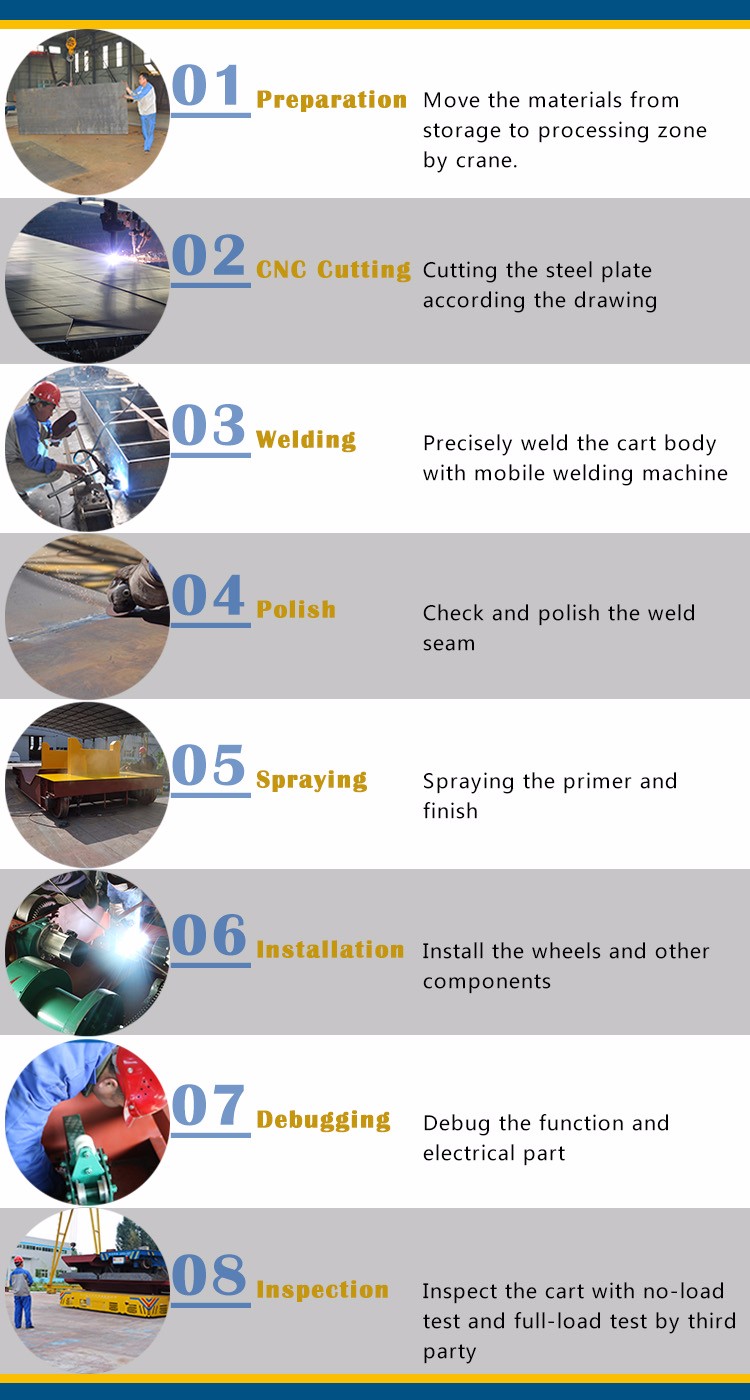 Components Of Rail Transfer Car
Functions & Advantages Of Rail Transfer Car
The Rail Transfer Car is Anti-high temperature

,

Anti-high

explosion

;

The Rail Transfer Car is powered by cable drum;

With lifting holes, Rail Transfer Car is convenient to shipment

;

The Rail Transfer Car has a feature of stable start, big starting power, long lifetime

;

The Rail Transfer Car can run on the C-form track or S-form track;

Running distance of Rail Transfer Car is unlimited

;

Safe and convenient operation is available for Rail Transfer Car;

High using frequency for Rail Transfer Car.
Application Sites Of Rail Transfer Car
The Rail Transfer Car is mainly applied in assembly line(ring production line,loop production line),metallurgy industry(steel lade),warehouse transport,ship industry(maintenance, assemcle,container transport),work piece transport in workshop,lathe transport,steel factory(steel billet,steel plate,steel coil,steel pipe,section steel structure),construction(bridge,simple building,concrete column,)petroleum industry(oil pump,sucker rod and parts),energy(polycrystalline silicon,generator,windmill),chemical industry(electrolytic cell,retort etc),railway(rail maintenance,rail welding,train tractor).
The Rail Transfer Car body is packed with tarp, the Rail Transfer Car wheel and parts will be packed with wooden case.

For lenght is less than 5.9m, the width is less than 2.2m. It will be transported by 20ft container. If the length is longer than 5.9m and less than 12m, it will be transported by 40ft container.If the quantity is 2 sets or 3 sets, they can be transported by full container. If the quantity is 1 set, it can be transported by LCL Container.If the length is less than 12m, the width is beyond 2.2m. It needs to be transported by FR container(20 or 40 ft). If the Rail Transfer Car is beyond above dimension, It needs to be transported by BB container.

Determine the size & material of the box according to the shape & number of products.

Price Term: EXW, FOB, CIF, C&F,DDU, DDP.
Our commitment: The load bearing safety factor of the Rail Transfer Car is no less than 120%.

Freely design the auxiliary device or foundation drawing, and offer the technical service and drawing material.

16 hours engineering service and 24 hours internet service for our customers.

During the warranty period, if our Rail Transfer Car can't work normally, we can support you repair technology or replace relevant parts for you within 24 hours.

Solving the quality problem within 24 hours, serious attitude from beginning to end. Value the reputation and Preserve the image of our company.
Based on modern plant and advanced production equipment, we can produce all kinds of Rail Transfer Car from 1-1300 tons, our main products including BDG series Rail Transfer Car, BJT cable drum series Rail Transfer Car, BHX safety sliding line series Rail Transfer Car, BXC battery series Rail Transfer Car, BTL towed cable series Rail Transfer Car, BP non-power series Rail Transfer Car, BQY train towed series Rail Transfer Car, BWP trackless series Rail Transfer Car and special Rail Transfer Car, such as turning, trackless,ladle, hydraulic lifting, ferry, painting room, blasting booth etc.
Our Rail Transfer Car not only have sold across the country, but also exported to US, Germany, Thailand, Netherlands, South Africa, Syria, Turkey, Nepal etc. There are more than 150 employees including 10 senior engineers, 15 engineers, 25 technicians, the employees accepted higher education including postgraduate, undergraduate, junior colleague student occupied 80%. We cooperate with the Nanjing Engineering Institute all the year round and a senior welding engineer personally directs the production. Our company passed ISO9001 Quality management system and got the CE, SASO, SGS certificate. Meanwhile, we also got 8 national patents which are S type rail turning cart utility model patent, S type rail turning cart appearance patent, rail electric forklift utility patent, electric rail tractor utility patent, steerable Rail Transfer Car utility patent, lifting electric cart utility patent, scissor hydraulic lifting electric cart patent, whole ring rail electric flat car's wheel and flat car patent.
1. Q: What term of payment do you accept?
A: For the first time we cooperate, we accept 50% T/T as depoist, 50% T/T before delivery. For the return customer, we could deal with 30% T/T as depoist, 70% T/T before delivery. Also, we accept L/C.
2. Q: What is you delivery time?
A: We will delivery the Rail Transfer Car you ordered 45 days after we accept the prepayment.
3. Q: How do Rail Transfer Car been shipped?
A: We export the Rail Transfer Carby sea or train with full container, LCL or in Bulk.
4. Q: Do you have quality assurance for Rail Transfer Car?
A: Yes, we have one year of assurance.