Standard Electric Thermal Oil Heater
General Description
Electric heating thermal oil heater consists of the main parts (including heater, high-temperature oil pump and filter) high position oil tank, control cabinet and piping. All the components of the system must work together in harmony for proper performance.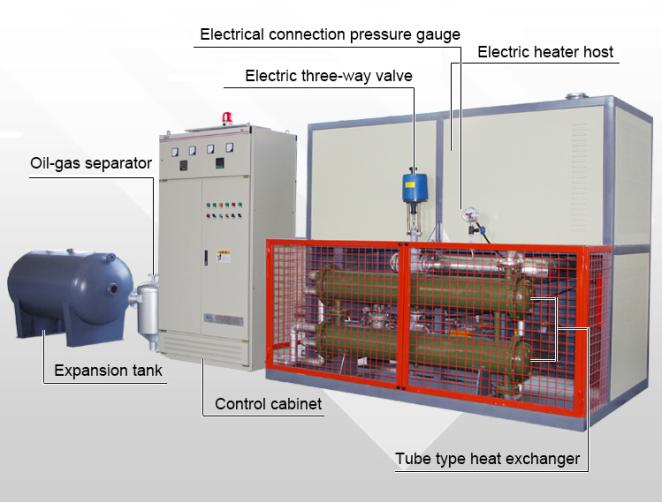 Working Principle
It is a type of indirect heating in which thermal oil as a liquid phase heat transfer medium is heated and circulated to one or more heat energy users within a closed loop system. The electric heating tube is directly inserted into the thermal oil for direct heating. A circulating pump is used to create liquid-phase circulation of heat using equipment, the heat conduction oil will return to the heater via the circulating pump, again to absorb heat, and transfer the heat to the heat using equipment. This process is repeated again and again, realizing continuous transfer of heat. As a result, the temperature of objects being heated rises, and heating requirements are fulfilled.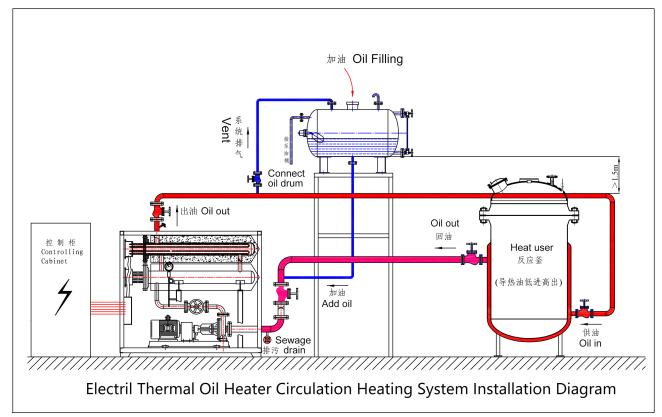 Product Parameters
| | |
| --- | --- |
| Model | GYD |
| Net Heating Capacities | 10-1,400 KW(8-1200 Mcal/h) |
| Energy Source | Electricity (electrical heating) |
| Voltage | To be determined |
| Rated Power | To be customized |
| Structure | Welding |
| Heat Transfer Medium | Thermal Oil |
| Thermal Efficiency | More than 95% |
| Pump | Horizontal Centrifugal Pump |
| Pressure | Low Pressure( less than 0.5Mpa) |
| Temperature Controller | PID (brand to be customized) |
| Circuit Control | Solid State Relay (SSR) |
| Environmental Impact | No Pollution |
| Temperature Control Precision | Less or more 1°C |
| Operating Temperature | Up to 340°C |
| Auxiliary Equipment | Without |
| Explosion Proof | To be customized |
| Service Life Period | Between 8 to 10 years |
| Operating Type | Full Auto |
| Testing | Pressure test and Functional Test |
Product Features
1.Low working pressure
Liquid phase transport heat energy can reduce working pressure and get high temperature, heat carrier is smaller than the water saturation steam pressure 70 to 80 times, general heating is less than 0.5 Mpa.
2.High heating temperature
Electric heating thermal oil heater can reach a temperature of 340°C under the low pressure and the heating temperature automatic control. When the heating temperature is up to 300°C, the working pressure is just one seventieth of the saturated steam pressure.
3.Environmental protection design
Electric heating thermal oil heater is provided with new electrical heating system, using electricity instead of coal, saving cost, protecting environment without pollution.
4.High thermal Efficiency
Electric heating thermal oil heater can reach the efficiency of 95%, and achieve stable & even heating and accurate temperature control.
Typical Applications
lProcess reboiler Heated molds and dies Radiator and heat exchanger
lReactor vessel heating Platen/Press heating Hot mill and roller
lCalender roll heating Ovens and drying tunnel Plate heating
Delivery & Packing
Delivery time: Machine will be shipped within 30 working days (or on request) after payment, our technician will test the machine well before shipment, so our customers can use directly when got the machine.
Packing: plywood case. Machine will be wrapped with plastic film and then put into plywood cases before cleaning.