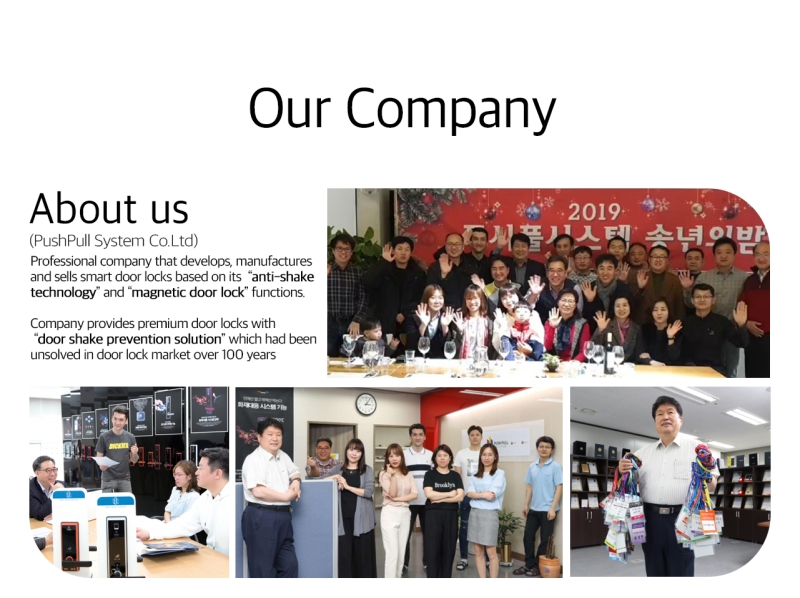 Pushpull System Co., Ltd is Korean smart door lock manufacturer that directly produces several smart lock innovations under the best Korean quality standards. The Main product type is smart lock for residential and hotel use. These products are manufactured and sold under BABA Lock brand which is presently emerging as a new Korean brand in global markets including East Asia, Australia, India, New Zealand, and Canada.
BABA-8201 product is being one of the premium products offered by the company. This product type has unique features which include fingerprint, card, password, and emergency key opening methods, additionally, the product is also compatible with smart phone through the smart app control using Bluetooth connection. Also, product has one-time password, fire alarm, robbery alarm, double lock, master card, master password, random password, voice guide (English, Korean, Chinese, Vietnamese languages), low battery alarm and other functions which provide security and comfort to customers. Besides, Pushpull System is manufacturing smart locks with antimicrobial protection coating which has 99.99% efficiency to eliminate any virus or bacteria (FITI Test assured). Also products have special anti-shake technology which is a solution to door shake, wind noise, noise from outside through door shake and that makes Pushpull System the only company in the world to achieve and to apply this technology with international patents in 51 countries globally.
As aa result of these innovations, Pushpull System products are selected by Korea Government as Brand K products which makes the company the only Korean smart lock manufacturer to represent Korea in global markets. This recognition assures and promotes company to become the leading smart lock brand of Korean smart lock industry.

Buying Categories
- Doors >> Construction & Real Estate
- Door & Window Handles >> Construction & Real Estate
- Furniture Hardware >> Furniture & Furnishings
- Home Decor >> Furniture & Furnishings
- Locks >> Security & Protection
Selling Categories
- Construction & Real Estate >> Doors
- Construction & Real Estate >> Doors & Windows Accessories
- Furniture & Furnishings >> Furniture Accessories
- Furniture & Furnishings >> Home Decor
- Security & Protection >> Locks