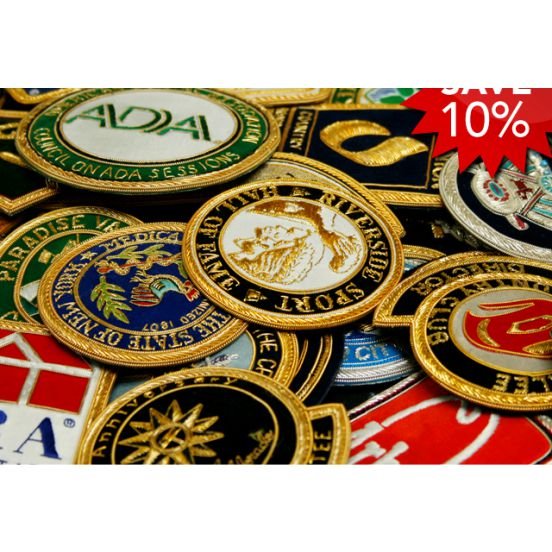 EBC Group (Export Belt Corporation) is a leading company, dealing in a wide range of hand and machine crafted products like Embroidery Ornaments and Trimmings including Embroidered Badges & Emblems, Hand Embroidered Badges, Fashion Badges, Blazer Crest, Decorative Motifs, Insignia, Wings, Emblems, Coat of Ams, Family Coat of Arms, Computerized Patch, Woven Badges, Banners, Flags, Peak Caps, Berets, Cap Cords, Chin Cords, Lanyards, Aiguillettes, Shoulder Boards& Knots, Epaulette, Chevron, Sword Knots, Frogs, Slings, Ribbons, Braids, Trimmings, Tassels, Waist Sashes, Fringes, Hackles, Ties, Medals, Anklets, Leather Belts & Gloves, Web Belt, Regalia Outfitters, Military Outfits, Military Garments, Hunting Garments, Regimental Colors and Accessories are Products among others.

In addition, we also deal in enchanting Sportswear & Leasur Wear and Leatherwear items, which include T-Shirts, Tees, Polos, Polo Shirts, Track Suites and much more. Our entire range of products has been widely appreciated by the clientele for their finest quality and competitive prices.

Badges, Crests, Insignia, Patches, Uniform Accessories and Uniform Accoutrements Articles

The Badges and Crests are an attractive and durable way of giving a message that will be remembered whether to represent an occupation, such as an authority, fire service, airline, military department or an institution, company, business, a club or to mark a special event or anniversary, or just to advertise, they will be seen in places that other media will not. People like a quality souvenir or keepsake of an event or visit.

Leatherwear, Gloves & Sportswear Articles

EBC Group manufactures leather goods (jackets, trousers, gloves and accessories) and sportswear (T-Shirts, Polo Shirts, Track Suits, Shorts, vests, hood jacket, and rain jacket) for both armies and fashion brands. Our know-how in assembly techniques, leather & fabric selection and tailoring them allows our design office to realize all your prototypes.