Inflatable relief Pneumatic Tent,

The tent is supported by air inflatated pole, it can be set up in very short time, normally a 7x5m arena can be set up by one person within 5mins. As for the roof, we make a lot line holder for lights or any Bottle needed when in relief situation.

The tent can be seperated into small room when in special situation.
Inflatable structure are designed for a short-term and long-term use in many areas, especially in cases with an immediate need for background, but even to accommodate people, to deposit material etc. The tents can be connected among each other and so a bigger interconnected complex can be created, e. G. A field hospital.

It is easy to set up in a short time, and moveable to different place as requested, it can stand up after inflated by air blower or air pump.
The size and design can be customized. Just tell us your idea and we can make it.

Below is our quolity control process for the product, which can ensure our client received perfect goods.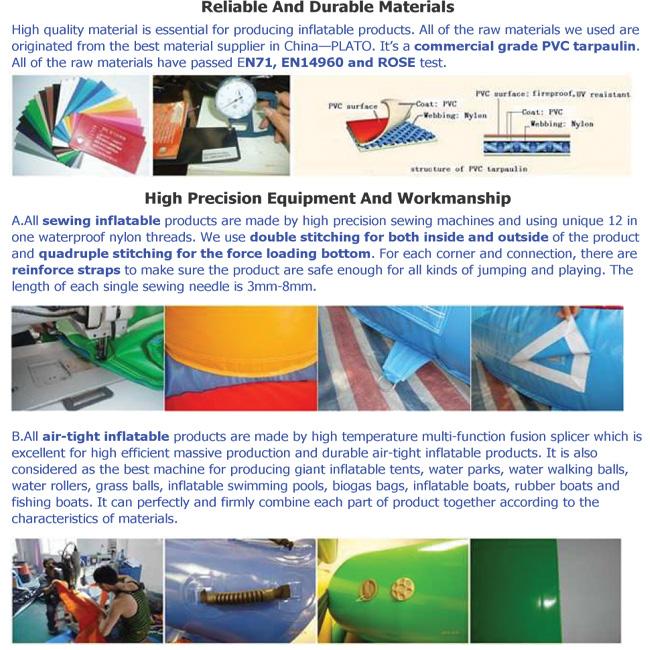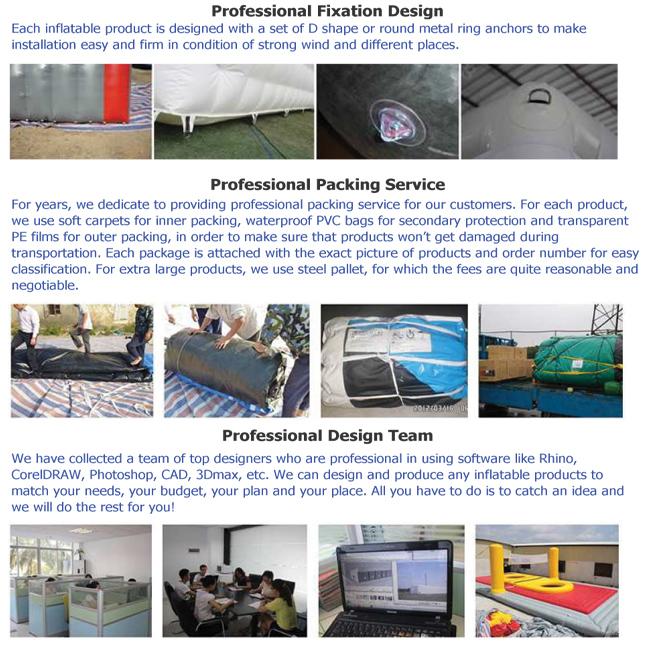 YOLLOY, inflatable solution provider in China

We have been concentrated in inflatable industry nearly 10 years and can customized any inflatable products according to the specific requirements of clients, such as inflatable tents (inflatable/airtight/EXTRA giant) and inflatable toys (land/pool/lake/ocean), inflatable bouncers, castles, slides, combos and more. Our inflatable tents, water slides , water parks toys, have earned ourselves a good reputation for the excellent quality, fast production, prompt delivery and price!

If you are interested in any inflatable products, contact us for quick response! 24 hours online support available!

FAQ

Question 1. What are the differences between sewing inflatable tents and sealed inflatable tents?
Answer: sewing Inflatable tents are lower cost products that need constant blowing comparing with sealed tents, which sealed inflatable tents are using heat welding technology and tent can keep stay after inflation.
Question 2. Can I have custom design with needed doors, windows, preferred colors and printings?
Answer: Yes, you can. We have a team of professional designer who are able to design the tents as requested. Of course, we always confirm the design for production confirmation, so you will surely get what you want for actual use.
Question 3. How to blow up a tent? What can I do when the tent is not in use?
Answer: We can show you how to blow up the tent and pack it when not in use.(pictures and videos are available.)
Question 5. How long will it take to produce a tent?
Answer: It all depends, large tent will need more time. We will get start with the design once received the deposit. After the design is confirmed, we will arrange the production. Usually, the production will take about 2-3 weeks.(Exception for urgent order)
Question 6. How long will it take for the delivery?
Answer: By express and air will take about 7 days, while by sea will takes about 35 days.
Question 7. Do you offer accessories like blowers/pumps, repair kits?
Answer: Yes, each tent is equiped with enough CE/UL blowers/pumps(according to the electric system in your country) and repair kits.
Question 8. Can I check the tent before delivery?
Answer: Yes, once the production finished, we will send you the pictures. Or you can come and make a check.
Question 9. How about the warranty?
Answer: We offer 2 years warranty for each tent.

Below is the other inflatable relief tent, inflatable emergency tent, inflatable sheter, inflable refugee tent that we have make for client, if you need any customized tent, please contact us.