Tags: nail dryer, led nail dryer, gel lamp,led gel lamp,UV nail dryer,UV gel lamp, nail polish, nail art
Enfren LED GEL Dryer NAIl WATCH ES-50
Please enjoy your own time for nail with ENFREN NAIL WATCH.
Anytime, anywhere, quickly and easily!
NAIL WATCH saves your precious time
NAIL WATCH is fast. The NAIL WATCH (ES-50) equipped with powerful POWER bakes gel quickly, you do not need to wait for a long time, and work efficiency is high, which saves your precious time.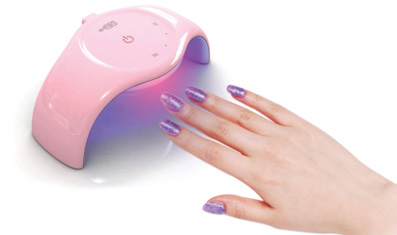 NAIL WATCH is powerful
The nail watch equipped with 0.5W SMD LED which is equivalent to 5-8 general lamp-type LED, has a strong power with only 6 LEDs and burn gel really well.
In general, the base and top gel can be cured in about 20 seconds, and color gel can be cured in about 30 seconds.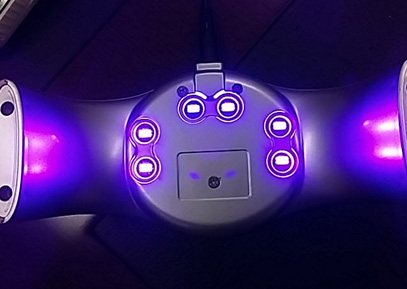 NAIL WATCH is safe for the skin
Unlike existing products using UV fluorescent lamp, nail watch uses LED emitting 405nm wavelength range, so you can use it safely because UV-A (320-400nm) or UV-B (290-320nm), ultraviolet rays harmful to the skin do not emit.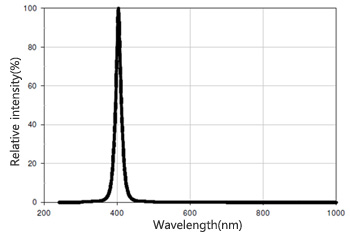 NAIL WATCH is easy and simple
The nail watch operated by touch sensor switch can be used easily and simply by everyone. Once the switch is just flicked, it starts to operate, and a timer is built-in, so separate operations are not required because it is designed to stop automatically after 30 seconds.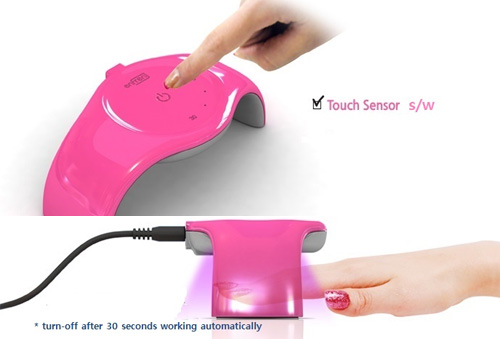 NAIL WATCH is available anytime, anywhere
The nail watch that can fit comfortably in a handbag, is compact, lightweight size with length 15cm, weight 70g and it is easy to carry, so it can be used conveniently anytime, anywhere.
(It uses 100 ~ 240V Free Voltage adapter, so it is available abroad). In addition, the nail watch designed as a motif of watches is a product that can go well in a variety of environments.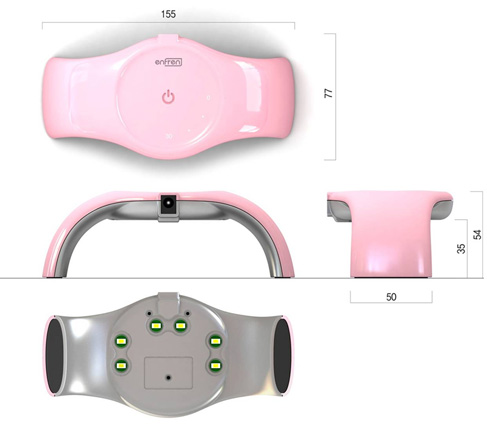 NAIL WATCH is economical because it can be used for a long time.
The nail watch does not need to replace the lamp frequently like a fluorescent product and compared to the products using normal LED in low-cost, it has almost no chance of failure (approximately 1/15 level only), so it is available products safely for a long time.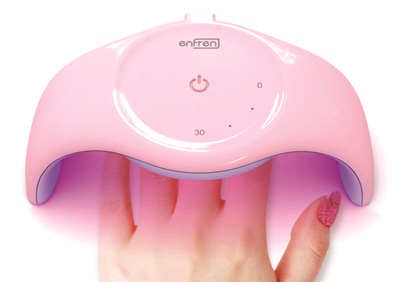 Please trust and use NAIL WATCH confidently
To all products made from ENFREN Co., Ltd. specialized in LED application products and exporting to overseas countries, one year warranty systems are applied. You can use it with confidence without worrying about exchange or A/S.
ENFREN Co., Ltd. is a company of which the brand has been guaranteed by Hi Seoul brand and KOTRA of KOREA and is committed to making a good product.