Enfren Portable LED NAIL DRYER ES-20
Compact & Slim Design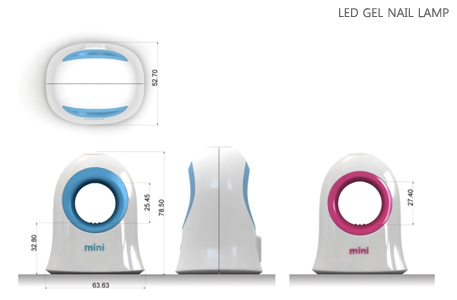 Ultra Mini Size and light weight: Easily carry anywhere.
Size: 64 x 53 x 79 mm, body weight: 43g
Using several source of electric power
Possible to use AC Adaptor, PC(LAPTOP), Smarter phone battery pack etc. With USB mini cable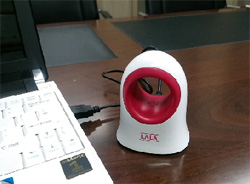 Strong Power, Quick drying (hardening) Ability
As 2 PCS of SMD Type LED are built-in, drying speed is very quick and time saving and work efficiency improved.
In general, the base and top gel can be cured in about 20 seconds, and color gel can be cured in about 30 seconds.
Environment-friendly UV LED safe to the skin and proved was applied
Enfren GEL Dryer applied the SMD type UV Power LED of 405nm frequency
: Since the UV-A (320-400nm), UV-B (290-320nm) emitted from the existing UV fluorescent are not discharged, it is safe to the skin.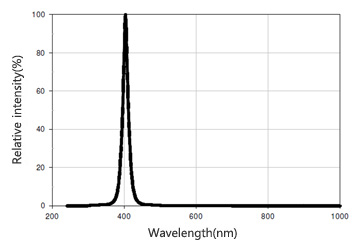 ES-20 is easy and simple : Easy operating System(PATENT Registered)
A system that once the hand is naturally put at the product's lower part, it automatically recognize and move was embodied (automatic recognition - movement - completion) - As it equipped with a static capacity method touch sensor that moves after sensing the electric current running in a man's body, it is possible to use without wrong functioning from static electricity or outside influence irrespective of day & night.
It is normally operating even if it is stained with manicure, foreign substance etc or contaminated
As a Timer is built-in, it automatically close after operating.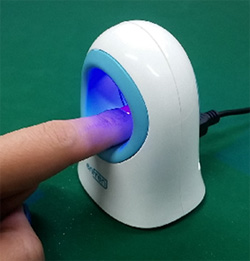 Please trust and use NAIL Dryer ES-100 confidently
To all products made from ENFREN Co., Ltd. specialized in LED application products and exporting to overseas countries, one year warranty systems are applied. You can use it with confidence without worrying about exchange or A/S.
ENFREN Co., Ltd. is a company of which the brand has been guaranteed by Hi Seoul brand and KOTRA of KOREA and is committed to making a good product.