# All-In-One Lotion # Emulsion #After Shave Lotion
Introduce (insert product title here)
- Manneric Whitening Homme All-In-One Lotion
Primary advantages
-Skin Regeneration
-Whitening
-Brightening
-Soothing
-Hydrating
- Anti-Wrinkle
Competitiveness
- After shaving, Men can use this Emulsion Lotion which has function of Skin Toner and Essence.
- No need to use Skin Toner and Essence or Emulsion separately
- All-In-One Function Product
- Effect : Whitening (Brightening), Anti-Wrinkle Improvement
Why should I buy (insert product title here)?
-There are not many Beauty Cosmetic for Men.
- Mostly Men do not want to waste time and need simple treatment.
- This All-In-One Emulsion Lotion can satisfy men who look for cosmetic especially after shave
- This product can be use day and night.
- Especially after night, user can feel full hydrating inside skin
Superiority
- All-In-One function
- 9 Main ingredients to improve skin care
Niacinamide / Adenosine / 8 types of Peptide / Panthenol / Allantoin / Butyrospermum Parkii (Shea) Butter / Ceramide NP / Squalane / Hyaluronic acid
- 5-In-1 Fuction : Toner + Lotion + Whitening + Anti-Wrinkle + Soothing
Primary advantages compared to competitors
- For normal cosmetic, especially for men, there are not many All-In-One type cosmetic
- It is simple and quick for men doing shaving as one time using cosmetic, one is enough
Where can (insert product title here) be used?
- This cosmetic is for all skin type product as day and night use.
Who might use this product?
- Especially men can use this, But Women also definately use it.
- This product, Women use first and find it excellent and recommend it to men.
Usage
- Take some lotion and spread it on face widely
What certifications do we own?
- No Irritation Index test completed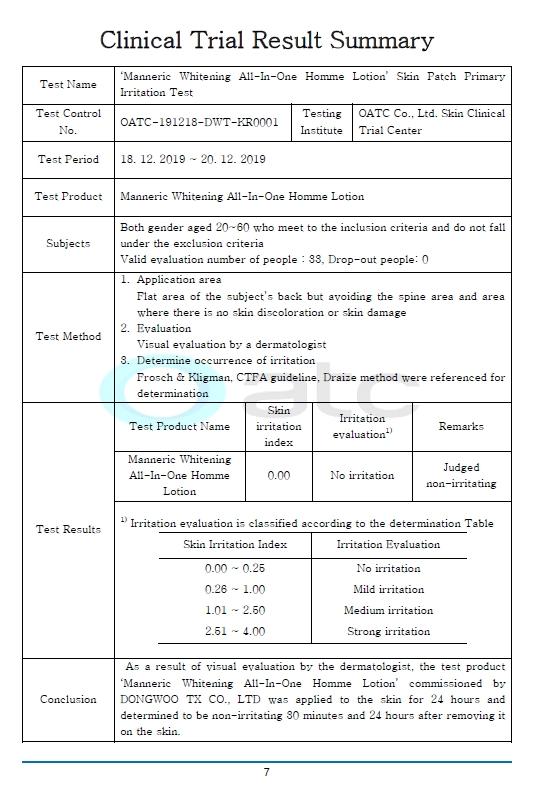 What payment method do we have?
- T/T in advance