Objective: vivid and unforgettable presentation TURKEY's national tourist organizations at UITT'2019
Result: Black colour created a unique, powerful and spectacular stand. Black colour make stand expensive and even a simple architectural point of view. The installation of Gepekli Tepe was a unique photo location, whitch attracts many visitors and made the stand like landmark for the exhibition.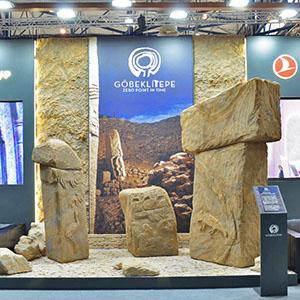 Required tasks: Turkey regularly participates in the exhibitions and its stands are recognized as the best. We are proud to have been creating unique projects for 4 years.
Design and preparatory work: The traditional color of the Turkish stand is white, and our designers change it to black. This color is not the easiest to work with. Clients are afraid to work with it, because is a risk of getting look cheap. But Turkey's example is the best confirmation to the contrary. There were no strict budget constraints, but a rational approach was required. We decided to optimize costs using constructor, which saved money on the facing-decorative component of the project. In addition, this constructor saves space - wall thickness 100mm.