Expandable Garden Hose Set with Connectors and Spray Nozzle
Item No.: HT1077
Desc.: Expandable garden hose set, flexible hose set with 7 pattern spray nozzle, valve, connectors and universal adaptor
Also known as elastic garden hose, pocket hose, Xhose, shrinking hose, flexible hose
The spraying patterns of spray nozzle includes shower, flat, center, cone, full, mist, jet.
The expandabe garden hose are made of high quality latex (not the cheap plastic stuff); Enviromental and Non Toxic.
Outer Cover: Super strong polyester webbing, making the expandable hose looks more beautiful and attractive.
Heavy duty aluminium connector is firmly structured, guaranteeing Huntop expandable garden hose super leak-free.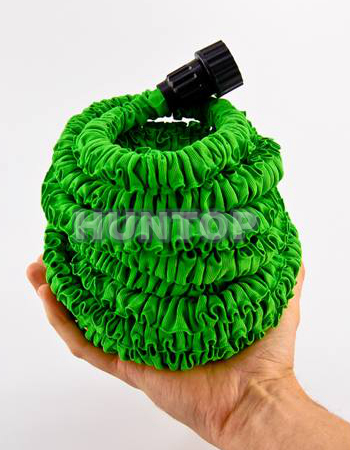 Available sizes: 25ft; 50ft; 75ft; 100ft
Color: Green, Blue, or Customized.
Connectors: Plastic or aluminium reinforced.
Packing: customizable color box.
More advantages of Huntop expandable garden hose set:
• The expandable garden hose in the incredible hose that automatically expands up to 3 times it's length while giving you up to a 3/4 inch diameter powerful high-flow spray.
• Simply turn the water on and watch the expandable hose grow. Turn the water off and the pocket hose contracts itself to the original size.
• No more struggling with heavy hoses. The expandable garden hose is light weight and tangle free.
• The expandable hose will make your life easier and fun gardening your lawn, also a wonderful tool for washing.
• Top quality, high performance vs pricing ratio.
• EACH of Huntop expandable garden hose is approved by leak-free inspection before packaging
• Durable and long life than normal TV products.
• Export volumes: 16 HQs every month
Huntop expandable garden hose received repeat orders from over 20 countries, USA, Germany, France, UK, Italy, Japan, Australia, New Zealand, and more.