Brief Introduction of V98 Expire Date Printing Machine
1.Quick-dry ink used industrial non-contact small character inkjet printers
2.Print consistently high quality images even on structured and uneven surfaces
3.Print features include TEXT, DATE, TIME, BATCH NUMBER, LOGO AND TRADEMARK
4.Easy to be integrated at any position of the production line
5.User friendly interface and most reliable ink system
6.32 bit embedded CPU, large memory, and the 8.4'' TFT bright clear touch screen7.Multitask system, printing and editing at the same time
Advantages of V98 Expire Date Printing Machine :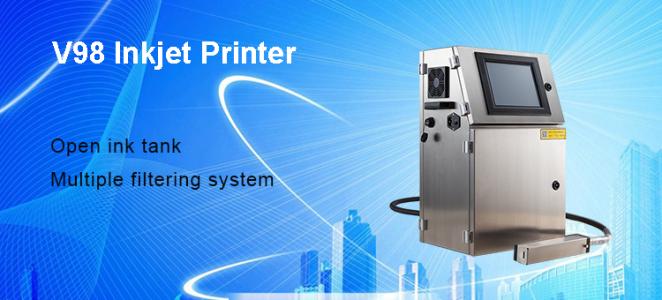 Competitiveness :
Why should I buy V98 Expire Date Printing Machine?
Hydraulic system
1.Full automatic viscosity control and pressure control
2.Diaphragm pumps with reliability, longer life, low maintenance cost than gear pump
3.Electronic control system completely separated design from hydraulic system
Print Head
1.Compatible design, maintenance friendly
2.Automatic ink stream on when start up and ink stream suck back when turn off
3.Nozzle size: 58 μm standard, 52 to 65 μm optional
4.Easily accessible and can be installed in any position
5.Distance from print head to print surface 1mm~30mm
V98 Expire Date Printing Machine Specifications
CIJ inkjet printer

V98

Max. Print Speed

800 characters per second(5*7 dots)

Printable Font Height

1mm-20mm adjustable. Maximum can be widened 9 times

Dot Matrix

figure & letter within 24 * 24, and user-defined within 32 * 32

Memory Capacity

Up to 1000 massages

Printing line

within 5 Lines

Printer Content

Time, date, lot numbers, serial number etc.

Operate Interface

Chinese,English,Russia

Print Material

metal, plastic, glass, wood, tube, electrical wire, cable etc.

Ink color

Black, blue, red etc

Ink Consumption

70 millions character per litre

Power

AC220V /380V 50HZ 100AV

Printhead Throat Length

3m (customizable)

Communication

USB and

RS232 port

Environment temperature

5℃-45℃

Humidity

Below 90%

Machine Dimension

248 * 338 * 550mm

Package Size

625 * 455 * 730mm

Gross Weight

50-55kgs

Display and Keyboard

8-inch full-color high-definition touch screen,and full-touch virtual keyboard
Main functions& Applications :
Where can V98 Expire Date Printing Machine be used ?
V98 Expire Date Printing Machine have been used for many years for consumer and industrial product coding applications. They print small character text, logos, and bar codes on a variety of products from food and beverage containers to lumber and pipe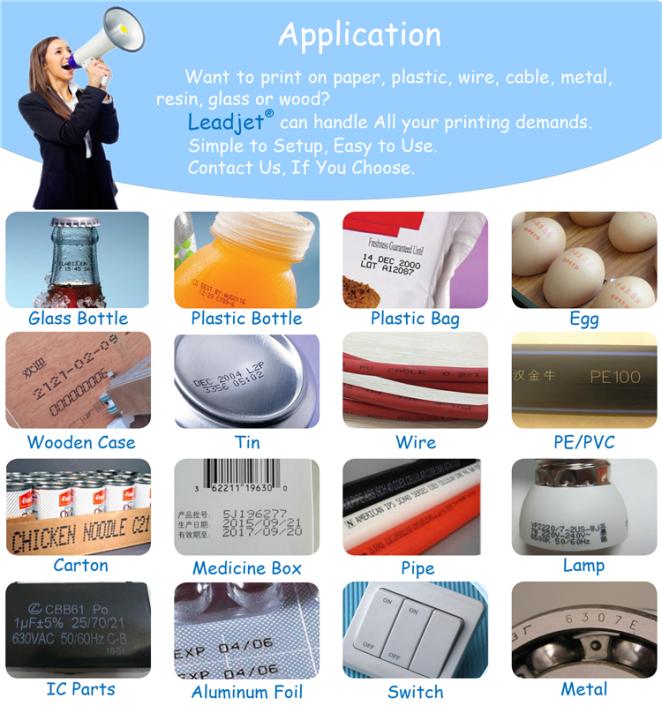 Key Features and Parts of the V98 Expire Date Printing Machine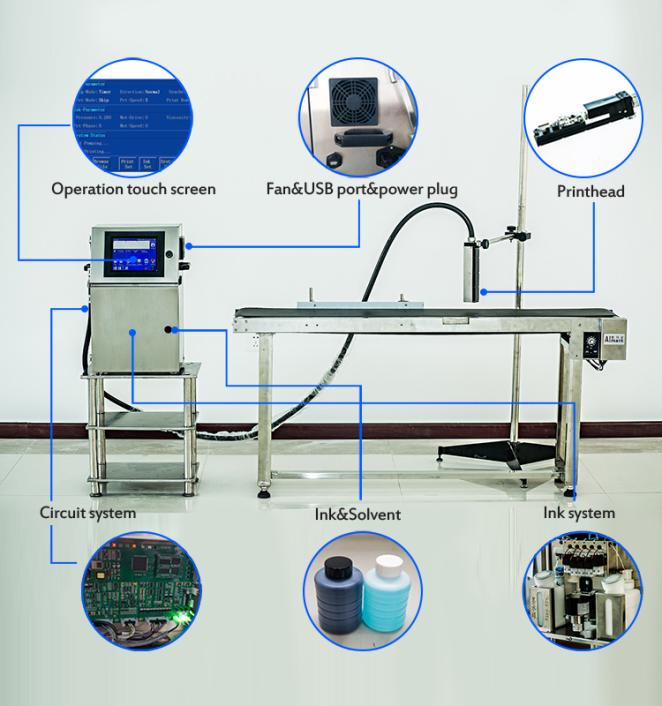 Why Coose Us ?
How do I use it? Cautions for use , we have videos to show how to operate the printing machine.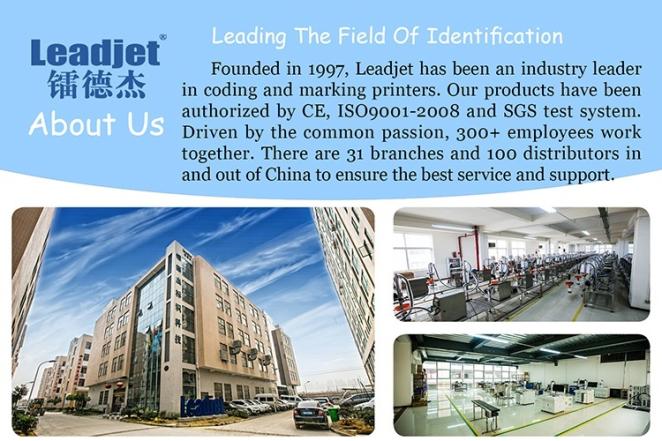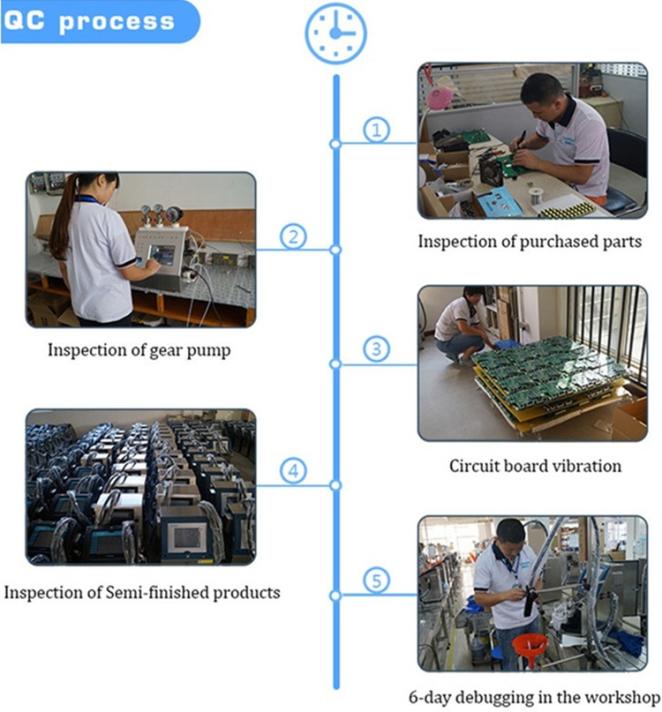 RFQ
Q:Are you factory or trading company?
A:Founded in 1997,located in Wuhan,Leadjet is an integrated industrial and trade enterprise which has 31 branches and offices all over China.We sincerely invite you to visit our enterprise!
Q:Is your machine available to my product?
A:Show us your product and the content you want to print on, we can print on the sample and send the video to you. You can also deliver your sample to us, we print on the sample and deliver it back to you. The freight shall be borne by the buyer.
Q:I have never operated inkjet printer before, is it easy to operate on?
A:We will provide English Service Manual and you can also view our YouTube about the operating video.
Q:How about the ink consumption? How long can a bottle of ink be used?
A:It's depends to the content you print on and your daily capacity.
A bottle of 700ML ink can print 10million pieces information of 35 characters.
The proportion of ink and solvent is 1:8 and the warranty of ink is 1 year.
For most customers, a bottle of ink can be used for 3 months.
Q:How to ensure my order since it's our first cooperation?
A:Trade Assurance is a free service by Alibaba.com designed to create trust in trade.
We provide you with a set of features and protections to help ensure suppliers honor important details of your contract.
Q:What if the machine is broken?
A:We will solve your problem by three steps:
1. Please take a video of the problem to us.
2. Our professional after-sales engineer will test on the problem and provide you a solution.
3. It's available to free-replace spare parts within guarantee period, and we can also provide you related videos of replacement. The freight of spare parts shall be borne by buyer.
Q:What about your service?
A:We offer 7*24 hours online service, please contact us.