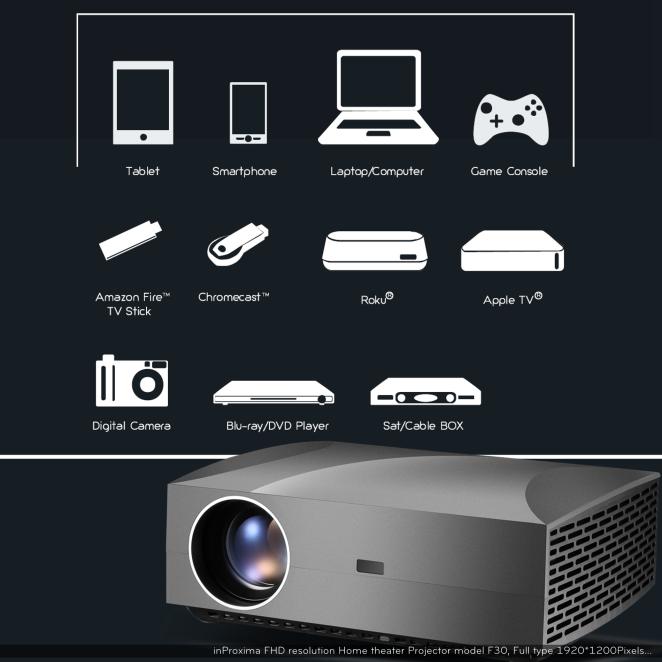 F30UP wireless SMART Projector - 1920 x1080 Resolution,4,200 White Brightness(LED Lumens),Separate stereo speaker unit.
The F30UP is the ideal projector for both high definition presentations and vibrant multimedia entertainment.
The F30UP is Full 1080P HD (1920 x 1080P) native resolution projector. It features BOE® LCD Panel Blu-ray boost technologies to display distinct, vibrant images in a widescreen format.
• Overview
**. The F30UP is based on a new upgrade of the F30's basic parameters, adding the latest android OS 6.0 version,This is definitely a perfect combination.It stepped into the field of home smart projectors from a traditional home multimedia projector.
**. With RJ45 network port, ensure wireless and wired network connection is unimpeded. With 2G memory (Quad core CPU Processor) and16G (Penta-core ARM GPU) expansion, Maximum video resolution support 4Kx2K, so with your family member F30UP Wireless projection together, worth having ...
**. Secondly, it also has built-in WIFI, Bluetooth and wireless transmission, Install and download by google Play apk, easily install any online video software with your google ID, To achieve online video playback as "amazon Video" or "Netflix" and "Youtube",Built-in "dlna" terminal interconnection solution,Support wireless connection to your phone into the screen, based on "airplay" wireless communication technology; Support 2.4GHz wireless mouse, keyboard via 2.4GHz USB dongle
**. More expressive fashion industrial design Simple style that take you into the home theater experience for the F30UP.
**. The inProxima® F30UP price-performance projector features 4,200 White Brightness(LED Lumens), native FHD/1920x1080 resolution, and an intuitive, user-friendly design.
**. Exclusive 5.8inches(1920*1080p)Ultra high temperature and light transmittance BOE® LCD Panel Blu-ray boost technology offers a wider color range for lifelike image projection. True 1080P FHD Pixel Resolution, Unique industrial LCD Panel, high temperature resistance with high light transmittance.
*. With advanced audiovisual features, flexible connectivity options, and an affordable price, the F30 is ideal for use in Video entertainment or home theater, entry level education, and small business environments as PPT show.
**. Adopting high-power with high-efficiency and energy-saving white LED light source technology, compared with traditional LED light source, the light source utilization rate is increased by 50%, and the power consumption of the whole machine can be reduced by up to 30%.and extends the lamp life up to 50,000 hours (traditional LED Just only 20,000 hours).
**. The F30UP also features HDMI , double USB Port with Multimedia direct play function, the Standard configuration with Most professional-level digital audio interface (SPDIF out interface), and a audio output.