FLUKLEAN
Fluklean is the system that uses the principle of fluidized bed to clean the residues on the parts more efficiently. The organic contaminants on the surface and inside of molds and dies or the high-molecular inorganic compounds are cleaned in the dry way to decompose and discharge the contaminants perfectly without generating any wastewater.
Fluklean Using the Principle of Fluidized Bed
Fluidized Bed
The bed that keeps the Thermal Medium suspending in the space by pushing compressed air from the bottom of the cleaning equipment.
The Strengths of Fluidized Bed
The fluidized Thermal Medium moves as liquid and gas, so you can use it on all surfaces of particles. Therefore, it closely and evenly attaches to all surfaces of the precise parts to clean. Also, the fluidized bed is great for thermal exchange for convenient temperature control.
*Thermal Medium : It is the best fluidized medium in terms of heat conductivity, temperature stability, consistency, and environmental friendliness. It is also very safe as it is inert.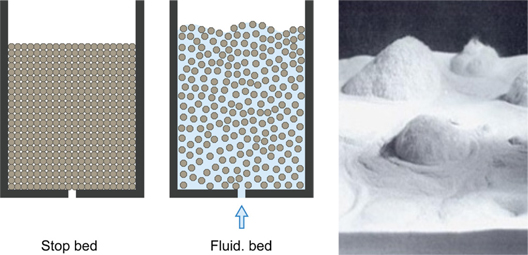 How to Use Fluklean
I.F.C (Industrial Fluid Cleaning system) uses the principle of fluidized bed to clean the carbonized resins on the precise parts, such as Dies, Nozzles, Screws, Breaker plate or Molds, more efficiently when they are hard to reach by hands.

1. Before running I.F.C, check the level of Thermal Medium inside.
2. When the medium is heated to the set temperature (400~500) and becomes fluidized like boiling liquid, put the basket containing the items to clean into the fluidized bed.
3. When cleaning is done (generally takes 30~60 minutes), the suspending materials are sent to the dust collector and the exhaust gas can be discharged through the scrubber or the recombustion system.
Environmental Perspective
It generates 3.3 billions tons of CO2, which accelerates global climate change. The 3rd largest producer of CO2 in the world. It creates methane, which is 23X more deadly than CO2 if it goes to landfill.
Characteristics of Fluklean

No loss of parts
There is no processing required before or after cleaning and the Thermal Medium is in powder format and not a chemical material for cleaning in the dry state without causing the products to corrode, wear, or deform.
Flawless cleaning
The Thermal Medium is in the dry state and moves evenly to clean the unreachable surfaces.
Highly economical
The fluidized Thermal Medium can always be reused in room temperature and does not combine with the impurities, so it can be used for a long time (6 months or longer).
Short cleaning time
The cleaning is done in about 30 minutes~1 hour.
(※ The cleaning time may vary according to the size and weight of target items.)
Exceptional safety
There is no risk of burn or fire due to explosion as it is heated indirectly and does not react with water or other chemical materials.
Space-efficient
It does not require a large space to install.
Easy to operate
Anyone can easily operate and use Fluklean.
Exo-friendly
It does not need chemical matters at all and the gas from the operation is thoroughly purified and discharged through recombustion. Also, there are no other secondary wastes to treat.
Problems with the Existing Cleaning methods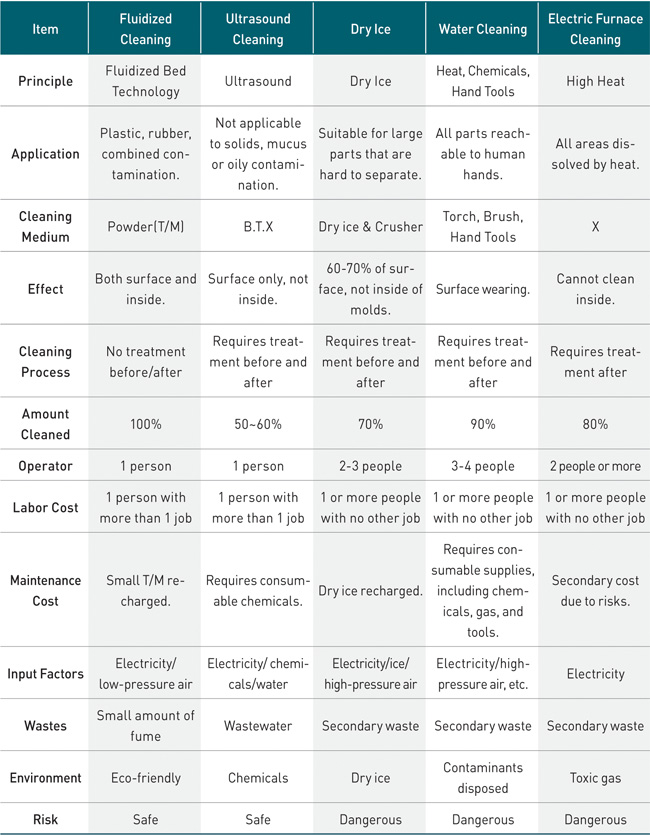 Application of I.F.C(Industrial Fluid Cleaning System)

| | |
| --- | --- |
| Area | Parts |
| Textile | Distributor plates, Filter elements, Mixers, Spinn |
| Extruded Polymer | Housings, Extrusion heads, Die plates, Melt pumps, Breakerplates, etc. |
| Film | Die plates, Distributors, Filters, Mixers, Screws, Screwelements, etc. |
| Injection Molding | Dies, Hot runners, Needle valve nozzles, etc. |
Incineration Temperature

| | |
| --- | --- |
| Incineration Temperature | Removable Polymer |
| 350°C | Rubber, Polycarbonate |
| 400°C~450°C | Polyethylene, PVC, Organic matter/oil/frease |
| 425°C~450°C | Polypropylene, PE |
| 440°C~450°C | Polyurethane, ABS |
| 450°C | Nylon, 6/66, Polystyrene, Styrene, Fluor polymers |
| 450°C~480°C | Ethylene methacrylic, Epoxy, Urethan |
| 450°C~500°C | Paint, Teflon, Eng/plastics, EMC, EPS, MEK |
| 500°C | Silicone rubber |
Specification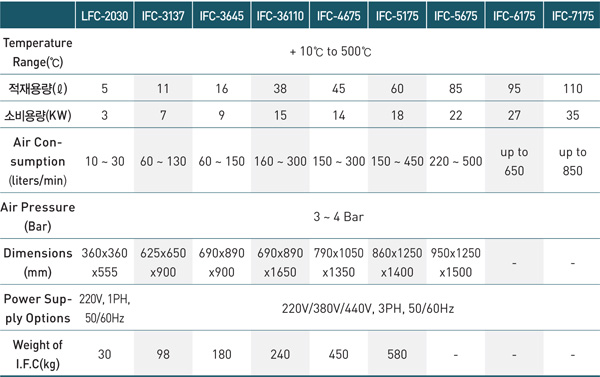 Flusonic


FS-50A : Full auto touch Ct'L sys.

Basic Supplies


Equipment, Basket, Medium, Cyclone/Recovery Bin, Adapter Damper.

Optional


Safety 3step, Hoist Crane, Working Table, Cooled Filter, Smoke Collector, Scrubber. The above supplies are subject to change without notice for improvement purposes. Various models available for desired purposes and custom models are also available.
Typical Fluid Cleaning System
Cleaning Furnace


Equipment used to put and clean contaminated parts

Cyclone


The suspending matters at the exhaust are collected using centrifugal force.

Wet/Dry Scrubber


Harmful exhaust gas is liquefied and neutralized to discharge.

Smog Collector


Reduces electric smog and fume.