FREEFLY ALTA 6 UAS for Aerial Cinematography
PRODUCT HIGHLIGHTS
Fold Up Design with Collapsible Props
Toad in the Hole Mount for MoVI Gimbals
Gimbal Top-Mounting Supported
Up to 15 lb Payload Capacity
Synapse Intelligent Flight Controller
Advanced Vibration Isolation System
Weather-Resistant Distribution Board
Silent Drive Motors
User-Definable LEDs
Hard Transit Case Included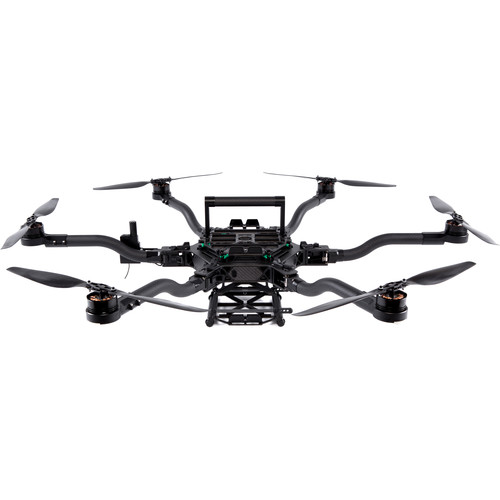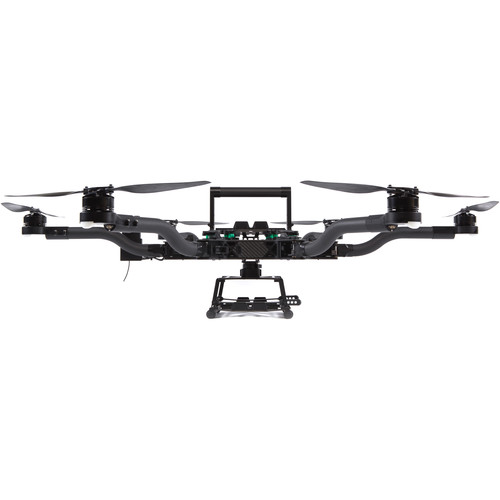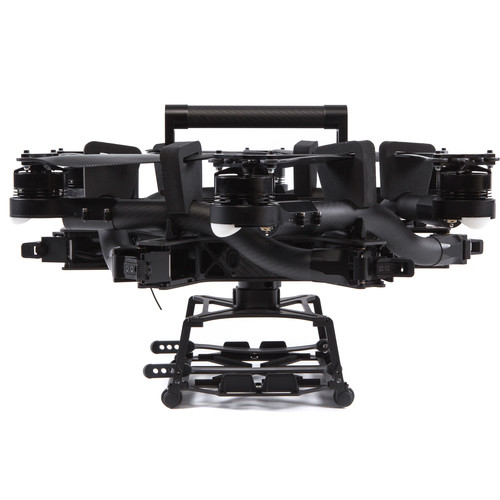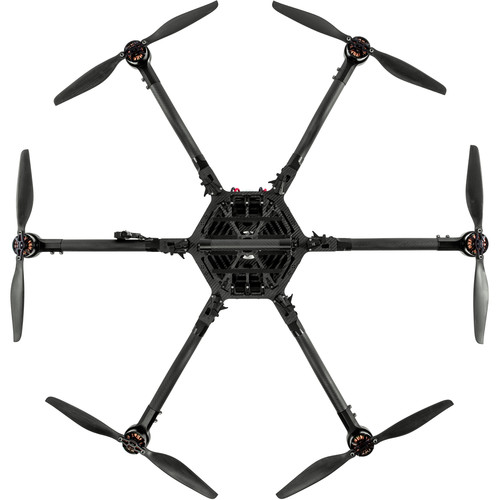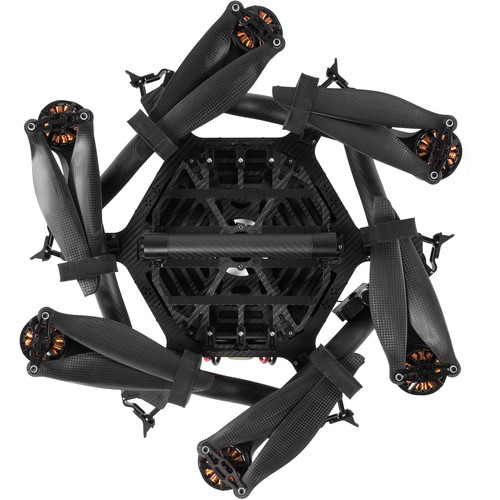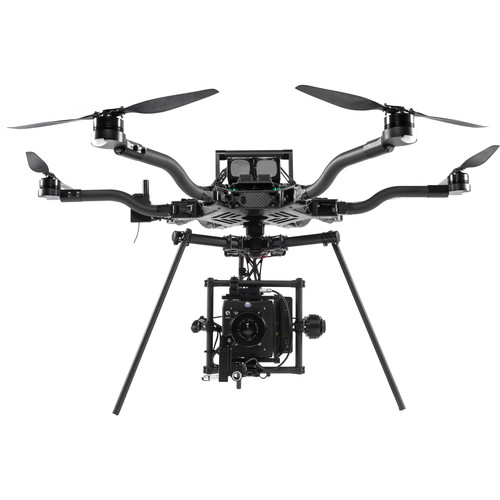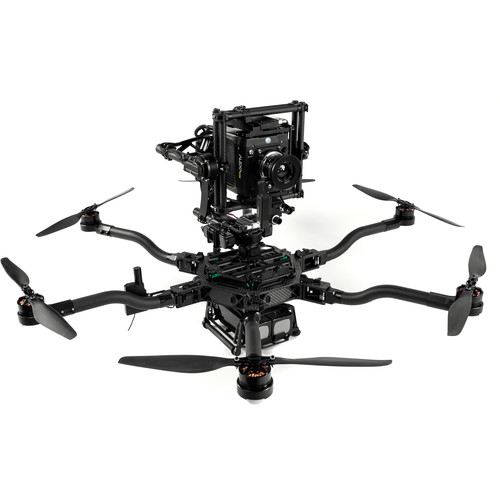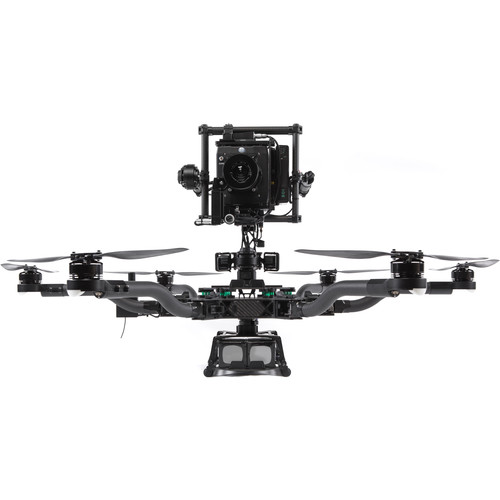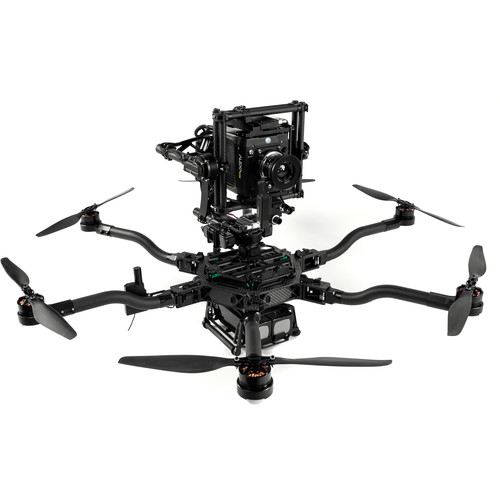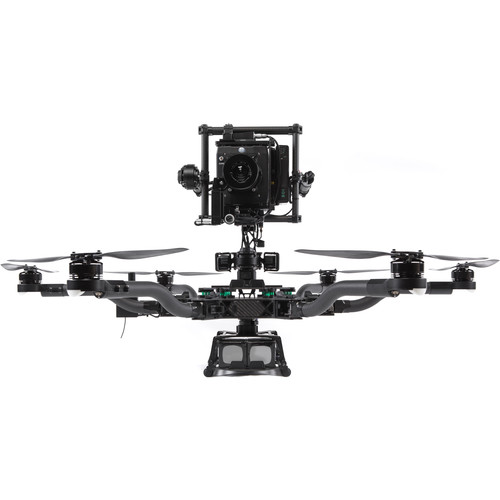 Performance
Weights
Maximum Gross Takeoff Weight: 29.9 lb / 13.6 kg
Maximum Useful Load: 21 lb / 9.5 kg
Maximum Payload: 15 lb / 6.8 kg
Specific Power
Typical: 145 W/kg
Thrust Ratio
At Max Takeoff Weight: 2.0:1
Frame
Payload Mounting
Mounting Locations: Bottom and top mount
Mounting System: Freefly Toad In The Hole Quick Release
Isolation System
Vibration Isolation System: Silicone O-rings

Densities by Color
Soft / Light Payloads: Red O-rings
Medium / Mid Payloads: Teal O-rings
Stiff / Heavy Payloads: Black O-rings
Lighting and Indication
Orientation Lights: RGB LED's
Orientation Light Locations: Outboard on boom ends
Orientation Light Color: User definable
Status Light: Rear-facing red/white LED
Accessory Lighting Port: 12 VDC
Accessory Lighting Port Location: Outboard on boom ends
Motors
Model
F45
Type
6 x Direct drive 3-phase PMAC outrunner
Max Continuous Power Output
350 W
Max Instantaneous Peak Power
950 W
ESC
Freefly Silent-Drive Sine Wave ESC
Flight Controller
Model
Freefly Synapse Flight Controller
Connectivity
Inputs: Spektrum, S.Bus, PPM, FPV SD video

Outputs: PWM, I2C, CAN, FPV SD video with OSD
Flight Modes
Manual
Height Hold
Climb Rate Control (Vario)
Position Hold
Ground Speed Control
Return-To-Home
Auto-land
Installed Transceivers
Wi-Fi
Data Logging Rate
25 Hz
Receiver
Supported Radios
Futaba S.Bus & S.Bus 2
DSMX, DSM2 (Spektrum/JR)
PPM, PPM Invert, PPM Graupner
Telemetry
Supported Telemetry Systems
Futaba with built-in voltage sensor port
First-Person View OSD Telemetry
User configurable
FPV and Monitoring
Supported First-Person View Systems
Skyzone
BOSCAM
Immersion RC
Fatshark
Propellers
Type
6 x 18x6 folding
Configuration
3 x CW
3 x CCW
Material
Carbon fiber with balsa core
Flight Battery
Voltage
6S / 22.2 VDC
Maximum Battery Size
9.4 x 7.1 x 3.1" / 240 x 180 x 80 mm
Maximum Battery Quantity
2 x in parallel
Connector
2 x EC5 (parallel)
General
Dimensions
Unfolded
Length: 39.4" / 1000 mm
Width: 45.1" / 1145 mm
Height (base of TITH): 8.7" / 220 mm

Folded
20.9" / 532 mm
20.3" / 515 mm
8.7" / 220 mm
Weight
Typical Standard Empty Weight: 9 lb / 4.1 kg
Packaging Info
Package Weight
43.5 lb
Box Dimensions (LxWxH)
29.8 x 28.4 x 17.4"
ALTA 6 from Freefly is a hexa-rotor drone for aerial imaging that – when used in conjunction with a separately available MoVI gimbal – supports mounting the camera either below or above the airframe. This configuration flexibility makes shooting from virtually any angle possible, even with the camera pointed up. ALTA features a maximum payload of 15 lb, and is therefore suitable for DSLRs, mirrorless cameras, and even compact cinema cameras (depending on lens weight and other variables). Equipped with Freefly's own flight control system, ALTA works with a range of transmitters, including many Futaba, Spektrum, and radios (see specifications for specific requirements). Flight modes provided include Manual, Height Hold, Climb Rate Control (Vario), Position Hold, Ground Speed Control, Return-To-Home, and Auto-land. For monitoring and first-person view, the flight controller works with FPV systems from Skyzone, BOSCAM, Immersion RC, and Fatshark. OSD display is user-configurable, and telemetry can data can also be displayed on compatible Futaba transmitters.
The ALTA includes a hard transit case. Additional item essential to get started include flight batteries and a charger, a transmitter (radio controller), and of course a MoVI gimbal and camera.
Fast Setup and Breakdown

The Freefly ALTA features a robust standard hard case that the aircraft folds up in and a packs away. Before each flight, simply unfold the prop arms and in insert the battery (available separately) – the props themselves unfold automatically as they spin up. No pre-flight assembly requiring tools is needed
Performance
Up to 15 lb Payload Capacity

Designed for today's growing crop of compact cinema cameras, the ALTA is suitable for models such as the RED Dragon, Sony F55, and ALEXA Mini. It also supports popular mirrorless and DSLR cameras widely used in video production or to take stills from the air
Synapse Intelligent Flight Control System
The Freefly Synapse flight control system combines gyros and other sensors with proprietary control algorithms to allow users to execute complex flight patterns with ease. It features an integrated on-screen display, high-bandwidth position control, live , and has been tested for years by the industry's best pilots
Data Logging

High speed data logging allows user analysis of critical flight data
Works with MoVI Gimbals
Top Mount Camera Option

In addition to traditional bottom mounting, the ALTA supports mounting the gimbal on top of the aircraft. This enables capturing distinct camera angles from beneath an elevated subject
Toad in the Hole Quick Release

MoVI gimbals can be easily attached or removed using Freefly's Toad in the Hole mounting standard
Air System Design
Vibration Isolation System

A refined vibration isolation system rejects high frequency disturbances adding further image stability on top of what the gimbal provides
Lightweight Frame

The frame has been engineered to provide the optimal strength-to-weight ratio, enabling its up to 15 lb payload capacity
Weather-Resistant Electronics

The internal distribution board is weather sealed and conformal coated. It features four 12V power leads for driving LEDs or other accessories, as well as integrated connections for FPV monitoring systems
Silent Drive Technology

Using sine wave drive motor controls with active braking, the ALTA features low noise and precise, efficient, closed loop control of the propeller
Additional Features
User-Definable LEDs

Customize your ALTA's LED color scheme to suit your piloting preferences via the ALTA App