This is an environmentally friendly LOHAS product which uses the purest energy
Seggi Century Co., Ltd. is not interested in just the profits. In the quickly changing world, it recognizes the significance of the environment. It endeavors to develop products for the happiness of mankind by leading the new concept heating industry.
HEAT PLUS
HEAT PLUS all coated film is cutting edge heating film with excellent thermal rersistance property, which has PET film with carbon which is heating element coated and insulation with PET film after form electrode with silver and copper foil in both sides.
The best technology
Carbon heater and silver electrode are made by precise printing technology with process of less than 10 micron and heat treatment technology which works at above 150°C. The product can be used semi-permanently as it realizes laminating type which improves moisture proof of the product.

The greatest brand value
Brand value and reputation is not formed in a short period of time. With the know-how and experience in the past 7 years, Seggi Century always tries its best equipped with the spirit of "Customer-First"

Seggi Century, exporting to the world
HEAT PLUS, with its superior quality and excellent performance, is being exported to over 20 countries all over the world. The heating film has been especially recognized in Japan for its quality and performance, hence we are the only exporter to Japan.
HEAT PLUS -Special Features-
HEAT PLUS heating film can make precise printing with advanced equipment so it minimizes temperature variation.
Product is produced in optimized laminating type which does not make spark by forming silver electrode between copper foil and carbon heater.
It is number one heating film in Korea with excellent safety and it satisfies international safety standards.
Plane(All) coated type film

HEAT PLUS plane coated type film is specially insulated by hardening adhesive so moisture proof and durability are strengthened as air does not contact moisture.

HEAT PLUS plane coated film has safe structure which prevents product spark and defect by forming silver electrode after carbon printing
Stripe coated type film

HEAT PLUS stripe coated type film is stronger and more stabilized product comparing transparent PET film of other makers as it uses ivory colored insulation PET film.

HEAT PLUS stripe coated type film prevents spark in electrode by special design of silver electrode.
Specifications of both All Coated and Stripe-Type film
Category

Model

Width
(cm)

Thickness
(mm)

Packaging
unit
(m/1box)

Weight
(kg)

Power
consumption
(kg)

Temp.

Insulation

All
Coated

HP-APN-410

1000

0.4

75m

46.5kg

220W/m2

60

100

HP-APN-405

500

0.4

100m

31.5kg

110W/m2

60

100

HP-APH-410

1000

0.4

75m

50kg

350W/m2

80

100

Stripe

SPN-305

500

0.338

100m

25.3kg

110W/m2

60

70

SPN-308

800

0.338

100m

39.8kg

180W/m2

60

70

SPN-310

1000

0.338

100m

48.8kg

220W/m2

60

70

SPH-305

500

0.338

100m

25.3kg

440W/m2

70

70

Comparison of heating
| | | | | |
| --- | --- | --- | --- | --- |
| Category | Oil/gas boiler | Film heater | Electric boiler | Electric panel |
| Energy source | Fossil fuel | Electricity | Electricity | Electricity |
| Far-infrared ray emission | None | over 90% | None | None |
| Heating speed | 30~60minutes | 4-20 minutes | 30-60minutes | 10-15minutes |
| Durability | About 10 years of durability | Semi-permanent | About 5 years | About 2-3 years |
| Disadvantages | Freezing, high fuel cost | - | HIgh breakdown rate with 2 years | Continued maintenance necessary |
We place the promise with Clients and product quality first.
The value and reputation of a brand is not formed overnight.
Based on years of know-how and experience, we will always do our best to become the company with complete quality management, leading technology and trustworthy service.
HEAT PLUS -Exported all over the world-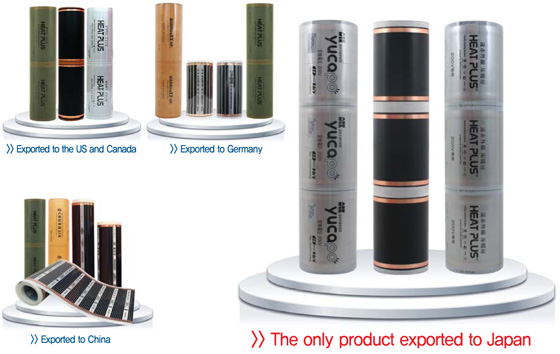 HEAT PLUS -Certifications-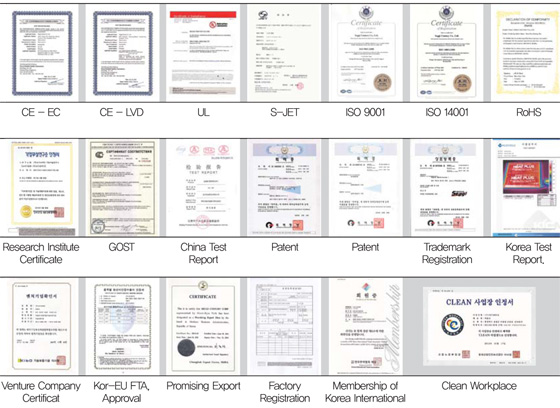 HEAT PLUS -Applicable Examples-
Lodging and resort pensions
heating in each room can be controlled with the main controller, leading to energy conservation

Religious facilities such as churches, temples, mosques, etc.
Different from radiators, the environment will be pleasant, with infrared-ray effect, to provide comfort to the congregations

Medical facilities such as hospitals, nursing homes, etc.
Emits far-frared rays great for patients, and only pure energy electricity is used to create a plesant environment

Educational facilities such as kindergartens, schools, dormitories
A warm environment for children with pleasant air quality and far-infrared effects will make you healthier

Offices
No additional equipment or space is necessary and there is no need for fuel replenishment for warm and pleasant environment.

Homes
Healthy life for your family with healthy floor heating and far infrared ray effect.