fire fighting pump, fire pump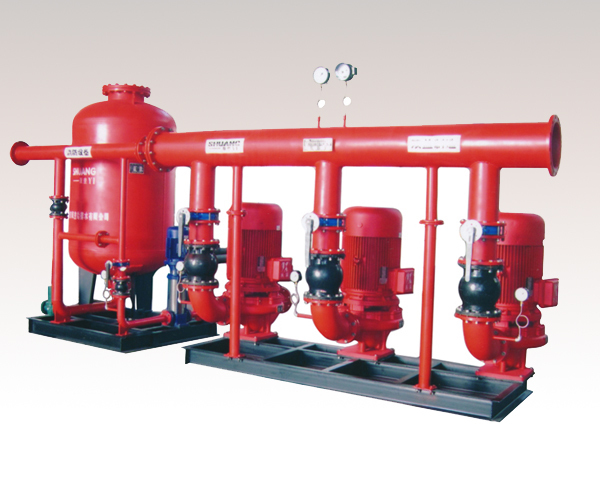 Advantages
1.Directly coupled, vibration proof and low noise.
2.Same diameter of inlet and outlet .
3.NSK bearing ,which is the most famous brand in China.
4.Circulating flow cooling ensure mechnical seal long life .
5.Small foundation required that will saving construction investment by 40-60%.
6.Excellent seal that is no leakage
Application
| | | |
| --- | --- | --- |
| ♦ Construction | ♦ Industrial | ♦ Municipal |
| ♦ Agricultural | ♦ Mining | ♦ Dewatering |
| ♦ Industrial Waste | ♦ Sewage | ♦ Oil Field |
| ♦ Petrochemical | ♦ Paper Mills | ♦ Processing |
Working Conditions
Rotating speed: 3600r/min, 1800r/min, 2960r/min, 1480r/min
Medium: clean water or other liquids similar to clean water in physical and chemical properties
Medium temperature: -10 ~ 80°C,400°C available under special design
Ambient temperature: Up to 40°C
Range of capacity:1.8~2000m3/h
Range of head: up to230m
Maximum working pressure: suction pressure+head of pump≤25 bar
Pump Construction
Casing/impeller:cast iron,stainless steel,copper,bronze
Shaft:carbon steel 45#,stainless steel
Mechnical seal:graphite/silicon carbide/tungsten carbide
Structure Description
Compact structure, most application for modern constructions.
1.Pump casing: the spiral casing with pipe connection is designed and manufactured by the most superior bydraulic model nowadays, with inlet and outlet the same diameter. Flanges conform to GB4216.5, and are equipped with Rp1/4 or Rp 3/8 pressure testing plug.
2.Impeller: closed impeller ,no limit to rotation direction under the water temperature below 80°C and 120°C.
3.Special design of dynamic seal ring ensure well seal and reliable operation..
Motor
TEFC air-cooled squirrel cage, 3 phase asynchronous motor.
Voltage: 220V,380V,400V,415V,440V,660V(other voltage ,pls inform before order)
Frequency: 50Hz,60Hz
Insulation : IP44/IP54/IP55
Protection class: B/F
Insulation modes: B35