Parameters/specifications
Fly Ash Superfine Powder Centrifugal Cyclone Air Classifier
FW/HTS Horizontal Air ClassifierSingle Rotor / Multiple Rotor
air classifier / powder classifier / fine powder classifier and separator / ultra fine pulverization classifier /
centrifugal air classifier / air classifier manufacturers / air classifier price / air classifier design /
cyclone classifier / powder air classifier / centrifugal classifier / fly ash air classifier / superfine air classifier / calcium carbonate air classifier / multi cyclone air classifier / fly ash classifier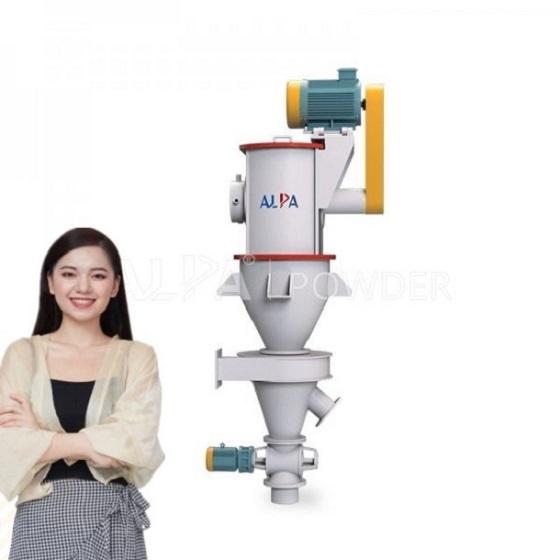 Features and Advantages:
1.Available D50:1.5-25μm
2.The linear velocity of horizontally installed classifying wheels is up to 80m/s.
3.Classifying efficiency (extraction ratio) can be 60%~90%.
4.Speed of wheel is equipped with velocity sensor and can be controlled by inverter, particle size can be adjusted freely
5.System negative pressure operation, meet environmental requirements, noise <76dB(A)
6.PLC control system, easy operation
Working Principle:
The classifier and cyclone separator, dust collector and induced draft fan form a classifying system.
Under the action of fan suction, the material is moved from the lower inlet of the classifier to the classifying zone with the ascending airflow.
Under the strong centrifugal force generated by the high-speed rotating turbine, the materials are separated and the fine particles which meet size requirements through the classifier impeller gap into the cyclone separator or the dust collector, the coarse particles entrained part of the fine particles collided with the wall and the velocity disappeared, descending along the cylinder wall to the secondary air outlet, and the coarse and fine particles were separated by the strong washing action of the secondary air.
The fine particles rise to the classification zone for secondary classifying, and the coarse particles are lowered to the discharge port for discharging.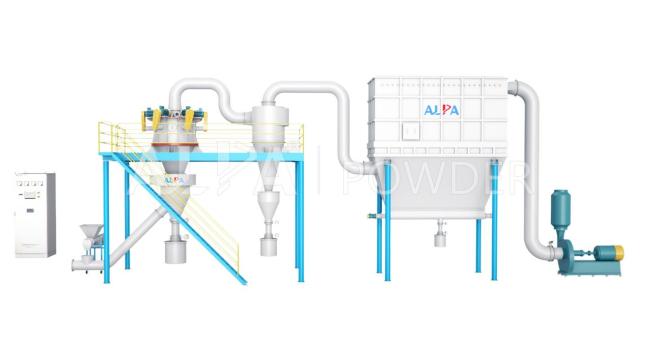 Technical Parameters:
Parameters/specifications
FW400/3
FW400/4
FW630/3
FW630/4
FW630/6
FW800/4
FW800/6
FW1000/4
FW1000/6
Production Capacity
(T/h)
0.2~1.5
0.3~2
1~5
2~8
3~10
3~10
5~15
5~20
8~30
Product Size(d97:um)
3~45
3~45
3~45
3~45
3~45
5~45
5~45
5~45
5~45
Classifying efficiency(%)
60~80
60~80
60~80
60~80
60~80
60~80
60~80
60~80
60~80
Installed Power(kw)
60~90
175~100
135~155
170~190
250~290
220~290
290~390
340~440
500~580
| | | | | | | |
| --- | --- | --- | --- | --- | --- | --- |
| Parameters/specifications | FW200 | FW280 | FW400 | FW520 | FW630 | FW800 |
| Production Capacity(kg/h) | 10~100 | 20~200 | 50~500 | 100~1500 | 200~2500 | 400~4000 |
| Product Size(d97:um) | 3~45 | 3~45 | 3~45 | 3~45 | 3~45 | 5~45 |
| Classifying efficiency(%) | 60~80 | 60~80 | 60~80 | 60~80 | 60~80 | 60~80 |
| Installed Power(kw) | 7~11 | 15~19 | 21~28 | 23~30 | 52~60 | 67~77 |
Note: The production capacity is closely related to the particle size, specific gravity, hardness, moisture and other indicators of the raw materials. The above is only for selection reference.

Shandong ALPA Powder Technology Co., Ltd.
(abbreviation: ALPA / Equity Code: 171033)
THE WORLD'S LEADING SUPPLIER OFULTRA-FINE POWDER SOLUTIONS
ALPA was founded in 1999.Focus on ultra-fine ultra-pure crushing and classifying research, powder shape control, powder surface modification, and system integration of powder engineering equipment.In the fields of ultrafine grinding and classification in the pharmaceutical, food, chemical, mineral, new materials, solid waste treatment and other industries, ALPA has mature and fully customized solutions and helps you design the ideal system to meet your needs.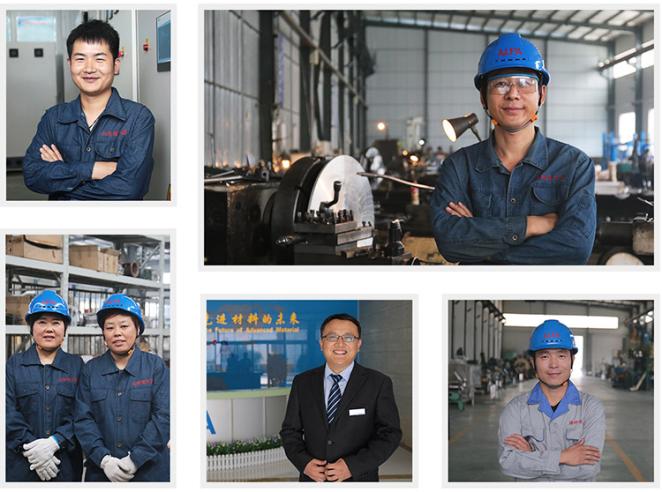 Q: What service do you supply?
A: 1). We offer consultancy for project feasibility assessment, process flow definition, preliminary layout and factory building plan, project budget, project time schedule, etc.
2). We supply sample processing tests in our test station where are equipped with our various machine products, to help clients compare performances of different types of machines or process.
3). We supply project engineering, automation engineering and civil engineering.
4). We send engineers to the clients' project site and offer on-site technical instruction and supervision during the machine installation, commissioning and test run.
Q:How can I trust on your quality?
A: 1). All of the machine be tested successfully in Weifang workshop before shipment.
2). We supply one year warranty for all equipment and lifelong after-sales service.
3). We can test your material in our equipment before place the order, to ensure our equipment is suitable for your project.
4). Our engineers will go to your factory to install and debug the equipment, they will not be back until these equipment can produce qualified products.
Q:Does your company provide Engineers Abroad Service?
A: Sure, we provide it. And we can provide free training for on-site workers.
Q:How to train our staff about operation and maintenance?
A: We will provide detailed technical instructive pictures to teach them for the operation and maintenance. In addition, our engineers for guide assembly will teach your staff on site.