Food Grade 99.9% Pure Cooling Agent WS-3 Crystal Powder For Mouthwash
Product Properties (Cooling Agent WS-3)
Chemical Name: N-ethy1 2-isopropy1-5-methy1cyc1ohexanecarboxamide
CAS No: 39711-79-0
EINECS: 254-599-0
FEMA: 3455
Molecular Formula: C13H25NO
Molecular Weight: 211.34
Physical & Chemical Properties:
Appearance: White crystalline cooling agent ws-3 powder
Odor: Mild cooling, slight menthol odor (almost odorless)
Purity (GC): ≤99% min
Solubility: Soluble in Ethanol and other organic solvents. Slightly soluble in water (7g/L at 20oC).
Melting Point: 91℃-98 ℃
Acidity (KOH) (mg/kg): ≤1
Heavy Metals (as Pb): ≤10 mg/kg
Arsenic: ≤3 mg/kg
Flash Point: >100 ℃ (Tag closed cup)
Detailed Description (Cooling Agent WS-3

)
Cooling Agent WS-3 Cas No.: 39711-79-0. Extract from menthol and nearly no taste. It's one of the most common cooling agents in the market.
Do not like other tradition coolants like menthol, peppermint oil and eucalyptus oil. WS-3 can produce strong, fresh, long-lasting aroma. Fresher taste is stable slowly, and the whole mouth will feel cool with a slight smell of menthol. No high volatility, no spicy, no burning, no stimulating or other uncomfortable feeling.
WS-3 has been wildly used in different fields. Like food, vape and medical industry. It would be better when used together with other additives.
Main Features (Cooling Agent WS-3

)
1. Continuous and long lasting cooling and refreshing effect without unpleasant feeling (like bitter, astringent, numb, burning...)
2. Heat-Resistance: no impact to its cooling effect when temperature reach to 200℃, suitable to use in baking and other high temperature heating process.
3. Excellent compatibility with other flavors, it can enhance the effect of the flavors. It also can be combined using with other cooling agents.
4. Its cooling intensity can remain more than 30 minutes, enriching the flavors of products with different additive dosage.
5. Hard to dissolve in water (<0.1%, it's better than the traditional Cooling Agents).
6. Low dosage: 30-100mg/kg dosage is enough to make a good cooling effect.
Usage (Cooling Agent WS-3

)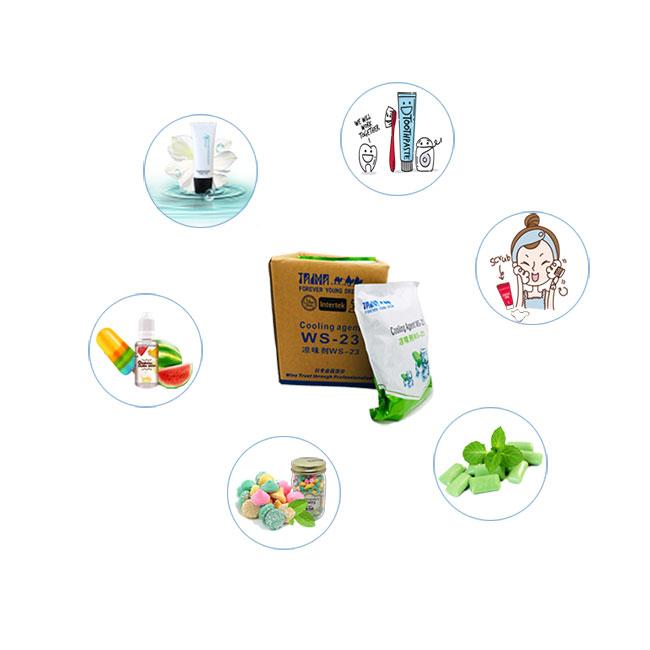 Shipping & Packing (Cooling Agent WS-3

)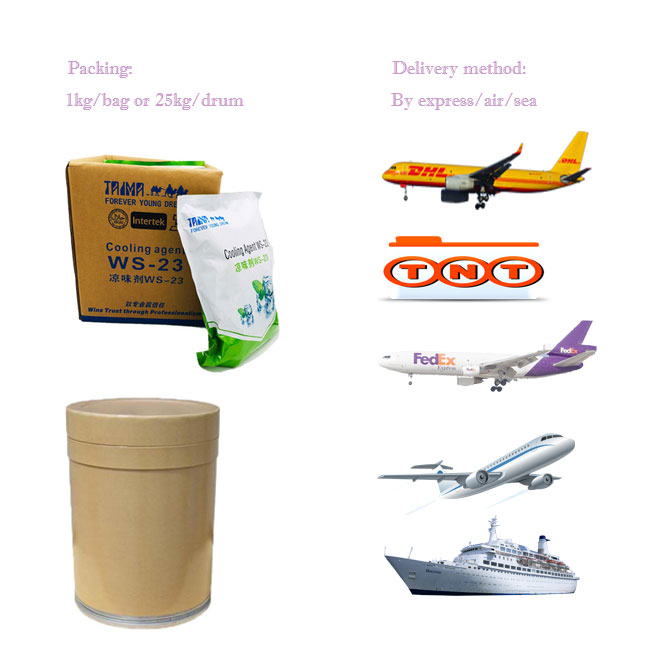 COA (Cooling Agent WS-3

)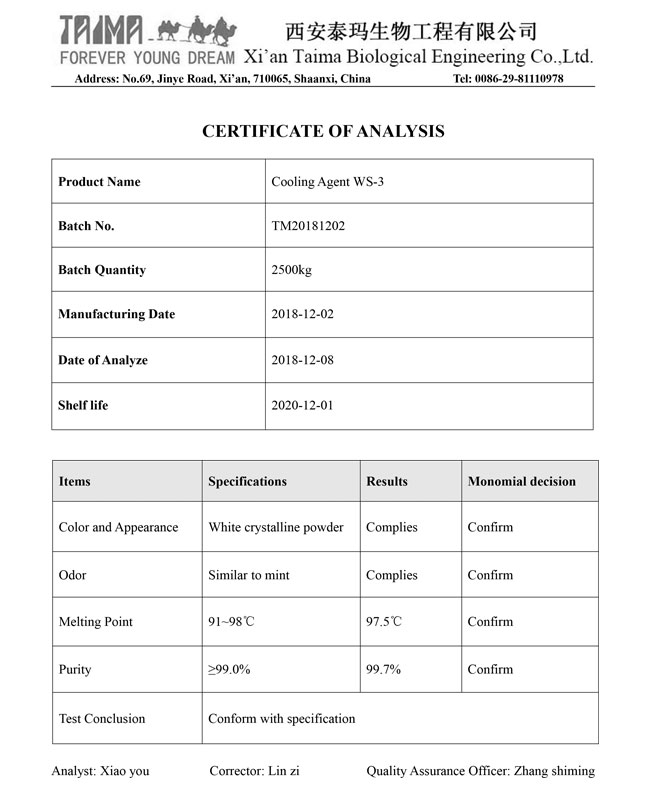 Difference between Cooling Agent WS-3, WS-12 , WS-5 , WS-23

(Cooling Agent WS-3

)
1.Cool feeling degree : Cooling Agent WS-5 >Cooling Agent WS-12 >Cooling Agent WS-3 > Cooling Agent WS-23
2. Cool feeling lasting time:Cooling Agent WS-12 >Cooling Agent WS-5 > Cooling Agent WS-23 >Cooling Agent WS-3 (Ws-23 time last about 8minute)
3. What position the cooling feeling will take the main effect:
| | |
| --- | --- |
| Cooling Agent WS23 | The cool feeling burst in the mouth, with a strong impact and short duration. |
| Cooling Agent WS12 | The cool feeling is weak in mouth, but after entering into the throat, the feeling will be stronger. |
| Cooling Agent WS5 | The cool feeling burst at the back of the mouth and will last to the throat part. |
| Cooling Agent WS | The cool feeling burst slowly in mouth, and will last to the back of the mouth. |
| Remark1 | As opposed to other cooling agents, WS-23 is more round and smooth in character, with little or no odor or taste. |
| Remark2 | This additive is good for those who enjoy "cool or icy" cooling impacts with less flavor muting than other popular additives. |
Our exhibition (Cooling Agent WS-3

)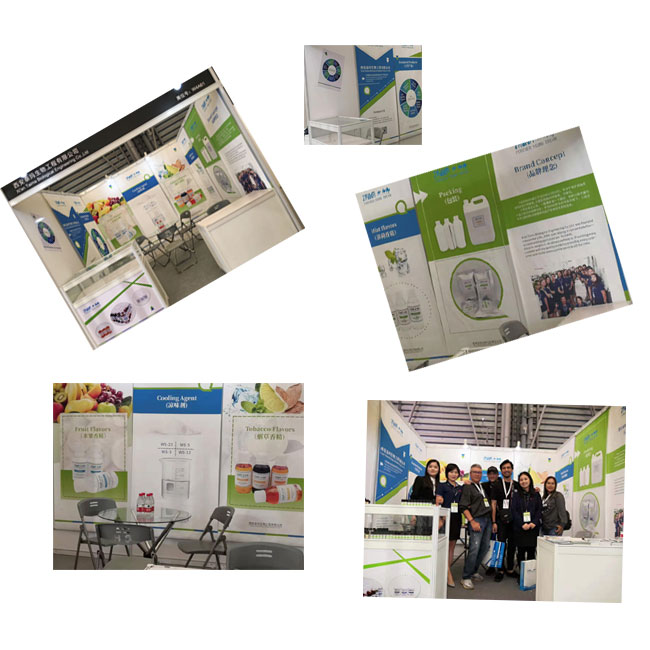 After service (Cooling Agent WS-3

)
| | |
| --- | --- |
| 1 | Guarantee the quality of the products; |
| 2 | Help you to choose the safest way of transportation; |
| 3 | The fastest delivery speed; |
| 4 | Any quality problem in the products; the goods will be re-dispatched or make the refund. |
| 5 | Provide reasonable Suggestions for the use of products. |
Contact us (Cooling Agent WS-3

)