Description

DC-A Series addition silicone is a kind of two part silicone rubber in addition cure or platinum cure type with mixing ratio of 1:1 or 10:1.It can cure at room temperature as well as under heat. It's a kind of food grade silicone which has got the United States FDA certification. And mainly used for mold making.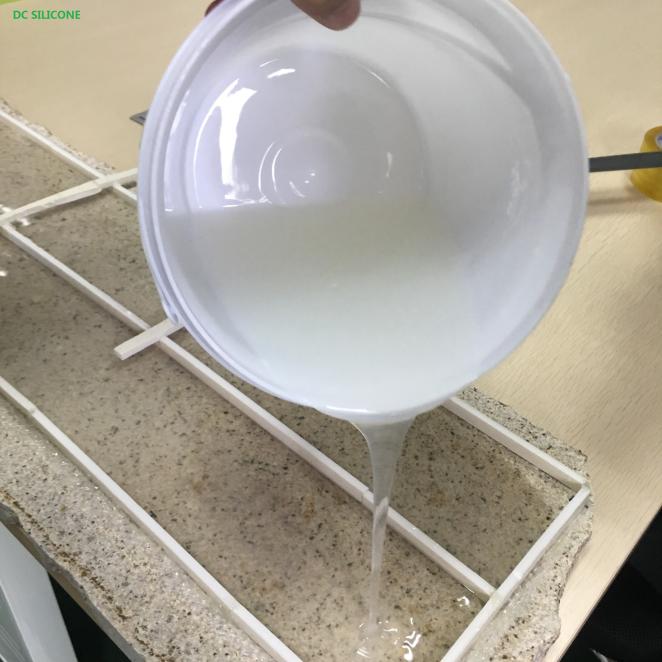 Application

DC-A Series silicone Rubber is mainly used for making molds of concrete stone,GRC,polyurethane products;wax, candle decoration; rapid prototyping and tire molds; chocolate, candy and similar products' molding
DC-A Series silicone Rubber is also used for Breast enhancer, body organ, sex dolls, sex toys, silicone prostheses, silicone mask, ultra-realistic replicas of face, silicone fake skin, silicone animatronic skin, silicone baby mat, silicone baby doll, and so on.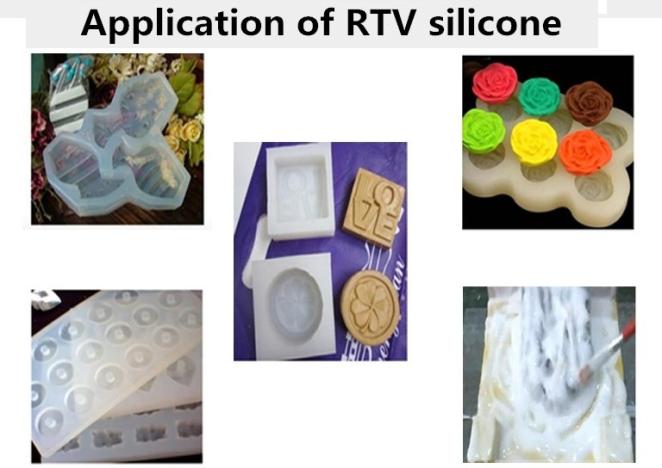 Characteristics

*An exceptional fluidity and good operability, easy to demold
*Aging resistance, high temperature resistance (220℃-250℃)
*Environmentally, food-grade, FDA Certification.
*Good tensile and tear strength
*Outstanding bubble releasing
*Very Low shrinkage(<0.1%)
-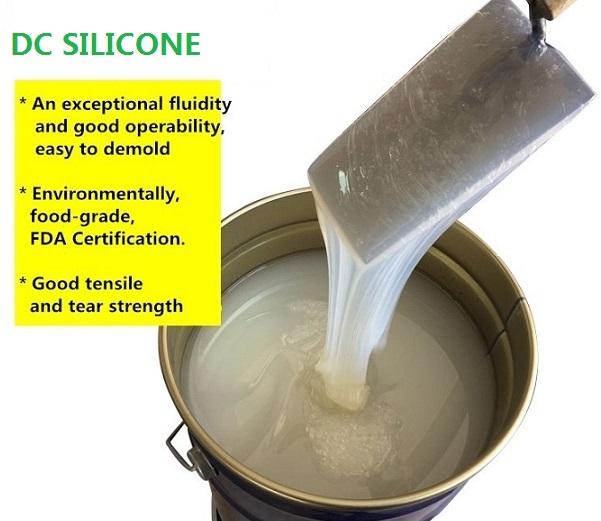 Operation Instructions
Step 1: prepare the original molds
Prepare an perfect original mold and clean it totally before operation.
* Notes: Make sure your original molds and operation tool were cleaned up totally to avoid uncured problem .
Step 2: Take 100 G part A and 100 G part B (Or 100 G part A and 10 G part B) and mix them evenly.
* Notes: Addition cure mold making silicon rubber is two parts flowing liquid, Pls follow the step strictly:
1. Weigh the two part exactly by electronic weight. If any part not in exactly weight, it may cause changing of hardness, or even cause uncured problem.
2. Mix part A and part B evenly. Otherwise the silicon rubber will be partly solidified and this will give birth to difficulties in your final operation. What's more, the finished molds will meet a short life. All of these will cause a waste of silicone rubber.
Step 3: Vacuum pumping
Without exception, this step takes less than 10 minutes. Otherwise, it will cause cross linking reaction, and no more further steps will be available.
Step 4: Pouring casting or Brush operation
* Notes:1. For simple pattern products we suggest use pouring operation way, which will be very easy to operate and demould. Pourable silicone require low viscosity which will be easy to flow smoothly and easy to de-air .
2.For delicate pattern products we suggest use brushing operation way, which can copy the pattern exactly. Brushable silicone require high viscosity which won't be easy to flow away and easy to brush .
3. We suggest to set the silicone mold for another 12 hours after demould before you put it into a large production .


Technical Parameters

(DC-A Series with different hardness from 0-50 shore A, small size product with detailed pattern we suggest your use low hardness such as 10-20A,for middle or large size product with pattern you can choose 25-30A, and for big size with little detail you can use 35-50 shore A hardness)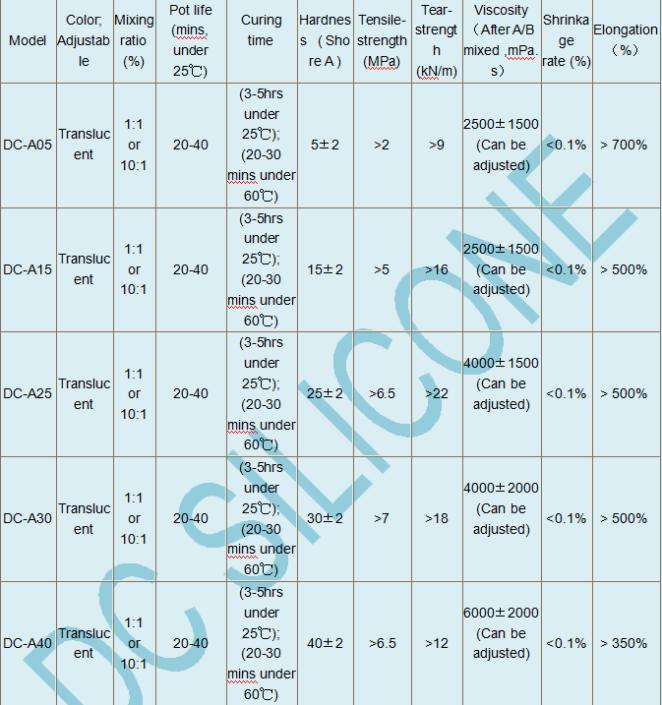 Warm Tips
As addition cure silicone is a kind of platinum cure system, which will be easy to cause uncured problem ,so pls kindly follow the tips as below :

*Do not mix with liquid condensation silicone rubber or even the tool which used for condensation silicone rubber.(Don't mix anything which has touch the tin cure silicone).
*Do not mix with organic matter which contains N, S, P organics and ionic compound like Sn, As,Hg, Ph. (Do not smoke when you use this addition silicone rubber).
*Do not add any pigment or powder into the addition cure silicone rubber without any testing to prevent uncured problem.

Package
1. 1:1 mix ratio: 20KG/drum + 20KG/drum with vacuum packing ;
200KG/drum + 200KG/drum packing
2.10:1 mix ratio: 20KG/drum + 1KG/bottle with vacuum packing
200KG/drum + 20KG/drum with vacuum packing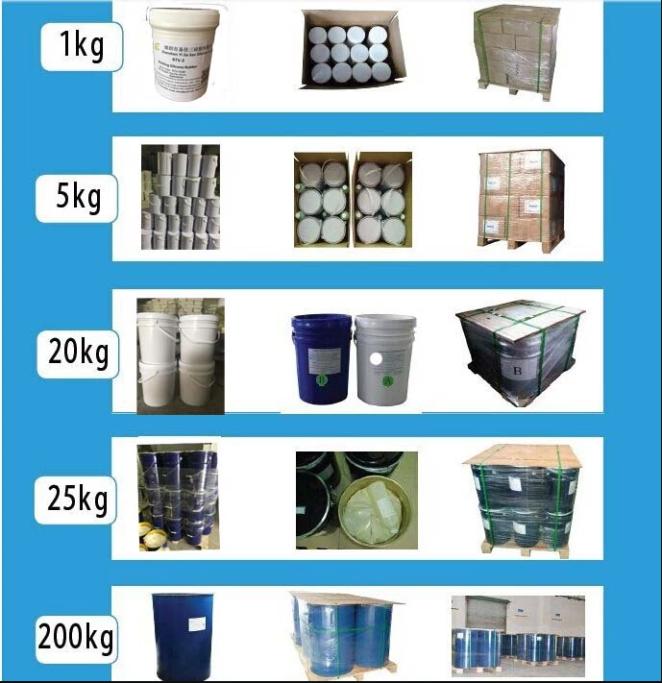 Shelf life
Twelve(12) months when stored under dry and cool place by original package under 25℃

About our comapny:
Shenzhen Zhihua Chemical Co.,Ltd.(DC SILICONE) was established in 2008,is a science and technology Company which is concentrating on production, R&D, and sales of Chemical products, especially silicone rubber.
We are praised as the leading professional manufacturer of Mould Making Silicone Rubber, Addition Silicone Rubber ,Life Casting Silicone Rubber, Electronic Potting Compound, Pad Printing Silicone Rubber, and so on.
There has two main Series of best selling silicone rubber in our company. The DC-A Series Addition cure silicone rubber and The DC- C Series Condensation cure silicone rubber.
Why choose us ?
1.Attractive price to help you save cost
2.High quality with stable performance.
3.Free technical support and sample test to check the quality.
4.More than 10 years experience of silicone rubber producing.
5.Relate products purchasing assistance
6.China visiting reception
7.Factory visiting Reception
8.New market developing
9.New products research and development
11.Hardness can be customized according to your requirement
12.Color and package could be customized