.Feature of four-row cylindrical roller bearings
Four-row cylindrical roller bearings are designed for the rigors of daily use in applications where moderate and high speeds, high radial loads, elevated temperatures and debris are constant challenges. Designed with well-balanced cross sections, these bearings provide high-radial-load capacity within the bearing envelope.

The radial internal clearance (RIC) for the bearing assembly must be included when ordering either a) the complete assembly or b) with the inner-ring set. It is advisable to order the inner-ring set independent of the outer ring set when the final grind of the inner-ring O.D. is accomplished after mounting on the roll neck.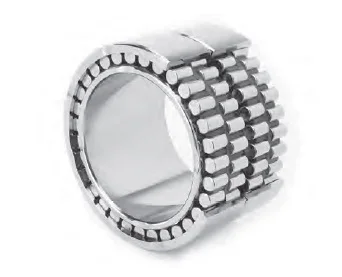 3.Advantage of four-row cylindrical roller bearings
Sustain radial, acial, or composite load.

Provide both high-running accuracy &high-speed operation

Can replace high speed angular contact ball bearings.

High load capacity
4.Applications of four-row cylindrical roller bearings
Engineered primarily for rolling mill roll-neck applications,four-row cylindrical bearings are commonly used inwork roll or back-up roll positions in flat product, long productand structural mills.
1) Cylindrical roller bearings are widely used in automobile, electrical. (Home appliances, electric tools, fitness equipment, motors, medical devices, motorbikes, textile machines)
2) equipment, instrument, building machinery, rolling stock agricultural machinery and various specialized machineries.
5. Different types of four-row cylindrical roller bearings
Cylindrical bearings provide the highest possible radial load capacity compared to other roller bearing types. Four primary styles are available to meet a variety of application requirements.