1 . Product features
513M is a simple and high-performance mini driver , with two control modes V/F mode and speed sensor vector mode, can achieve the open-loop torque control . With high cost performance, simple operation, superior performance, low frequency torque, steady speed accuracy and excellent dynamic characteristics.
1) Power range: Single-phase 220V: 4kw-15kw Three-phase 380V: 4kw-450kw
2) Two control modes V/F and speed sensor vector control, can achieve the open-loop torque control. 3) Adopt efficient 32-bit DSP control chip to ensure quick response of vector control and achieve high-precision control.
4) The low frequency is compensated by the frequency conversion carrier, with beter waveform and stable torque .
5) With the main frequency/auxiliary frequency control, can be superimposed with the auxiliary frequency function.
6) 16-Segment preset speed and 8-segment program running.
7) Built-in simple PLC to control the timing, speed, orientation and other function more conveniently.
8) Built-in advanced PID algorithm,with quick response, strong adaptability, simple debugging.
9) Built-in DC braking unit can achieve rapid acceleration and deceleration.
10) Support standard Modbus communication protocol .
11) With motor tuning function, can achieve the static/dynamic tuning of the motor and accurate identification of motor parameters.
12) Radiator temperature detection function, independent design of air duct, high environmental adaptability.
2. Wiring Diagram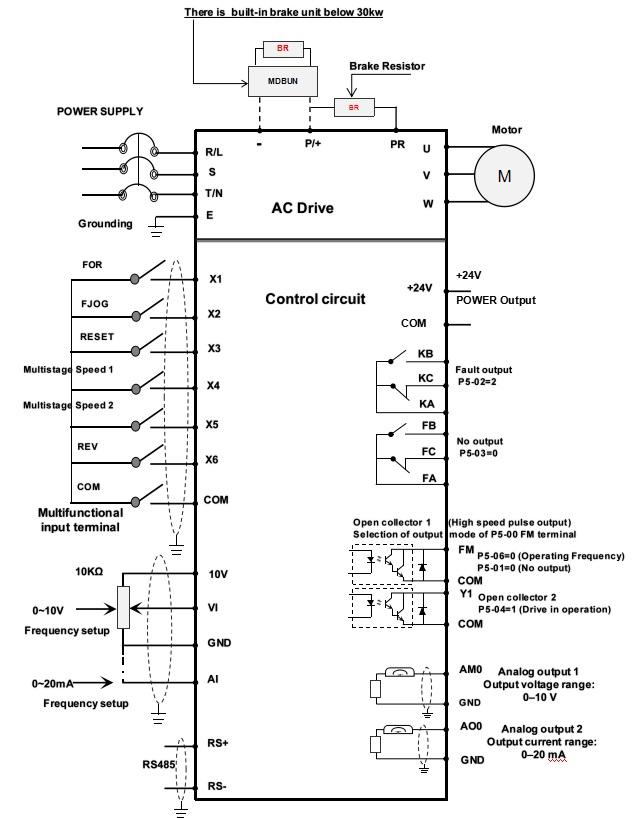 4.Application
IndustryPractical application: textile ,food, medicine, plastic, carving ,washing,packaging,machine tool , woodworking and other mechanical equipment.Can perfect substitute of import products.