Features
Full locked coil ropes are a unique assembly of a classic wire rope core consisting of multiple helically twisted wires, with on top of that on the outside one or more layers of profiled, z-shaped wires that interlock with each other. This interlocking outer layer creates a dense rope assembly, with high strength & stiffness, and an aesthetically pleasing smooth outer surface. The cable voids on the inside are filled with our proprietary AULONE blocking compound, which reduces the impact of steel-steel contact, and adds a further barrier against corrosion.

Advantages
1)High breaking load and stiffness owing to its high metallic fill factor
2)Aesthetic and smooth outer surface add grace to your design
3)Factory assembly & pre-stress shorten your installation time
4)Can be extruded with plastic when colour aesthetics or additional corrosion resistance is needed
Full Locked Coil ropes have a high metallic cross section - this guarantees a higher breaking load and elastic axial stiffness with a smaller/reduced diameter. The outer "Z"-shaped layers give the rope a smoother profile, which allows for better clamping. The locked external surface, the internal compound Tensofill and the zinc–aluminium alloy coating (Zn95Al5) of each external wire allow for a high corrosion protection - that can be further improved with special waxes and extruded or co-extruded HDPE sheathing with wide set of colors and finishings.

TECHNICAL INFO
Locked coil cable
Wire coating: Zn or Zn95Al5
Coating of cable: conventional or HDPE Sheathing; Tensocoat
Reference standards: EN 12385-4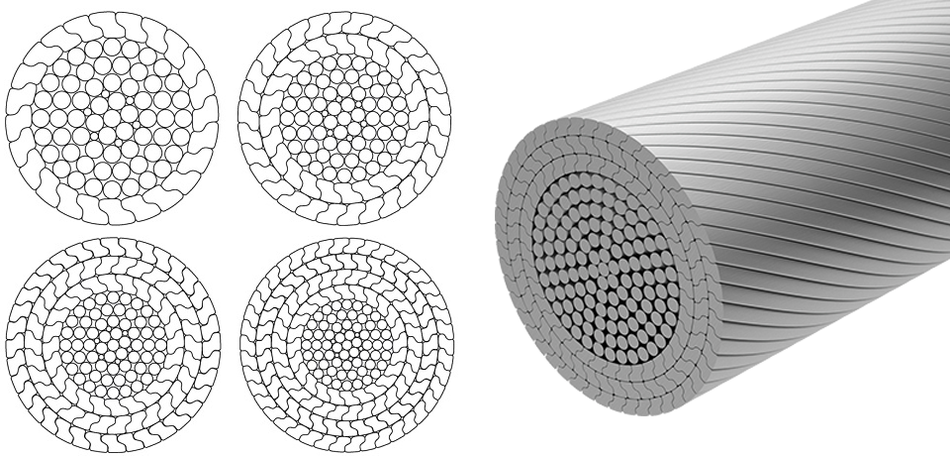 Pictures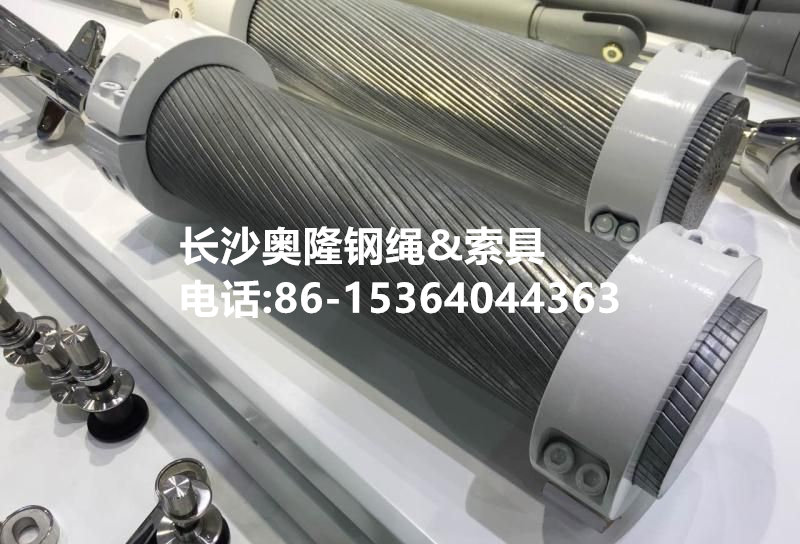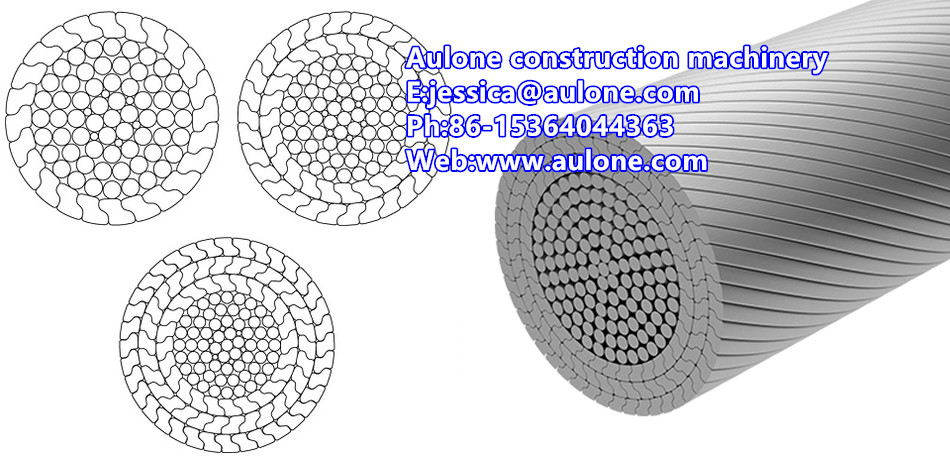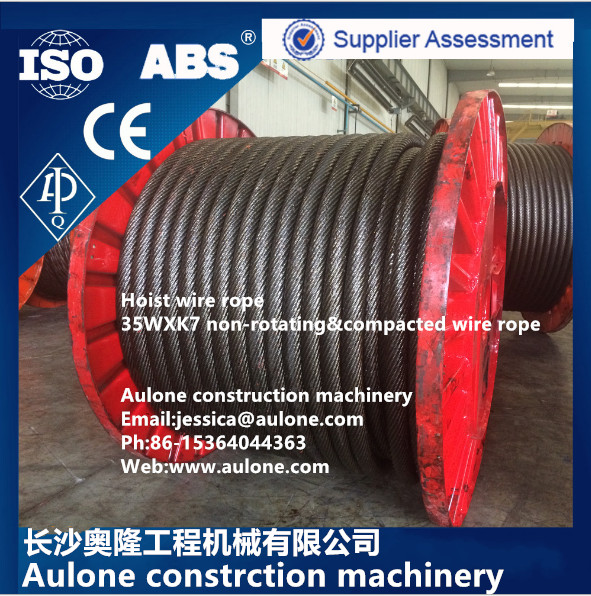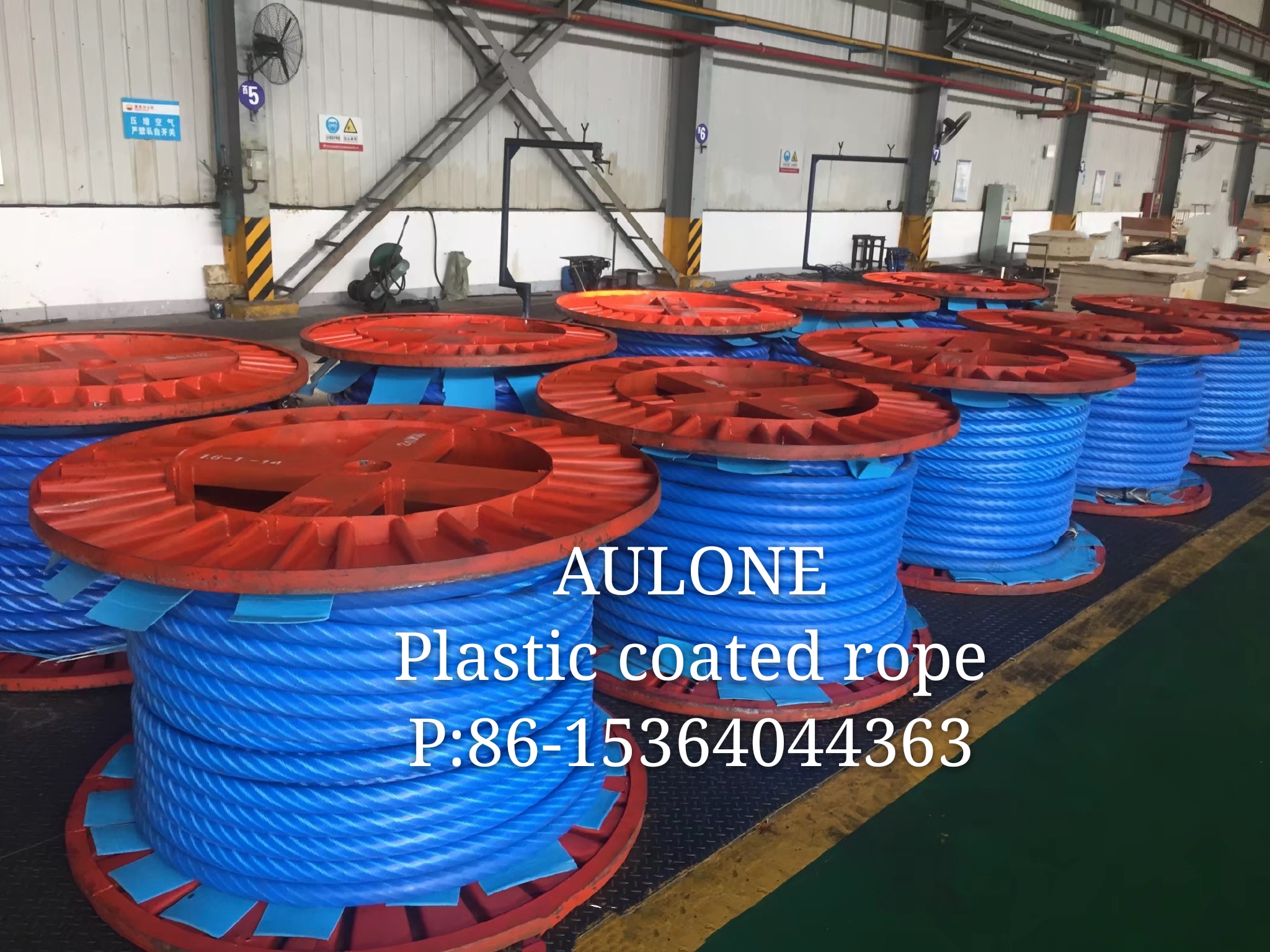 Company Profile

Aulone Construction Machinery is located in Liuyang, Hunan, a famous historical and cultural city. It is a provincial-level large-scale enterprise and a national key metallurgical enterprise. also Aulone Group is the largest and most capable important wire rope R&D and manufacturing base in China.

Aulone Group is mainly engaged in the production of metal wire rope products and related products, equipment and materials. It has formed the "Aulone" brand wire rope, rigging and drilling tools.
Products are widely used in crane industry,mining,bridge construction,port machinery and marine and fishing,oil and gas,transportation, light industry,automotive,military, aerospace,water conservancyand other industries.

As original manufacturers whom supply for Sany, Zoomlion,Xcmg,Zhenhua Port Machinery 16-1000 Tons crane wire rope. Now Aulone wire rope widely used in foreign brand cranes,such as,Grove,Demag,Liebherr,(20-2000Tons) large tonnage crane,crawler crane equipment,is very popular with clients both at home and abroad.

We are the designated supplier of piling tools for well-known rotary drilling rig manufacturers in China also.

The special structure and special-purpose steel wire rope developed and produced by Aulone Group has irreplaceable advantages in the domestic market. A large number of high-difficulty, high-tech, special structure and special-purpose wire rope products are widely used in Qingdao Haixi 3600 tons floating crane,Gezhouba Water Conservancy Project, Three Gorges Power Station, Baosteel, Yantian Port, Tianjin Port, Guangdong Humen Bridge, Guizhou Baling River Bridge, Beipanjiang Bridge, Hunan Aizhai Bridge, Zhoushan Xilianmen Bridge, Hong Kong-Zhuhai-Macao Bridge, "Liaoning" Air Dan Ship, "Shenzhou" Manned Major projects such as spaceships and China's "Days of Heaven" and super projects have replaced import wire rope. and are exported to developed countries in Europe and America, Asia, Africa and Oceania, and are highly recognized by the international market.


Aulone Group has outstanding advantages for high strength,high toughness,large diameter, special structure and special purpose wire rope.Formed the crane wire rope,special wire rope,full locked coil wire rope,spiral strand cables ,oil and gas wire rope,marine and fishing wire rope,mining wire rope,construction wire rope galvanized steel wire rope,plastic coated wire rope, large diameter steel wire rope, etc.....11 series products.Can according to customer's actual needs,provide pre tensioning wire rope,PVC coated wire rope,galvanized steel wire rope.tensile strength up to 2160mpa.


Safety and quality assurance are of utmost importance to us and are embedded in all aspects of our service from initial assessment to installation and follow-up.

Vision: to be "a king of sling" and the leader of manufacturing world most advanced wire rope &sling!

Mission: to create the world's best all-around rigging, to make the world easier together!

Tenet: with market as our guide, the customer as our focus, to create enterprise value as the core!

Strategy: rely on independent R & D, technological progress, technological innovation, market innovation and strict lean management, to become the world's largest and most complete varieties and create the most professional, the best wire rope&sling manufacture company.