GARUJIGI underwear pants
Garujigi men's functional underpants have been produced by maximizing the functionality of Korea domestic burlap and the natural gemstone serpentine. Burlap has excellent sterilizing capability. It has been certified with 99.9% sterilizing functionality of burlap. Serpentine emits far-infrared radiation to facilitate the hemodynamic flow of blood.
Serpentine has a positive effect on men's health.

Garujigi is scientifically researched, functional underwear.

Material: 100% Natural handmade burlap, Serpentine, Polyester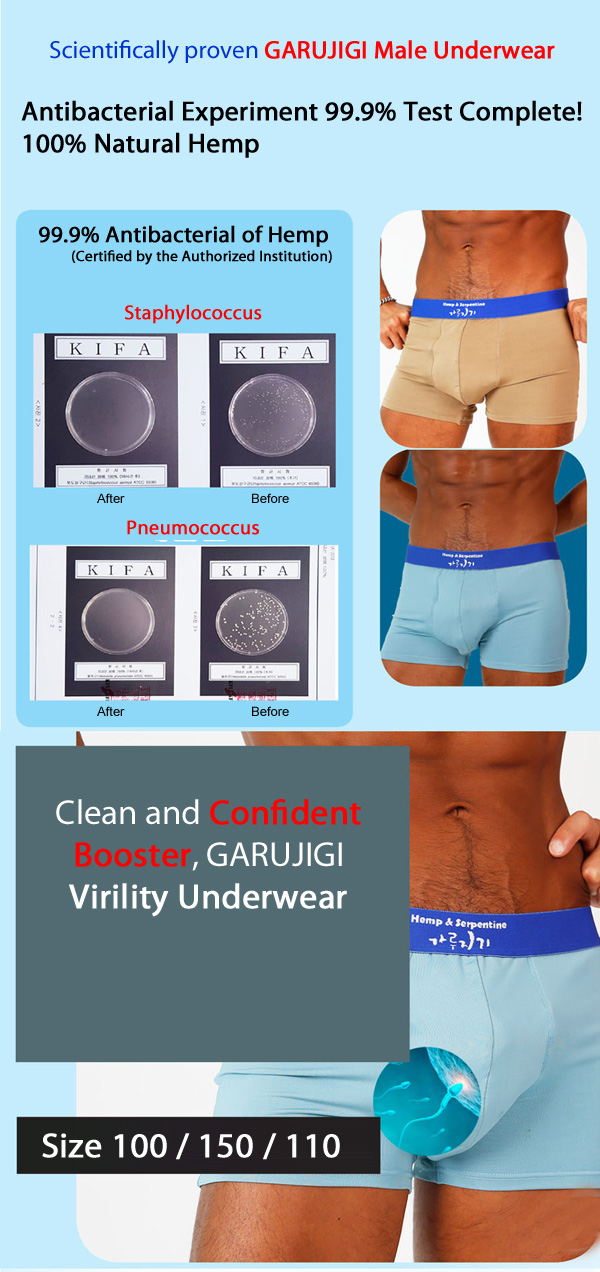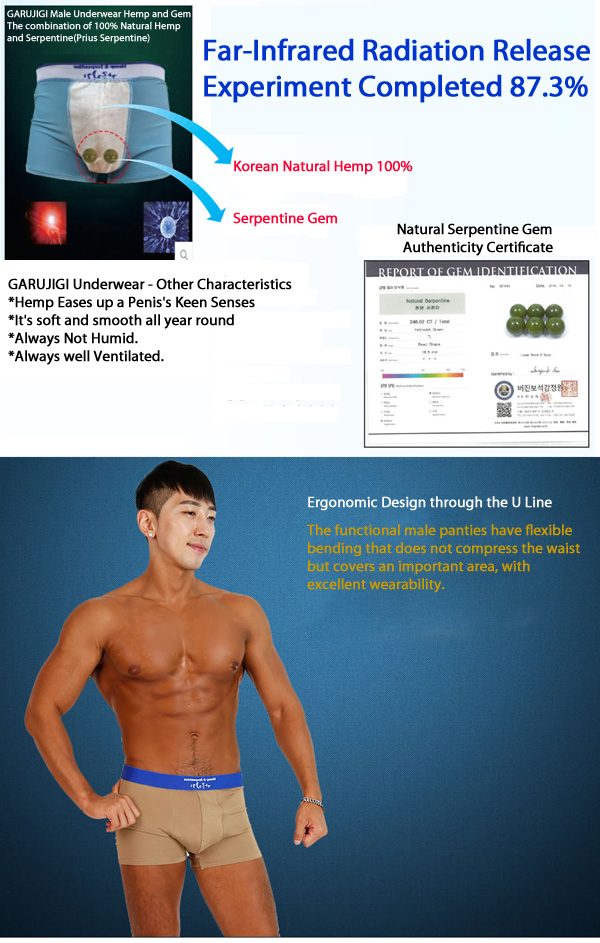 Clinical Test Result
The efficacy of Natural Hemp is the extermination of Staphylococcus and Pneumococcus, within 18 hours, 99.8% gone. (Certified by the Authorized Institution)
What is Staphylococcus?
Staphylococcus Aureus causes Pyodermathe when a virus breaks into a Hair Follicle through the scar or cut occurred during shaving or cutting fingernails. Staphylococcus Aureus is a virus that exists on the skin and can be infected anywhere in the body where minor infections occur. Also, it is an infection with various symptoms, including high fever, vomiting, diarrhea, scarlet fever, and rash.

What is Pneumococcus?
Pneumonia is a disease in which one or both lungs are infected with germs or viruses. Infection in the lungs narrows the bronchial tubes and airways due to inflammation, and can also fill the lung tissue with pus or water. These symptoms eventually block the oxygen supply that our bodies require and cause difficulty with breathing.

Natural Serpentine(Prius Serpentine) Releases 83%(37°C) Far-Infrared Ray (Certified by the Authorized Institution)
Far-Infrared Ray is radioactive to all materials on Earth, but they are especially highly radioactive from natural serpentine, yellow soil, charcoal, elvan, germanium, natural ores, and ceramics. Far-infrared rays have shown a variety of effects since the 20th century and are known to have no side effects. Mainly, far infrared rays with wavelengths of 5 to 20 micrometers penetrate the human body most effectively, causing many positive anti-seismic reactions, and are receiving a spotlight as a light of healing and growth.