GOMECY 2020 Body Shaping&Skin Tightening Vela shape 9 Syneron V10 Vela shape slimming

machine RF massager roller handles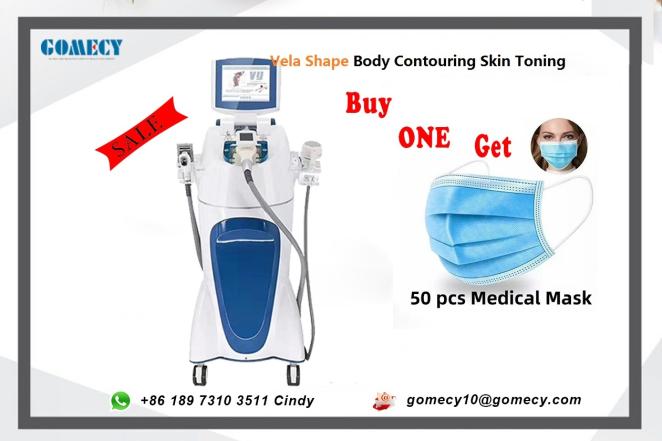 What is Velashape V9??
GOMECY V9 adopts elos technology and combines with RF and infrared light, blue light and green light to generate heat. It can penetrate the skin to a depth of 15mm by mechanical movement, which is far more than the depth of the other devices currently on the market. While the heat is conducted, the mechanical movement is carried out simultaneously and so is the fat. In this way, it makes the skin more flexible. It can improve the figure and the skin surface. Although the weight of the patient does not reduce, the patient will look much slimmer because the whole fat area has been re-assigned. We have selected 20 women of different ages and skin types for a test. Against their main fat parts – thighs and buttocks, we conduct an 8-month treatment and each person's body curve has improved to a great extent. Meanwhile, the fat around the thigh has obviously reduced. The side effect of V9 treatment is minimal. The skin surface of each treatment receiver will only appear flushed from some minutes to an hour or appear slightly edema, but a few hours later, the appearances of the fat accumulation parts will be greatly improved. For the past few years, we have been using the method of deep fat massage, which is very time-consuming. Also, the treatment receiver will feel uncomfortable for long duration of treatment. However, the time for V9 treatment has greatly shortened. It only takes 30 minutes to do thigh and buttock treatment so the treatment receivers will feel more comfortable compared with the deep fat massage. According to their description of the treatment process, most people are very comfortable and even sleepy when the massage is up and down the thigh.
What functions it could have?
1. Body slimming, contouring & shaping
2. Cellulite reduction
3. Skin Tightening, toning
4. Wrinkle Removal
5. Warm Massage, body relax
6. Face shaping and slimming
What results could we expect??
Specification of Velashape V9:
WELCOME TO CONTACT WhatsApp +86 189 7310 3511
Input voltage:

AC220V, 50HZ/AC110V, 60HZ,

checking with sales firstly

Power consumption:

800W

Fuse size:

(220V, 5A) or (110V, 10A)

Large vacuum roller Handle:

Vacuum pressure:

30-90 (KPA)

Infrared light wavelength:

700nm

Roller speed:

50r/min

R.F Energy:

30W

R.F Frequency:

5MHZ

Small vacuum roller Handle:

Vacuum pressure:

30-90 (KPA)

R.F Energy:

20W

Roller speed:

30r/min

R.F Frequency:

5MHZ

Small vacuum handle

Vacuum pressure:

30-90 (KPA)

R.F Frequency:

5MHZ

40KHZ Ultrasound cavitation handle

Power:

100W

Cavitation frequency

40KHZ
1. One year warranty , if there any problems happen with your machine, we will repair it free of charge.
2. Convenient training , user manual and operation video are available, also, if it is not enough, we can provide the online face to face education.
3. OEM/ODM services , your logo, outshape, language, interface can specially be designed on your machine.
4. After sales service, offer 7*24 hours online service, l ifetime free maintainance, t echnology support forever.
1. Packaging: Standard Air Package.
2. Shipping: We can offer the door to door service by air or sea, just depend on your actual request. Such as DHL, UPS, TNT, FEDEX… by air; and the sea transportations.