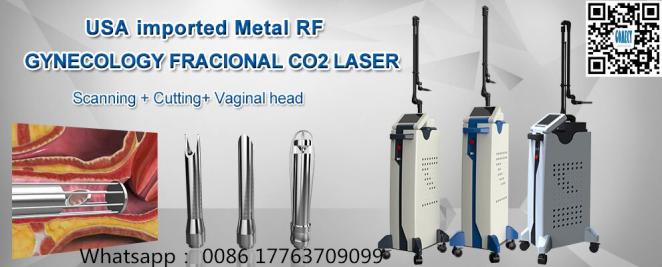 GOMECY Radio Frequency (RF) Fractional Co2 Laser vagina cleaning machine aesthetic co2 laser machine
What is Working Theory of RF drive Fractional co2 Vaginal Rejuvenation Laser
1. Vaginal Rejuvenation Laser(Gynae) system
Use an articulate arm probe with automatically 360o rotation technology, producing in 50-70oC at a controlled depth inside the vaginal mucosa - stimulates collagen contraction, restructuring and regeneration; promotes collagen fiber proliferating, remodeling; improves vaginal mucosa microcirculation; increases cell secretion and dynamic reaction function; corrects PH value of vaginal inside; improves the inside environment; achieve female private parts to significant lasting firming, nourishing and restoring harmonious sexual life.
2. Fractional system
Fractional ablative CO2 resurfacing delivers 10600nm laser in fractional manner into the skin while leaving the untreated surrounding areas intact. Laser creates microscopic thermal dot on surface and performs within tissues, offering improve skin tightening, age spots, fine lines, acne scars, stretch marks removal and vulva rejuvenation. The untreated tissue helps to accelerate the healing process and rejuvenate the skin by promoting microcirculation and new cell genesis.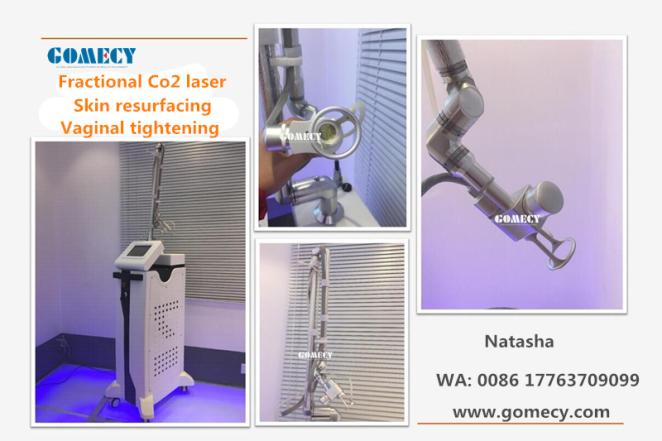 What is The scope of treatment of RF drive Fractional co2 Vaginal Rejuvenation Laser?
Acne scars

Actinic keratoses

Basal cell carcinoma

Burn debridement

Laser skin resurfacing

Eliminate the scar: Traumatism, operation

Improve texture tone and pore size

Erase unwanted brown spots

Smooth wrinkles around the eyes and mouth

Rejuvenate your neck, chest and hands etc

Skin Whitening & Tightening, wrinkle Removal

Pore shrinking

Striae Gravidarum Removal, Tone &Texture Improvement

Syringoma and Steatoadenoma Removal

Treatment of Actinic keratoses & Seborrheic keratosis

Vaginal tightening

What is Advantages of RF drive Fractional co2 Vaginal Rejuvenation Laser?
1. with 8.4 inches large-colored touch screen. Comprehensive Operator Interfaces greatly simplify the time of learning so as to bring our client economic benefit more effectively.
2. Maximum output power of 30W, ensuring the clinical demand of maximum output power, thus safeguarding validity of a single monopulse peeling various skin organizations and best effect.
3. The unique fractional output. Application of galvanometer scanning mode actively provide as much as seven speckle patterns that guarantee each part gets evenly in the facial.
4. The unique choice of focal spot density. Doctors can choice treatment area of exfoliative organization freely, which could easily hold the patient of appeal, tolerance and postoperative complications.
5. The unique Atlantic technology. CO2 fractional laser can change to CO2 Ultra Pulse laser by switching interface easily.
6. Equipped with various treatment tools. To satisfy different parts of the organization in different treatment needs.
What is Technical Specification of RF drive Fractional co2 Vaginal Rejuvenation Laser?
Working mode

Single pulse, continuous pulse, repeated pulse

Output power

60w (adjustable)

Input power

450VA

Laser type

Sealed-off CO2 laser tube/ RF laser tube

Laser mode

Lower order

Laser wavelength

10.6μm

Scan Pattern

triangle/square/rectangle/diamond /line/round

Beam divergence angle

4mrad

Focused spot diameter

≤0.4mm

Pulse width

0.02-0.99s

Aiming beam

infrared ray (650nm, 2mw)

Beam Delivery

7 joint-articulated arms

Cooling system

Inside-circle coolant

Display screen

True color touch LCD screen

Operation system

Microcomputer control

Humidity

<80%

Air pressure

86KPA-106 KPA

Input voltage

AC220V±10%, 50Hz

Preheating-time

>5min

Electromagnet

No electromagnet interrupt

Other working environment

No obvious shaking or airflow

Weight

N.W

38kg

G.W

55kg (wooden case)
1. Packaging: Standard Air Package.
2. Shipping: We can offer the door to door service by air or sea, just depend on your actual request. Such as DHL, UPS, TNT, FEDEX… by air; and the sea transportations.