Hot-Dipped Galvanized Gabion Landscaping
Gabion landscaping, also called gabion baskets, gabion wall, is made of hot-dipped galvanized, galfan coated or PVC coating steel wires which are filled with rocks, stones, gravel, pebbles or other recycled materials you want to use.
In modern society, gabion wall is getting more and more popular. There are various ways to decorate your private or commercial sites:
In your private place, you can use gabion baskets to make gabion fence, fountains, letter box, gabion planters or barbecue which can catch people's eyes deeply.
In commercial site, people usually use different shapes, colorful rocks and gabion baskets to make shop sign, LED fountain and landscaping wall to attract people.
Most importantly, gabion retaining wall is cost effective and environmental.
Features
Sturdy structure and deformation resistance. The gabions have a solid structure, which are made of thick wires and strongly welded.
Corrosion resistance. Whether the gabions are made of hot-dipped galvanized, galfan coated or PVC coating, the gabions are all good corrosion resistance.
Easy to assemble. First to build level base, then assemble gabion baskets and finally fill gabion with rocks.
Wide application. Gabion retaining wall can be widely used in garden, private and commercial sites for decoration.
Environmental protection. The gabion basket for sale is filled with rock, pebble or recycled material, so it will not cause environmental pollution.
Long service life & Cost-effective. Gabion walls are made of heavy galvanized welded steel rod for sturdy structure and you can use rock, slag glass, pebble or recycled material to fill the gabion basket which can help you save money.
Attractive. The gabion baskets for sale can be in various shapes and various colors according to your needs.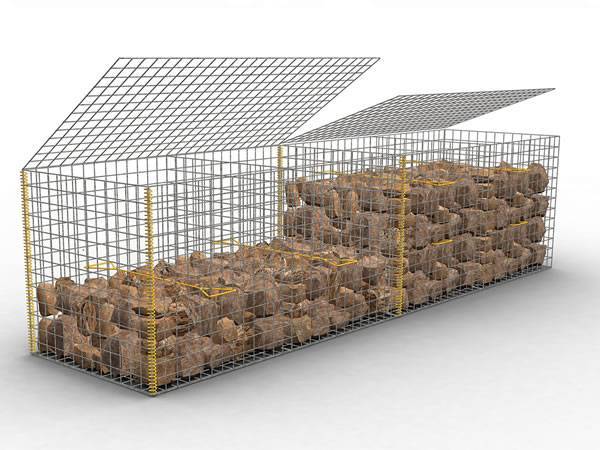 Detailed specifications
Material:

hot-dipped galvanized steel wire.
Galfan coated steel wire.
PVC coating steel wire.

Wire diameters: 3/4/5/6 mm.
Mesh size: 50 × 50 mm, 75 × 75 mm, 100 × 50 mm, 200 × 50 mm, etc.
Gabion size: varies according to customers' requirements.
Where need our gabion landscaping?