Gantry Benchtop Robot for Two Component Mixing&Dispensing TH-206H-2004AB1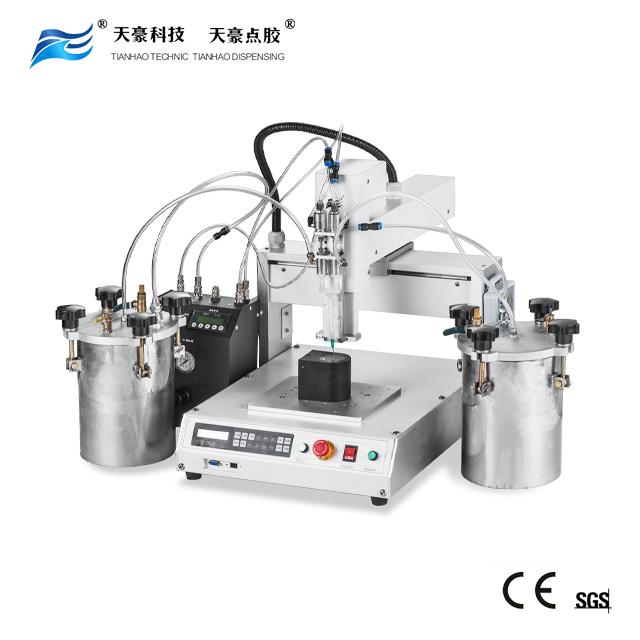 FEATURES
:
1.Feed system is 4 liter tank large capacity for liquid material. Other have 0.5 liter ,2liter, 20 liter can option.
2.Two component accuracy suck-back dispensing valve.
3.High Precision Liquid dispensing controller system
Application
Good for viscosity less 10000cps before mixing,mixing ratio by weight is 1:1 to 1:3, precision dispensing.
Liquid Material:AB GLUE.epoxy resin,PU GLUE,Two component material,two part mixing material.
Packing capacity:tank (2liter,4liter.20liter can option)
Help you more:
· Increase production efficiency
· Promotion processing precision control
· Improve product quality
· lower production costs, reduce rejected product
· Eliminate material waste
· Create more economic benefits for the enterprise.
Specification:
ITEM

TH-206H

X/Y/Zworking range

300 x 300 x 100mm

Dimensions (WxDxH) mm

600 x 520 x 610

Weight

34kg

Standard

CE Approved

XY/ZMaximum Load

10 kg / 3 kg

Repeatability

0.02mm

Resolution

0.001mm

XY/Z Speed

800/350 mm/Axis

Data memory capacity

9999programs

Display way

LCD display

Drive System

Precision micro-stepper motor

Transmission

Timing Belt/ Precision Linear Guides

Edit Programming

Handheld Programmer

I/O Signals

4 Inputs / 4 Outputs

Port allows for data

USB port allows for data transfer between PC

Patterns

3DLines, Circles, Arcs, Continuous Paths, XYZ

simultaneous (CP) 3D

Power Supply

AC110V/220V Internal conversion

Working Temperature

0 ~40℃

Relative Humidity

20~90% (no condensation)