Product Description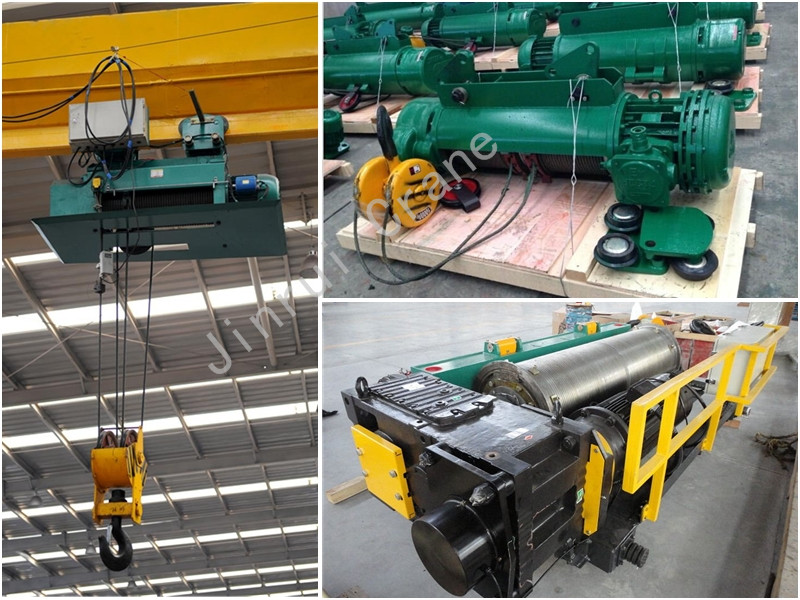 Wire rope electric hoist is a lifting equipment which widely used and necessary in Industry, it can be installed on single girder overhead crane, single girder gantry crane, jib crane and I-beam. According to different design principles and using environments, Electric hoist also divide into single speed (CD electric hoist), double speed(MD Electric hoist), square box(HC electric hoist) and curve traveling hoist(CDW electric hoist), anti-explosion type, metallurgical type, Europe type and Low headroom type, etc. What's more, the electric hoist also can be designed to pendent control and wireless remote control.

1. Lifting capacity is 0.25t to 32ton;
2. Lifting height is 3m to 30m;
3. Stationary type and movable type;
4. Round-structure and square structure;
http://www.jrcrane.com/
http://www.jrbridgecrane.com/
http://www.jinruicrane.com/
http://www.jrgantrycrane.com/
Features(advantage):
1.Fluent starting and stopping.
2.Low noise and long lifespan.
3.Good performance and easy maintenance.
4.All kinds protective device.
5.Most convenient lifting device.
Product Classification
CD1,MD1Electric Hoist
Feature: CD1 Wire rope Hoist is a small-sized lifting equipment, which can be mounted on single beam, bridge, gantry and arm cranes. Model CD1 Electric Hoist has only one normal speed, which can satisfy normal application. Model MD1 Electric Hoist provides two speeds: normal speed and low speed. At a low speed, it can do precise loading and unloading, mounding of sand box, maintenance of machine tools, etc.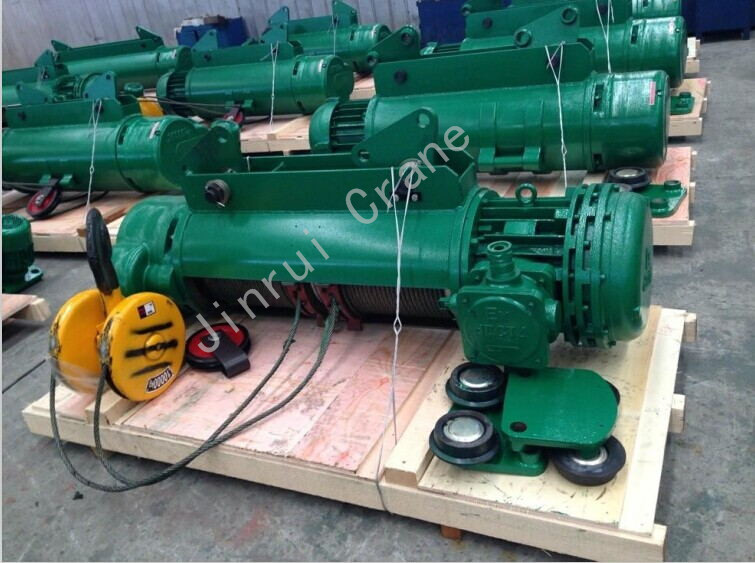 Low Headroom Electric Hoist
Feature: The low headroom wire rope electric hoist is improved from CD & MD type electric hoist, the working condition same as CD & MD type wire rope electric hoist, but it increases more clean lifting space, you can save more construction cost of workshop.
Metallurgical Explosion-proof Hoist
Feature: Metallurgical Explosion-proof Hoist is the ideal light metallurgy Lifting equipment that can be used in metallurgical single beam matched with this type, and can also be installed in the workshop fixed hanging rail used alone.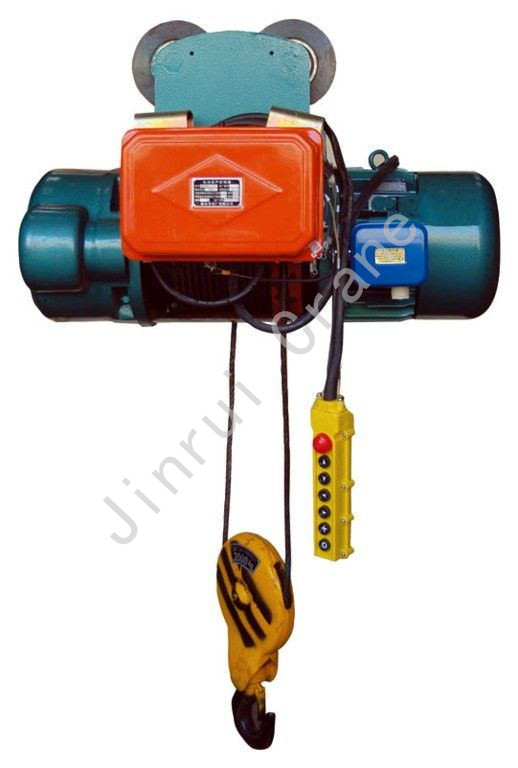 Wire Rope Explosion Proof Electric Hoist
Feature: Explosion-proof electric hoist is a kind of small-sized lifting equipment which is small volume, light weight, huge lifting capacity. When workshop filled with explosive mixture, in order to ensure safe premise, Explosion-proof electric hoist is necessary and favorable equipment to improve labor conditions and labor productivity.
Technical Parameters & Drawing
Item

Specification

Capacity

T

0.25~32 or as required

Lifting height

m

3~30 or as required

Lifting speed

m/min

0.35/3.5, 0.7/7, 7, 0.8/8, 8 or as required

Travelling speed

m/min

20/30 or as required

Wire rope

type

6x37+1

Dia.

3.6/4.7/7.7/11/13/15.5/17.5/22.5/25.5

Working system

FC=25%(Intermediate)

Power source

380V50Hz, 3-phase AC or as required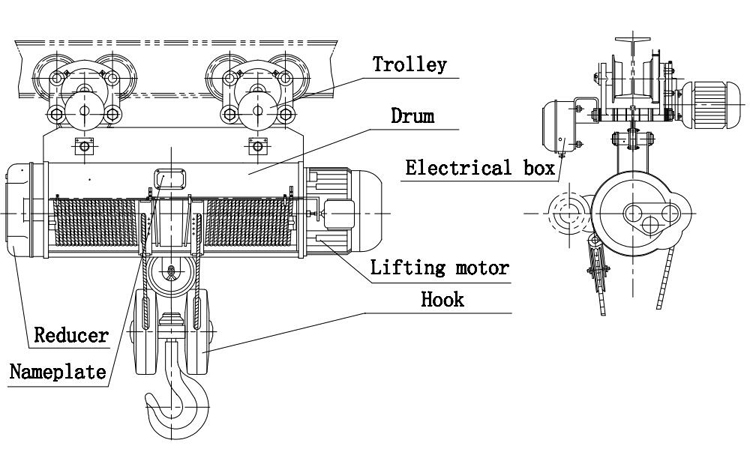 New Type European Electric Hoist
European type electric hoist adopts the European FEM design standards with advanced concept, beautiful appearance. The drive adopts domestic advanced point line meshing gear structure making the machine has compact reasonable structure. The operation is simple, convenient and working is safety and efficient and meet the low noise, energy conservation and environment protection requirements.
Lifting capacity: 0.5ton-32ton
Lifting height:6m-30m
Control method:pendent control or remote control
Voltage: 380v-50hz, phase or as your demand
High Security
1. Security monitoring system of FEM European Style Electric Wire Rope Hoist , usually installed on bridge crane and goliath crane, equipped with overload limiter, and real-time load value is displayed in the screen to prompt the operator to prevent overloading.
2. The controller of FEM European Style Electric Wire Rope Hoist will perform a self-test before starting, including the power supply voltage level, default phase, button zero status and validity of each safety device.
High Reliability
1.Motors of FEM European Style Electric Wire Rope Hoist imported from Germany, electrical connection sustained rate of not less than 60%, insulation class F, protection class IP54. And FEM European Style Electric Wire Rope Hoist has overheated protection and alarm functions, motor housing made of aluminum alloy drawing molding with excellent heat dissipation.
2. Maintenance-free electromagnetic disc brakes to be used on FEM European Style Electric Wire Rope Hoist , turning into braking status when outage to ensure safety. Brake pad material is environmental and non-asbestos, brake built-in electronic modular system allows the brake fast and agile. The minimum safety factor of FEM European Style Electric Wire Rope Hoist is 1.8; safety brake times are not less than one million. Even in high temperatures and long time running can also ensure safety braking.
High Efficiency
Lifting motor with squirrel-cage cylindrical 2/12 pole double speed brake motors, speed ratio 6: 1, hoist work levels of FEM European Style Electric Wire Rope Hoist can reach M6. Running gear adopts frequency control, running speed at 2 ~ 20m / min.
Maintenance Free for FEM European Style Electric Wire Rope Hoist
Reducer of FEM European Style Electric Wire Rope Hoist adopts a 10 year maintenance free design and has two-stage helical gears, gear precision more than seven, low noise, smooth operation. The iron reducer installed an internal magnet for attracting scrap iron and reducing gear wear. Reducer of FEM European Style Electric Wire Rope Hoist adopts sealing design, no drain and ventilation holes; mineral oil lubricate, free replacement for 10 years.
Packing & Delivery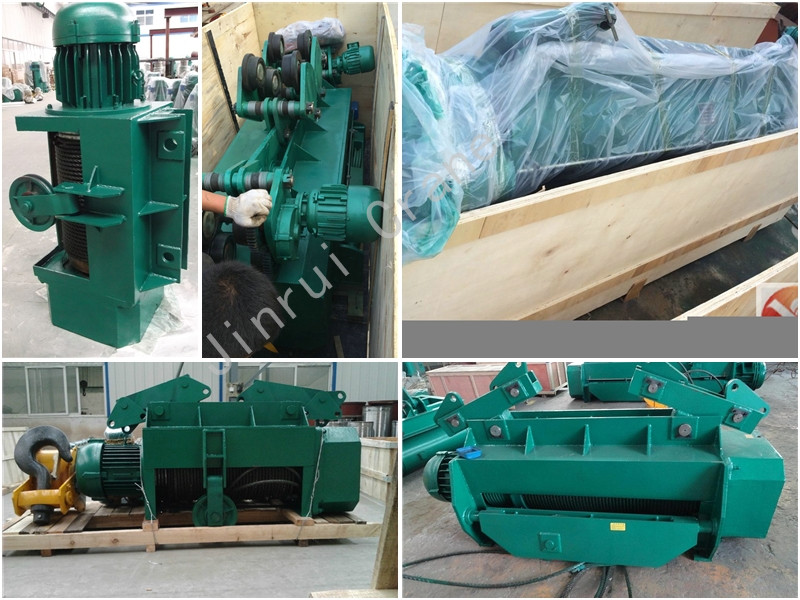 1. Delivery time
Within 10 business day after the receipt of deposit.
2. Packaging
Wood case for electric parts, accessories;large sections will be loaded onto bulk cargo shipafter packing.
3. Payment terms
FOB, CFR and CIF are common trade terms. We can accept payment terms: TT, L/C, west unit, DP, DA and other.
4. Installation
the installation team can be sent to local site to install for customer.
5.Warranty
We'll be responsible for maintenance if our product itself has quality problem during one year after receiving.
About Jinrui Crane
1. Factory establish in -- 1981. With 34 years fabrication experience, we are professional.
2. Factory area -- 600000m². Large production capacity, help customer improve the factory construction time and saving more cost.
3. Exporting to more than 50 countries. Rich exporting experience make us provide a better exporting service, and help our customer avoid more troubles during every step.
4. Rich exprience cooperate with different application industry -- we can provide more reasonable suggestion during the process of solutions confirm. Help our customer get a best money performance equipment.
5. 2 years warranty, no worry about the aftersale service.
6. Provide Overseas installation. To make sure the crane can service better for the working.
Our Service
Cousultant Guide
About Product: Please inform us the following datas for the purpose of servicing you better!
1. Max lifting capacity: ___ton?
2. Lifting height (hook center to ground):___m?
3. Any special requirement on lifting speed?
4. Working condition: what is the material to lift? What kind of crane will be the electric hoist used on?
5. Power supply: 380V/50HZ/3Ph is ok?
6. Working frequency: like how many working times/day, hours/time?
. We are in china, but serve you in the world
Jinrui Crane, your reliable supplier