YINYAN glue mixing dual planetary mixer machine
YINYAN glue mixing dual planetary mixer machine, which is one type of double planetary mixer machine with high performance, high efficiency, easy to clean and to maintain. It has double agitators of this equipment which rotate and at the same time revolve around the axle, the agitators are divided by the viscosity and characteristics of the material, including paddle type, twist type, claw type, frame type etc., have good mixing, reacting, kneading, dissolving effect.
The adhesive mixing dual planetary mixer machine is equipped with a separate set of scrapers to scrape the side of the barrel with no residue. Th equipment is suitable for high temperature, high solids, high viscosity, and other difficult working conditions. The closed design for a vacuum system to realize vacuum mixing, mixing tank can be designed with a heating jacket, matching mold temperature controller, to realize thermostatic mixing function, It's the first choice of mixing equipment for the high-viscosity materials.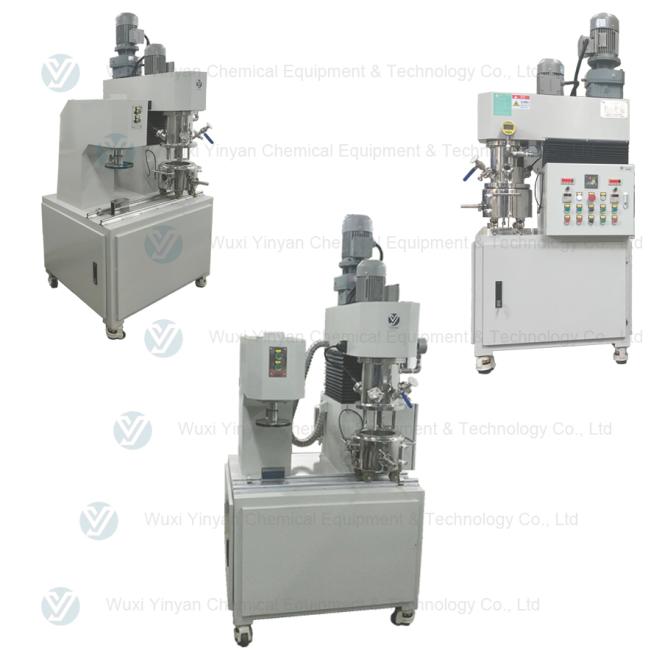 Application Industry
Suitable for dispersing and mixing materials in industries such as coating, putty, adhesive, energy, electronics & electrical appliances, pharmaceuticals, cosmetics, food etc.
Applicable Material
Various slurries with viscosity less than 3,000,000cps, such as battery paste, solder paste, ceramic paste, silicone inks, sealants, structural adhesives, soft cream, jam etc.
Product Advantages
(1) High mixing efficiency, wide application
Glue mixing machine, the materials are mixed rapidly under the action of strong shearing and kneading force. Various agitators (blade type, twist type, claw type, frame type etc) are in option based on materials with different viscosity and different specific gravity.
(2) Safe and convenient operation
Adopt hydraulic cylinder as lifting actuators. Control the mixer up, stop and down through controlling the valve, simple operation with high stability.
(3) No residue on the wall, clean discharging
There is scraper on the planetary frame rotating together with the planetary frame, it clings to the container and scrape the materials on the wall off continuously, and ensure without mixing dead corner and excellent mixing result.
(4) Customized options
Options for explosion-proof type, closed type, heating type, with PLC intelligent control type, etc.
Material options for SS304, SS316L or special Spraying materials.
General Technical Configurations
| | |
| --- | --- |
| Power supply | AC380V / 50Hz / 3P |
| Motor | Famous brand or customized by customer |
| Reducer | Famous brand or customized by customer |
| Frequency converter | Famous brand or customized by customer |
| Bearing | Famous brand or customized by customer |
| Planetary gear box | Precision machining; material SUS304 |
| Mixing agitator | Designed and customized according to production process and customers' requirements |
| Electrical control | Independent electronic controller |
Company Profile
Wuxi Tyensun Technology Co., Ltd, one of YINYAN's wholly-owned subsidiars, is the sole vender legally approved by YINYAN and imports & exports for YINYAN.

Wuxi Yinyan Chemical Equipment & Technology Co., Ltd is a comprehensive enterprise specializing in R&D, design, manufacturing, sales and service for both class I ,II & III pressure vessels and liquid & powder machinery. Wuxi Yinyan, established in 2010, is located in Wuxi city, which is close to East Wuxi Railway Station. It has two production bases, covering an area of more than 32,000 square meters. Our main products and services include reactors, heat exchangers, separate containers, storage vessels, dispersers, mills, emulsifiers, mixers , blenders, filling machine and whole set production line for powder and fluid production, which are widely used in industries such as petro-chemical, chemical industry, power station, pharmaceutical, coating, daily cosmetic, food, metallurgy, lithium battery, pesticides, detergents, building materials, asphalt emulsion modification, papermaking, printing inks, lubricants, dyeing and textile auxiliaries etc.

Wuxi Yinyan insists on international strategy in the course of development, and continuously intensifies the efforts on international market exploitation according to market demands and its own products condition. Currently, our machines have been exported to many countries such as Europe, Southeast Asia, South America, Africa, Middle East ,etc.. Adhere to technical innovation, wuxiyinyan has established its influence, popularity and good reputation in the international market gradually.

Always adhere to " Improve Quality, Satisfy Customers, Perfect System, Exploit and Innovate" as Wuxi Yinyan quality guide line, led by the banner of Honesty, Cooperation, Learning and Innovation, Wuxi Yinyan is making great efforts to realize perfect unity of company economic benefits and social benefits continuously!
Workshop
R&D
We have a professional team to make every new design according to customer's requirements.
Our exhibition
Certificates
Our Customers
Our service
. 1 year warranty
. Free repair service offered in warranty expect misoperation
. Response within 24 hours and offer repair solution
. Lifetime maintenance service provided and low-cost spare parts
2. Evaluation service
. Free evaluation service offered to ensure all equipment is in good working condition after installation
3. Training service
. Free face to face training service offered during installation and evaluation period
. Remote training service offered anytime
Shipping and Packing
FQA
1. Why choose us?
. Over 10 years' manufacturing experience
. Competitive price with high quality
2. What certification do you have?
. ISO and CE certification
3. What can you supply to customer?
. Solutions of customized industrial production equipment
. Complete production lines for use in
(1)Cream/Paste Production
Cosmetic industry: face cream, body cream, washing cream, Vaseline, etc.
Food industry: sauce, ketchup, tomato paste, mayonnaise, mustard, chocolate, etc.
Chemical industry: welding paste, ink, paint, pigment etc.
Solution: RO water treatment, vacuum emulsifying machine, storage tanks, filling machine, capping machine, labeling machine, conveyor belt, inkjet printer, sealing machine, shrinking machine, etc.
(2) Liquid production
Industry: shampoo, lotion, liquid soap, detergent, juice, solution, etc.
Solution: RO water treatment, liquid wash mixer, storage tanks, filling machine, capping machine, labeling machine, conveyor belt, inkjet printer, sealing machine, shrinking machine, etc.
(3) Make-up production
Industry: lipstick, lip gloss, nail polish, mascara, etc.
Solution: homogenizer mixer, colloid mill, lipstick filling machine, freezing machine, etc.
(4) Adhesive production
Industry: instant glue, AB glue, silica gel, anaerobic adhesive, silicon, sealing, etc.
Solution: double planet mixer, ribbon blender, tube filling and sealing machine, hydraulic distributing machine, cartridge filling machine, etc.