Model: YX-75-310-914.5
Floor deck roll forming machine for mass production construstion material foor deck.
Floor deck name as floor board, also known as profiled steel plate, steel plate, steel floor plate. It was first called the profiled steel plate, which is the collective name for all the steel plates pressed by the plate press.
The floor slab is made of galvanized steel sheet by roll forming, and its cross section is V-shaped, U-shaped, trapezoidal or similar. It is mainly used as a permanent template and can also be selected for other purposes.
The earliest profiled steel plates were mainly used for roof slabs on the factory floor, and later there were profiled steel plates for the floors, which were gradually classified as floor deck.
(Ⅲ), Main Forming machines
3.1 Forming Roller:20 stations,and add Rub-roll, To make sure the surface profile no scratches.
3.2 Side Panel:T.18mm ,A3 steel Heavy duty 。
3.3 Rolling speeding: 2-8 m/min。
3.4 Roller material:GCr15,overall quenching, hardness HRC56-62 ℃.
3.5 Motor power:7.5KW。
3.6 Main Roller :¢75mm,45 #。
3.7 Equipment base: 45 # H type using welded steel plate.
3.8 Transmission: chain drive.
3.9 Security: across the board with emergency stop buttons, easy to handle emergencies, to ensure that equipment and operator safety. And other gear in the chain and the staff could easily lead to injury transmission section covered with protective cover, to ensure the safety of workers.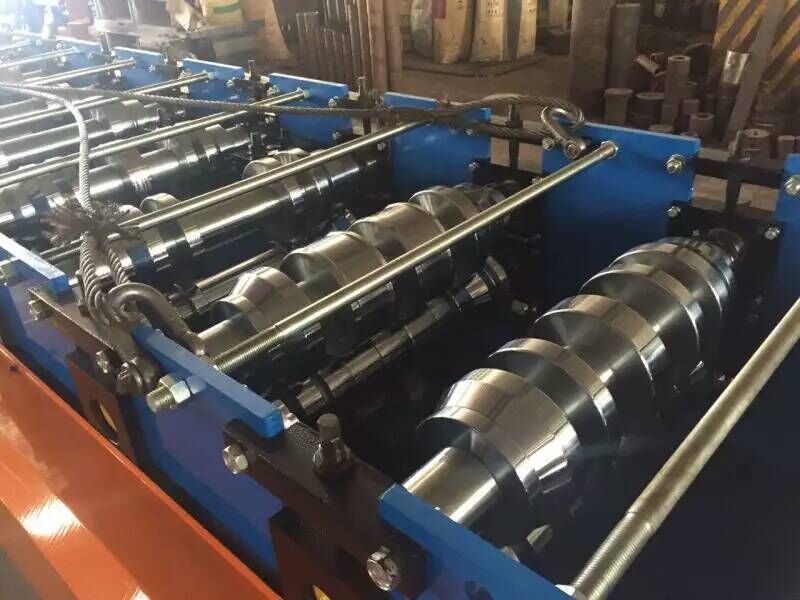 Machinery main components of the brand
PLC control system: Siemens
Inverter: Taiwan Shilin
Encoder: Omron
Touch screen: Siemens
Some components are Schneider brand devices.
(Ⅷ),Devices completed floor deck prodution line
| | | | |
| --- | --- | --- | --- |
| No. | Machine name | QTY | REMARK |
| 1 | Uncoiler straightener | 1 | |
| 2 | Guide device | 1 | |
| 3 | Forming machine | 1 | |
| 4 | Follow Shear | 1 | Including knife |
| 5 | Collect rack | 1 | |
| 6 | Control system | 1 | |
Ⅵ, Floor deck machine accessories brand
| | | |
| --- | --- | --- |
| No. | Name | manufacturer |
| 1 | Motor & Reducer | Domestic brands |
| 2 | The main key bearing | Domestic brands |
| 3 | Inverter | Shilin |
| 4 | PLC Systems | Siemens |
| 5 | Low-voltage electrical | Schneider |
| 6 | Encoder | Omron |
| 7 | touch screen | Siemens |
| 8 | Hydraulic system | Domestic brands |