Titanium Bolt
HOSN Titanium specialized with titanium fasteners production including titanium bolt and nuts,titanium washers and so on.From raw material to finished products,every link of production will be strictly controlled to ensure all products with high quality.
Excellent Features and Applications of titanium bolts
Compared with steel ones,titanium bolt has low density,high strength,excellent corrosion resistance,nonmagnetic,rustless,biocompatibility and non toxicity features.
We produce both alloy and unalloy titanium bolts and they will be used for different fields.Grade 5(Ti-6Al-4V) is the most popular titanium alloy for titanium fasteners,it is designed for fields which has demands on higher strength,weight saving,corrosion resistance and nonmagnetic features.For example bicycle,motorcycle,automobile,mechanical equipments,electronic fields,etc.
For unalloy titanium,though it has medium strength,but its corrosion resistance features is much better than titanium alloy,so it is widely used for fields which has higher demands on corrosion resistance features.For example chemical industrial equipments, piping connection,seawater purification and marine fields,etc.Representative titanium unalloys has Grade 1,Grade 2,Grade 7 and Grade 12.
Head Type of Titanium Bolts
We produce titanium bolt and fasteners with various kinds of head type including hex head,socket head,round head,countersunk head,flange head,square head,12 point head,etc.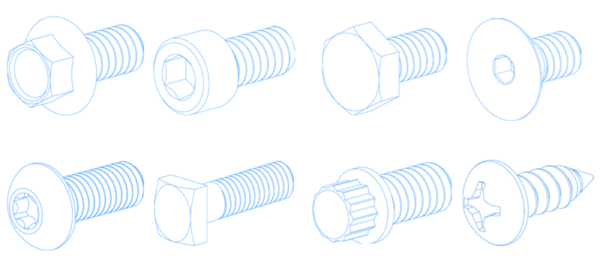 Various Colors of Titanium Bolts
Anodized Colors: Gold,Blue,Black,Purple,Green and Rainbow
PVD Coating or Nitriding Colors: Gold,Black,Rainbow(Oilslick) and Burnt colors.
Special Red color