Granite Limestone PF Series Impact Crusher

Brief Introduction of PF Impact Crusher:
Zoneding PF series Impact Crusher adopts the newest manufacturing technology and unique structure design. PF impact crusher crushed product is with perfect cubic shape, no tension and crack. This fine impact crusher can crush materials with size smaller than 500mm and resisting strength less than 350MPa, such as granite, limestone, and concrete aggregate, etc. The stone impact crusher is widely used in road construction, railway and other industries.
Features of PF Impact Crusher:
1. Large feeding size and big crushing ratio;
2. Perfect cubic shape product and sturdy structure;
3. Convenient discharge opening adjustment for different products need;
4. High chromium hammer and unique lining plate are suitable to crush hard stones efficiently;
5. Hammers, impact plates and lining plates life is much longer.
Technical Parameters of PF Impact Crusher:
| | | | | | | |
| --- | --- | --- | --- | --- | --- | --- |
| Model | Rotor specification (mm) | Max feeding size (mm) | Capacity (t/h) | Power (KW) | Weight (t) | Overall dimension (L x W x H) (mm) |
| PF0807 | Φ850×700 | 250 | 15-30 | 45 | 8.1 | 2210×1490×2670 |
| PF1007 | Φ1050×700 | 300 | 25-60 | 45 | 9.5 | 2400×1558×2660 |
| PF1010 | Φ1050×1000 | 350 | 50-80 | 75 | 12.2 | 2400×2250×2720 |
| PF1210 | Φ1250×1050 | 350 | 70-120 | 110 | 14.1 | 2690×2330×2890 |
| PF1214 | Φ1250×1400 | 400 | 110-180 | 132 | 18.6 | 2690×2688×2890 |
| PF1315 | Φ1320×1500 | 500 | 160-250 | 20 | 23.4 | 3096×3273×2667 |
| PF1320 | Φ1320×2000 | 600 | 200-310 | 315 | 27.5 | 3280×3570×2920 |
Impact Crusher in Stone Crushing Plant: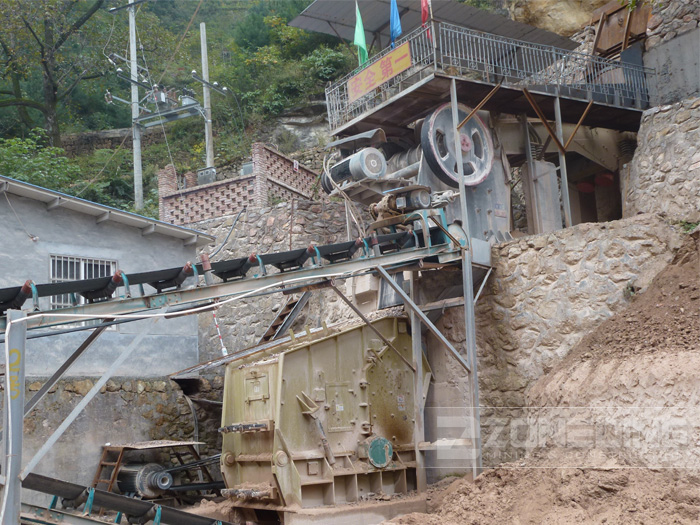 http://www.zonedingmac.com