CHARMGRAPHENE, a new graphene brand and leader in graphene, a new world-changing material

Graphene Thermal Eye Massager, a heater incorporating the next generation new material graphene
Graphene far-infrared thermal functionality
Pneumatic massage
Blue tooth (Music)
180° fold-type
Ultra-light (270g)
Convenient USB (Micro 4Pin) charging type
Description
Recommended for :
Parents suffering from tired eyes
People using computers for long periods
People using smart phones for long time
Young and old studying for long periods
Characteristics of Graphene Thermal Eye Massager
01 Development of a surface heating system to which graphene, a new world-changing material, has been applied
Heat is evenly generated from the front of the heating unit.
Far-infrared radiation, waves beneficial to the human body, warm the skin.
Batteries can be used for a long time due to strong heat-generation effects.
02 Selection of six massage functions
Thermal Massage (Strong/Weak)
Air Massage (Strong/Weak)
Thermal + Pneumatic Massage (Strong/Weak)
03 Listen to music via bluetooth functions
04 Foldable type to fit face shape (180°)
05 Convenient application and portability based on ultra-light weight (270g)
Graphene thermal massage
Application of the new world-changing material graphene surface heating system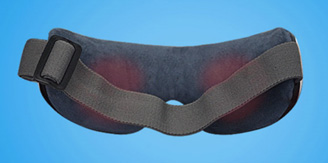 Effectively responds to fatigued eyes with a warm thermal massage of 35 to 45°C. The surface-heating unit was developed based on graphene, a new world-changing material. The method of heat transmission in the graphene heating unit is about 90% based on far-infrared radiation beneficial to the human body. In the graphene heat-generating unit, heat is evenly distributed on the surface to reduce electricity consumption below that of comparable existing heating system.
Effects of far-infrared radiation generated from graphene

Infrared rays include near-infrared, intermediate infrared, and far-infrared rays. The far-infrared ray is invisible and contains the most beneficial waves to the human body. It has been proven to be an effective treatment. Water accounts for 65% to 80% of the human body, and if far-infrared rays are radiated onto the human body, they permeate 80 times deeper into the skin (4 to 5 cm deep into the skin) than general heat and activate cells through minute vibrations during which cells tremble 2000 times or more a second. Rays infiltrate into the human body through this cell activity to warm up the inside and vibrate the entire body.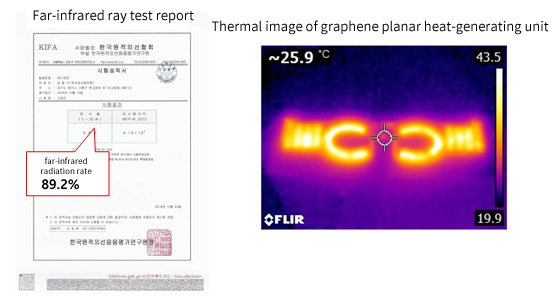 Pneumatic massage and other functions

GRAJOA Ggraphene Thermal Eye Massager is designed to be folded 180° to fit the human face, it massages eyes by pressing or rubbing them through air expansion and contraction.
Users can select one of six modes including Thermal Massage (Strong/Weak), Pneumatic Massage (Strong/Weak) and Thermal + Pneumatic Massage (Strong/Weak).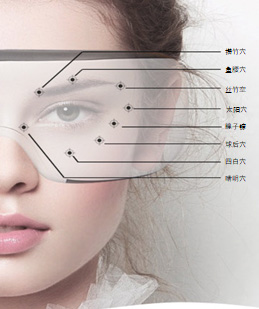 How to use
The massager is operated using a power button. If the Power ON/OFF Button is pressed for 3 to 4 seconds, it functions regardless of operation modes. The present mode is indicated by a light situated next to the Power Button.
Turned on or off if the button is pressed for 3 to 4 seconds.
If the button is pressed once, the strength of massage is adjusted.
If the button is pressed twice, the mode of massage is changed.
Automatically turns off after 15 minutes. (In case of Power ON)

| | | | |
| --- | --- | --- | --- |
| Product name | Graphene Eye Massger | Model | GE1 |
| Applied voltage | DC5V/1000mAh (3 hours of USB charge) | Power consumption | 1~4W(DC 3.7V) |
| Material | ABS/Suede | Recommended time | 15 minutes |
| Size | 210(L) x 100(W) x 80(H)mm | Weight | 270g |
| Certificate | KC Safety Certification, KC Conformity Certification | A country of manufacture | China/Korea (Heat-Generating Unit) |
Cautions
Do not walk or drive while using the eye massager.
Make sure to remove obstacles such as eye glasses, contact lenses and hairpins before use.
The product is not appropriate for those with eye diseases. Those who have had eye surgery or who suffer glaucoma, cataract or separated retina should consult with a medical doctor before use.
Patients who have had a stroke, or high or low blood pressure should take caution and consult with a medical doctor before use.
Those with sensitive skin should take caution not to suffer a low-temperature burn when using the thermal function.
Automatic timer automatically terminates after 15 minutes of basic operation time. Continuous use might tire the eyes. If unit is in continuous use for 30 minutes, make sure to stop using it before resumption.
Take caution to prevent from getting wet. May cause mechanical troubles.
Make sure to keep the product at room temperature and avoid placing in a damp or hot place.
Do not arbitrarily disassemble the product.