Auto Windshield Glass Green On Clear Band PVB Film Interlayer
Jiahua PVB film interlayer is a macromolecule material which produced by extrusion using PVB resin, plasticizer and additives. Saflayer pvb film is not only can shield out the UV, heat and sound, but also famous for its high visible transmittance, super anti-penetration. The major application of PVB film is laminated safety glass used on automotive windshields, architectural glass as well as the bullet proof glass.
Thickness
0.76mm
Appearance
Surface
Smooth surface without Nick,Crease,Bond; The color band should be evenly distributed and the width of transitional region is equalized
Band Color
Clear, Blue,Green ,Gray & others
Crystallite and watermarks

Crystallite Diameter exceed 2.0mm is not allowed.

No visible watermarks.

Visible defects (impurities, bubbles, oil, drop etc.)

Defects Diameter exceed 0.5mm and
allowed maximum 6 defects per 200m
Defects Diameter exceed 0.5mm to tag on PVB film; Diameter less than 0.5mm in the Intensive defects area* must tag on one defect. The defects marks and places should be showed in the packing list.


Thickness tolerance(mm)
Plus or Minus 0.04mm
Thickness and size
Uniformity ratio
At any two points from 25mm distance either horizontally or vertically of the thickness tolerance is less than 15μm; (or 50mm - less than 25μm; or 100mm - less than 50μm)



Length (m)
Normal length


Width (mm)
Normal width
Roughness Rz
15 -70
Moisture content (%)
0.35 - 0.55
Heat shrinkage rate
( 60ºC/15min) (%)

8.0 Max
Pummel value
7 Max
Light transmittance (%)
85 Min
Haze (%)
0.2 - 0.4
UV Screening, up to 380nm (%)
99
Tensile strength

(MPa )
20.0 Min
Tensile elongation (% )
200 Min
Yellowness index (%)
10 Max
*Intensive defects area:

Within the 300mm diameter circle, the defect numbers is over 10 and its interval less than 5 mm.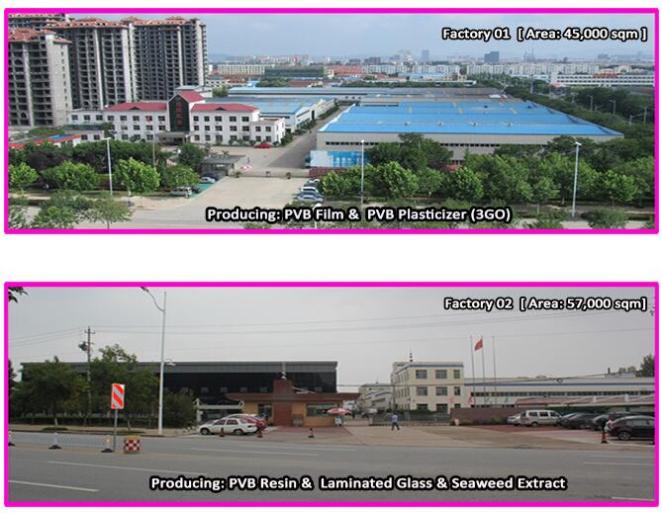 Qingdao Jiahua Plastics Co., ltd. is a professional manufacturer and engaged in the research & production, sale and service of PVB resin, PVB film interlayer, PVB plasticizer (3GO) and Float laminated glass sheets. Dedicated to strict quality control and thoughtful customer service, our experienced staff members are always available to discuss your requirements and ensure full customer satisfaction. Going with company development, we are looking for new team of partner with strong integrity to join us to enjoy our business together.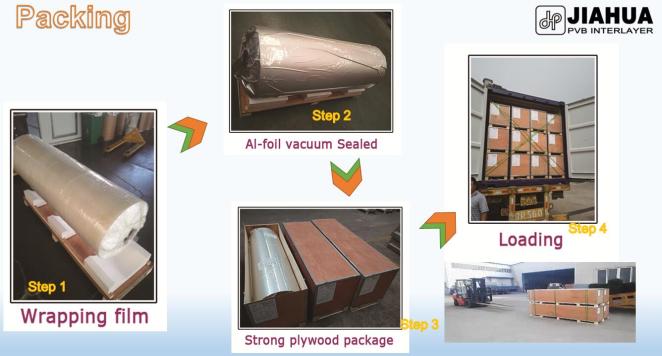 Packing: The pvb film is rolled by insulated with PE film and then wrapping film, cased into an aluminum foil bag by vacuum sealed, and then packing into plywood box or fiber can. (remark: The width is less than 1250mm, which can be packing into fiber can)

Transportation: There should no direct sunlight, drench, and violent shaking during the transportation.

Storage: Be stocked in cleanhere should be quality certificate, packing list in the package. The marks of moisture proof, shock proof and sunlight proof should be labeled.

Automobile grade
Thickness length clear width shade width
0.76mm 200m 600-1600mm 0-230mm
1. Q: Can I have a sample order?
A: Yes, Sample is free if you agree to share the international express charges.
Contact Us and tell me your requirement of the product you want.
2. Q: What is the lead time for sample?
A: Existing sample is free and customized sample needs about 1 weeks;
3. Q: What express do you often use to send the samples?
A: Any express is available,it depends on your requirement;
4. Q: Do you have any MOQ limit?
A: It depends on the size and color;
5. Q: What's your acceptable payment term?
A: T/T or L/C. It due with T/T, that we will request 30% T/T deposit and 70% T/T against the B/L copy.

Contact:
Ms Joanna Wei