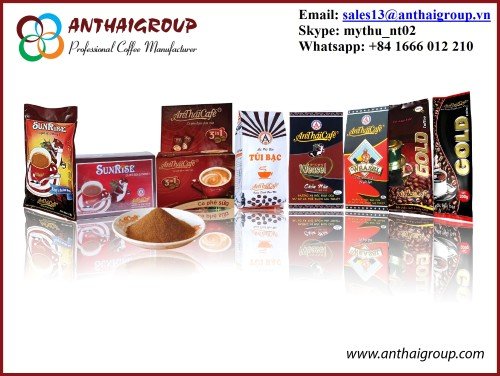 An Thai was established in 1992, more than 20 years of construction and development, An Thai has become a leading corporation in the field of production, distribution and export of coffee. By experience and continuous efforts, An Thai is proud to be one of the conglomerates, has many strengths in the field of production and processing of coffee and always gets the certification, the prestigious award and the trust of customers in domestic and international partners.

Based on the orientation of the green development and the strong growth, An Thai invests to build the production center at the coffee capital of Buon Ma Thuot - where the raw materials are abundant and rich. Our mision is a clean and green manufacturer, An Thai Group has 5 members, including two coffee production factories (Finished Coffee and coffee for industry) and one microbial organic fertilizer factory, this factory reuse the waste resource of coffee processing. Besides, in order to facilitate business An Thai has established market development center in HCMC to promote the business activitives of Anthaigroup, focus on market research and branding and product development.

With the reputation and potential, An Thai Group has built and developed the distribution system throughout the domestic market and expanded international markets over 30 countries (Korea, China, Japan, Indonesia, Thailand, USA, Russia, European countries,...). An Thai Group has been choose to become strategic partners, official suppliers of the renowned coffee brands for years where by We always achieve the stable and sustainable growth.