HDPE (High density PE) hot winding wall pipe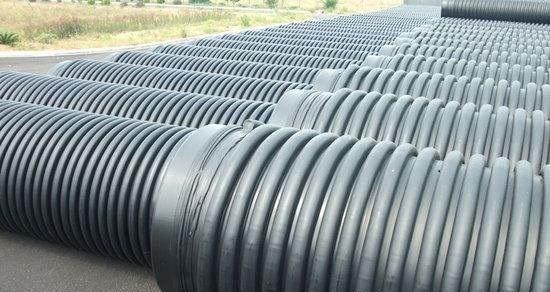 Product introduction
HDPE hot winding wall pipe, commonly known as Carat pipe, complies with GB / T 19472.2-2004 type B structural wall pipe standard. High density polyethylene resin is used as the raw material, spiral shaped reinforcing rib as the auxiliary support pipe, and the pipe is produced by the hot winding forming process.
Product features
It is a kind of environmental protection and safety product, with the advantages of light weight, strong pressure bearing capacity, high interface quality, long service life, corrosion resistance, high ring stiffness, convenient construction, green environmental protection and energy saving. It is widely used in urban drainage and sewage discharge, rainwater and sewage diversion and other projects. It is an ideal replacement product of cement pipe and cast iron pipe, and one of the main products used in urban drainage pipe network. Ministry of construction Announcement No. 218 clearly recommends the use of plastic drainage pipe system to replace the traditional drainage pipe. Our Carat pipe diameter specification is dn300-1200, and the ring stiffness grade covers SN2, Sn4, SN6, SN8, sn12.5 and sn16.
Application range
It is widely used in urban water supply, drainage, long-distance water delivery, irrigation and other projects, and is the first choice for buried sewage drainage.
Connecting method: Electric melting socket connection

1. Check whether the pipe socket is damaged and whether the heating wire is in good condition; clean up the sundries on the surface of the socket to ensure that the interface is clean and dry; insert the pipe socket end into the socket, fix it with steel buckle, and tighten it with clamps.
2. Butt fusion welding: Using the special butt fusion welding machine for Carat pipe, choose the appropriate electric melting parameters to weld and fasten in stages until the bell and spigot are completely consistent.
3. Cooling: After welding, cut off the power supply and cool naturally without water cooling. The cooling time is more than 20 minutes in summer and more than 15 minutes in winter.
4. After cooling, remove the steel buckle and check the welding condition.