Hanging Spherical Ball Pendant Speaker 50W ARTONE Omni Music or Home Decoration Waterdrop HS-765
The 70v ARTONE audio pendant speaker HS-765 is a creative design for commercial sound system, black and white water-drop shape looking installed from high ceiling. Wall mounting type is also available by choosing model BS-765.
It is made of strong ABS plastic, use 6 inch woofer, and 1 inch tweeter give clear and bright sound to pubs, restaurants or shops. This 2-way speaker is ideal for provide background music and public address sound, where luxury or romantic place demands.
Ceiling hanging spherical speaker HS-765 connected with 70v line and good for 100v pa system or 8 ohm home audio. By switch the power taps, you'll easily set the speaker line to 50W, 25W and 12.5W power, please note do not put low impedance setting with 100V sound system.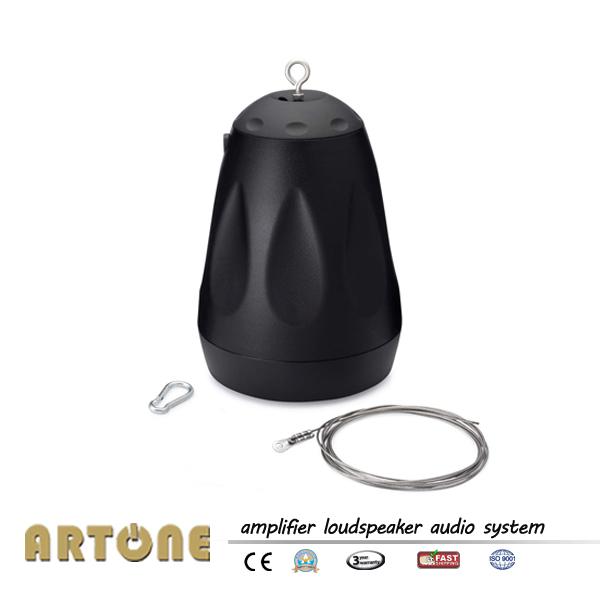 Versatile wall mount speaker BS-743 BS-754 BS-765, designed in high quality ABS material, 2 way 4 inch, 5 inch, 6 inch speaker driver, rated power 30W, 40W and 50 Watts, use for commercial audio system or public address system (pa system) of input voltage 100 volt or power connect to 8Ω . Fast installation with strong mounting bracket. It is durable and practical and very competitive to meet architectural sound system. 2 way mounting or installation available for sound system of coffee bar, cafe shop, wine franchise, cloth or shoes sales store. It is good choices for high quality sound for background music and speech paging.
Features
• 4.5''+0.75'' (HS-743) / 5.25''+0.75'' speaker (HS-754) / 6.5'' +1'' speaker (HS-765);
• Rated power 30 Watts (HS-743), 40 Watts (HS-754), 50 Watts (HS-765);
• Input voltage 100 Volt and 8Ω;
• Sensitivity 90dB (HS-743) / 91dB (HS-754) / 92dB (HS-765);
• Frequency Response 135~20KHz (HS-743) / 130~20KHz (HS-754) / 110~20KHz (HS-765)
• Wall mount speaker, or pendant mounting;
• ABS material body, black or white color for option
• Dimension 136x208mm (HS-743) / 155x260mm (HS-754) / 208x300mm (HS-765)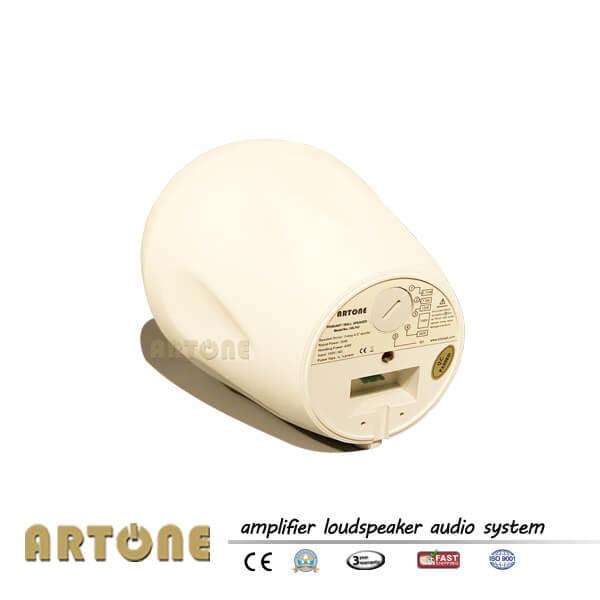 Specification
Model No.
HS-743 / BS-743
HS-743 / BS-754
HS-743 / BS-765
Rated Power & Power Tabs
30W/15W/7.5W/8Ω
40W/20W/10W/8Ω
50W/25W/12.5W/8Ω
Speaker
4''woofer +1'' tweeter
5''woofer +1'' tweeter
6''woofer +1'' tweeter
Input Voltage
100V Line / 8Ω
Sensitivity
90 dB
91 dB
92 dB
Frequency Response
135-20KHz
130-20KHz
110-20KHz
Mounting Method
Hanging strip or wall mounting bracket
Color
Black / White
Dimension
136x208mm
155x260mm
208x300mm
Weight
1.8 kg
2.2 kg
3.5 kg