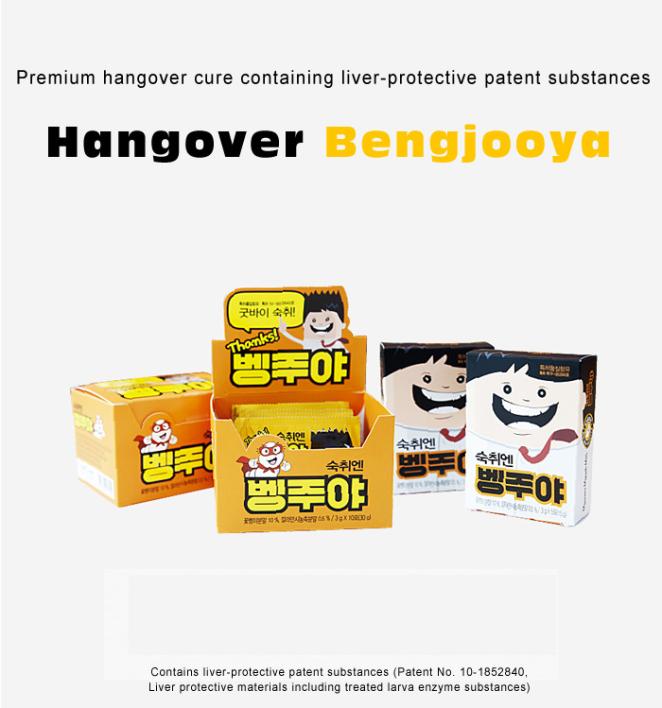 What is Hangover Bengjooya?
Bengjooya is easily absorbed to your body so that remove your hangover quickly
Peptide components caused by break down protein that has 4 times higher absorption rate
than vegetable products help cure hangovers. That is how to cure hangovers.
Bengjooya is effective for activation and enhancing liver function
Functional hangover cure for liver health with patented ingredients for liver protection
(Patent No. 10-1852840, Patent for liver protective substances including larva enzyme treated substances)
Bengjooya is effective for fatigue recovery with vitamin
Vitamin P in caulamansi, dermis, and cornus fruit improves absorption in the body of other
ingredient and is effective in recovering from fatigue in the morning.
Bengjooya is easy to eat because of tangerine scent and fresh taste
Contains Jeju tangerine peel, Jeju honey, and citrus scent to make it easier
to eat than other hangover cures with pill type.
Experimental result for a hangover cure
As a by-product formed after decomposition of alcohol, acetaldehyde is a main cause of hangover.
We observed that acetaldehyde, an alcohol ingredient, was significantly reduced as time went,
being recognized as having hangover effect.
You can see that there is a significant decrease in blood alcohol concentration after intake.
Who are always tired because of the nature of their work
Who have frequent drinking meeting
Who have severe headache after drinking
Who go to toilet very often after drinking
Who want to be a sensible person at a drinking meeting
Who want to keep the health with hangover cure
How to intake
1 pack before drinking
If you have severe hangover next day,
it will be more effective if you take one more pack in the morning
Pill type with appreciate size to eat, not too big and not too small
Protaetia brevitarsis seulensis contains higher contents of minerals such as magnesium
and potassium and protein compared to other edible insects,
attracting attention as a new health food material.
It is highly likely to be developed as a high-value added industry such as
health functional foods and cosmetics utilizing these nutritional functions.
-Gone,Hangover BENGJOOYA (3g*10packets)