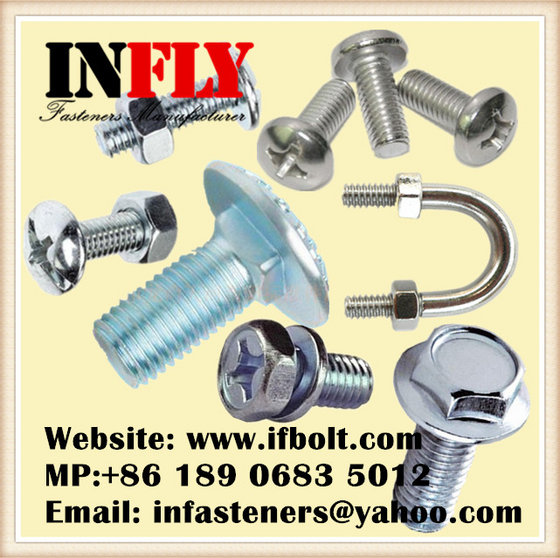 Membership

Free member

Registration Date

2004.08.24

Country/Region

China

City

Jiaxing

Contact

Lee Mr.Lee(Mr.)
Infly Fasteners Inc <a href="http://www.ifbolt.com">1</a> is a professional factory and manufacturers of Carriage bolts, Hex flange bolt (phillips, cutting point, teethed), supply to mushroom head square neck bolt, Us Carriage bolts, round head square neck screw and Roofing bolts, Hook bolts, Machine threaded and wood threaded stud bolt, U-bolt, J-bolt, L-bolt, we can customized to non-standard fasteners, such as short, low square neck mushroom head, round head, pan head carriage bolt, strictly according to DIN603 and ANSI B18.5 standard to produce.
1. About our products
1.1. Carriage bolts: is divided into DIN and US carriage bolt, and non-standard, there are the standard DIN603, DIN608, ANSI B18.5, GB12, GB14 AMST A307... non-standard have round head, mushroom head, and short, low, high square neck carriage bolt, Infly Fasteners mainly produce class4.8-8.8, Gr.2- Gr.5 in inch carriage bolt.
1.2. Machine bolt: also known as pan head, mushroom head slot machine screws, and hex socket round head screw, phillips pan head bolts, roofing screw, the standard are ISO7380, NFE25129, is a round head and pan head machine screws, the available size are dia.M6-M12(1/4"-1/2"), length 20-120mm, of course, <a href="http://www.ifbolt.com">carriage Bolt</a>.
1.3. Hex Flange bolts: also called the hexagon head with flange machine screw, and phillips hex flange bolt with cutting point, the standard is DIN6921 with teeth, according to the usage habits, also be required for concave brain type in bolt's head, or the flange face with anti-skid teeth, and cutting poin at the end of threaded, Infly Fasteners mainly produces Class 4.8-8.8 and Gr.2-5 in inch hex flange bolt.
1.4. U-bolts: is a clamp or blocking the bolt to use with hex nut or rectangle washers together, the generally not fixed in accordance with the standard production, mainly according to customer requirements (such as drawings, samples, detailed description of size) to order, of course, in addition to U-bolt.