Rasper
The rasper is widely used in cassava starch processing industry. It is mainly used for grinding and crushing materials for consultation.
The structure advantages of rasper
This machine is mainly composed of shell, rotor device, saw blade, base mesh, engine, etc. The rasper block use the modular design, stainless steel parts which touch material, special slot design to replace the assembly of saw blades easily, and Sweden SKF bearing and Germany Optibelt.
The working principle advantages of rasper
In the process of the rasper, the rotor rotates at high speed and drives the saw blade to crush and grind cassava, turning cassava pieces into cassava pulp. A screen at the bottom of the rotor will screen out the starch particles that meet the requirements, while those that do not will be left in the rasper to continue grinding until they can pass through the screen.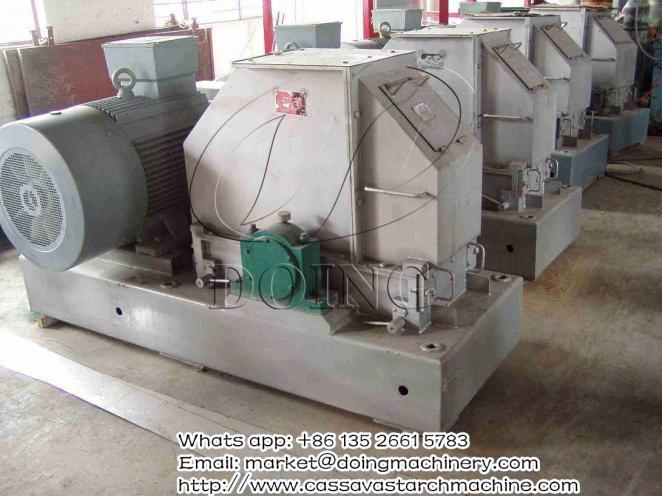 The technical parameters advantages of rasper
| | | | | | |
| --- | --- | --- | --- | --- | --- |
| Model | | CM- 300 | CM- 350 | CM- 500 | CM- 600 |
| Rotor width(mm) | 250 | 300 | 350 | 500 | 600 |
| Power(kw) | 7.5-15 | 55-90 | 110-132 | 160-200 | 200-250 |
| Weight(kg) | 1500 | 2700 | 3200 | 3800 | 4500 |
| Capacity(t/h) | ≤6 | ≤12 | ≤20 | ≤30 | 40 |
The running advantages of rasper
v Novel design and compact structure
v High rotation speed, high grinding coefficient for material
v High binding starch dissociation rate
v High crushing rate of raw materials
v grinding block and base mesh replacement is convenient and easy to operate