****Water-activated Pipe Repair Bandage****
* 13 years profesional manufacture
Armor-wrap Fiberglass Pipe Repair Bandage
* FDA CE Certfication
* OEM your size and backing
* Various Colors for Choose
* 7-15 Working Days for Delivery
* Free Samples Offered for Test

Welcome to contact us

Sales: eileen
Email: eileen at piperepair.cn
Mob: +86-18710743935
Skype: eileengogo7 at outlook.com
QQ: 690089213
What's APP:+8618710743935
Description:
Pipe repair bandage is a fast curing tape composed of a flexible fiberglass mesh impregnated with water activated polyurethane resin.
Our pipe repair bandage uses environmental friendly materials, and mainly used for Repair Oil , Gas & Water Pipeline etc,and adheres to Metal, plaster, PVC, Copper, Rubber, Fiberglass, Concrete, Wood, Ceramic, Polyester, ect.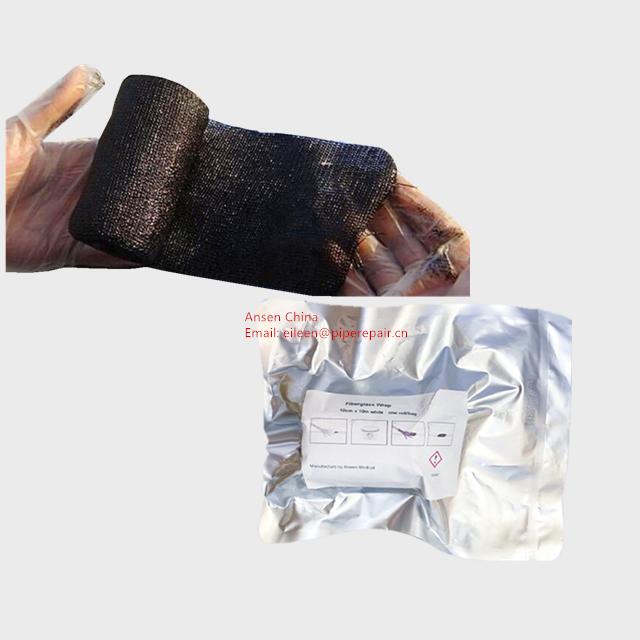 Name

Model

Size

Packing

Pipe Repair Bandage

PR002

50mmx3.6m(2"x12´)

10rolls x 10rolls/ctn

PR003

75mmx3.6m(3"x12´)

10rolls x 10rolls/ctn

PR004

100mmx3.6m(4"x12´)

10rolls x 10rolls/ctn

PR005

125mmx3.6m(5"x12´)

10rolls x 10rolls/ctn

PR006

150mmx3.6m(6"x12´)

10rolls x 10rolls/ctn
Outstanding Advantages

Technical Data

v Catalyst: Water
v Resin Makeup: Polyurethane
v Heat Resistance: 180°C
v Pressure: 450 PSI
v Bonds: Copper pipe, PVC,
polypipe, metal, fibreglass
v Set Time: 20 – 30 minutes, sets
under water
v Chemical resistance: Most diluted
chemicals and fuels

♦ Useable life: …2-3 minutes, depending on temperature of water and pipework
♦ Intial cure time: … 5 minutes
♦ Full cure time: … 30minutes
♦ Shore D hardness: … 70
♦ Tensile strength: … 30-35Mpa
♦ Tensile modulus: … 7.5Gpa
♦ Maximum service temperature: … 180℃
♦ Pressure resistance: … 450psi (Min wrapping 12 layers around cracked/leaking area)


Application:

1. Once the leaking area is identified, shut down relevant pipes or hoses immediately.
2. Prepare the surface by cleaning and roughening the pipe.
3. Put on enclosed latex gloves.
4. Apply Steel Putty to the leak site and mould.
5. Open foil pouch and immerse bandage in temperate fresh water for 10 seconds.The entire contents must be used once the package is opened.6. Apply around the damaged area extending up to 50mm either side of the leak to ensure complete coverage.It is important that the bandage is applied.
7. quickly as curing begins once it is taken out of the water.
8. Whilst wrapping, pull each layer tightly by using your hand to mould and squeeze the layers together. Continue this action during and upon completion.
For best results, manufacturers recommend the completed application should be no less than 10mm in thickness. Please refer to the instructions for use on each bandage for a troubleshooting guide.


Package: ​ OEM service is available


Shipping: within 15 working days after payment


About us:​
Ansen medical is the manufacturer with 13 years experience specializing in fiberglass pipe repair bandage ,emergency pipe repair bandage.......