♥Fumed silica is the superfine micro-nano fine chemical product, which is divided into hydrophilic type and hydrophobic type in accordance with their different surface treatments. Its appearance is white powder. Native particle size ranges from 5nm to 40nm, with significant functions of thixotropy, reinforcing, thickening and filling.
♥It is widely used in the industries of rubber, sealant, plastic, resin, paint, printing ink, papermaking, medicine, cosmetics, food etc.
♦packaged in multiple layer kraft paper, 10kg per bag stored in aeration-drying.
♦storage areasfor protecting the material from volatilesubstance.
♦should be used within 2 years after production.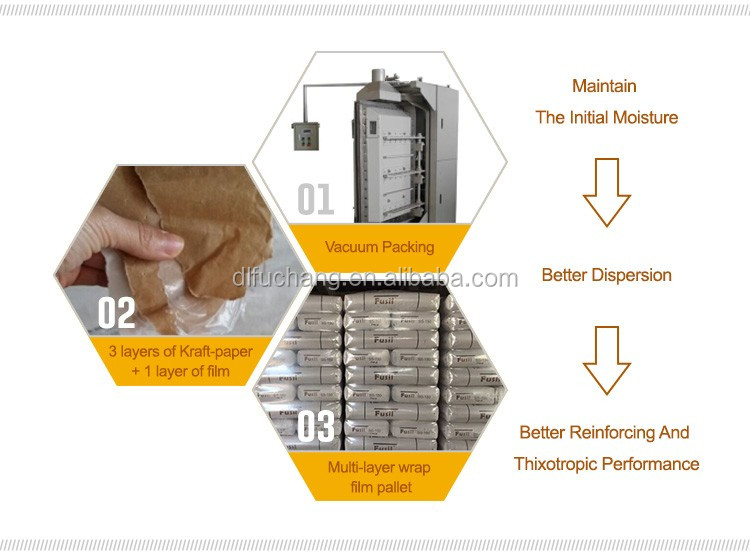 ♦20'GP: 2.0Mt, 10 pallets, 200KG/pallet.
♦40'GP: 4.0Mt, 20pallets, 200KG/pallet.
♦40'HQ: 4.4Mt, 20pallets, 220KG/pallet
Dalian Fuchang Chemical Group Co., Ltd. engages in manufacturing and trade Silica dioxide for many years. Now achieves 4000 tons of fumed silica, 60000 tons of precipitated silica, 12000 tons of silica matting agent, 8000 tons of fused silica and 30000 tons of rutile titanium dioxide.
Our products reached the international first-class level and have passed ISO9001: 2000 International Quality System Certification, SGS Heavy Metal Detection etc. and are sold to dozens of countries and regions, e.g., India, Iran, Brazil, Indonesia, Vietnam, Thailand, Turkey, Pakistan, South Korea, United States, Japan, Germany, Korea and Russia. And widly used in many fields, rubber, paint, printing ink, papermaking, daily chemicals, food, adhesive, plastic, building materials, metallurgy, chemical fiber, medicine, etc.
Our silica SiO2 & Coating exhibition pics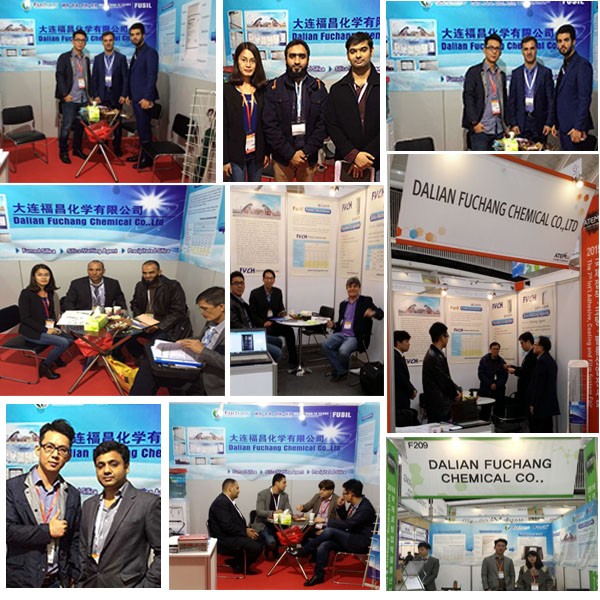 ♦ISO International Quality System Certification
♦SGS Heavy Metal Detection
♦REACH Certification
♦ROHS Certification
Q1:Why can we choose you?
A1:Our products have good dispersibility and highly quality. We choose the products in the mid-term stage of production in order to make sure the quality.
Q2:What the packaging of Hydrophilic fumed silica?
A2:We will use multi-layer paper compound material bag to pack the fumed silica. The bag use first-class material to protect the silica. 10kg per bag. Of course, we can also according to your requirement if need.
Q3:I don't know how to choose which model is fittable, can you help me?
A3: Of course, it's my pleasure. Kindly tell us your application and specific requirement.
You can also reference our catalogue and selection guide.