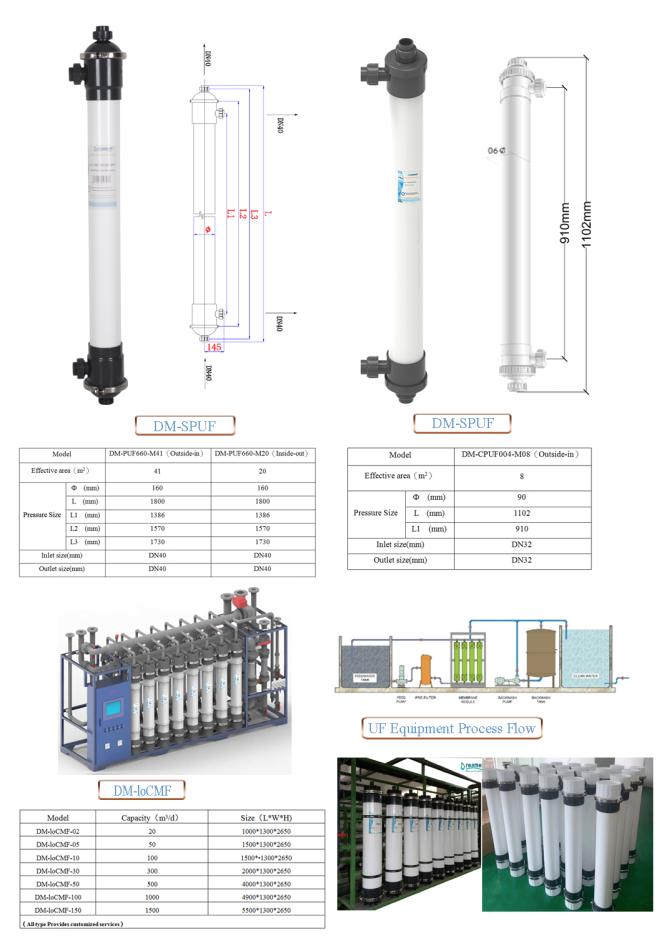 集装箱式超滤装置
Dreamem提供移动超滤解决方案,以确保不间断的服务。这些系统允许快速设置,安全安装和灵活的租用期。可以进行永久安装和容器化选件。
I /外径

(mm)

0.85/2.20

标称孔径

0.1微米

纯净水通量

≥1600LMH

破裂强度

>

0.45兆帕

抗拉强度

>

200N

最高 给水氯

200毫克/升

曝气率

60-100(m³/ h。

投影面积)

透过率浊度

(

NTU

)

≤0.5(MBR)

去除细菌

≥99.999%

SS(毫克/升)

<

1

寿命

5-8年

(

生活污水

)

SDI

≤2.5
Operating Condition
Design Flux

(

L

/

.

h

)

10-30

Filtration

Mode

Negative Pressure

Suction Filtration

Operating Pressure

(

MPa

)

0.01-0.05

Suction pressure

-0.01~ -0.05 MPa

Operating Temperature(ºC)

5-45

PH Range

2-11

Max

.

Feed Water Chlorine

(

mg

/

L

)

200

Aeration Rate

60

-

100

(

m

³/

h

.

Projection Area

)

Oil content (mg/L)

Natural oil

<

50mg/L;Mineral oil

<

3mg/L

Sludge concentration (mg/L)

5000~8000 ;MLSS

≤18000

Running cycle

run 8-15 min; pause 1-2min (Depends on water quality)
Maintenance Chemical Clean
Cleaning

Frequency

1

-7day

Cleaning

Duration

30-60min

Cleaning

Chemicals

Sodium Hypochlorite

,

Citric Acid
Recovery Chemical Clean
Online chemical c

leaning

Frequency

<

3

month

Backwash pressure

(

MPa

)

<

0.05

Offline chemical cleaning frequency

6~12 months

Chemical washing reagent

Citric acid, hydrochloric acid/ sodium hypochlorite+sodium hydroxide

Cleaning

Duration

3-

24

h

Cleaning

Chemicals

Sodium Hypochlorite

,

Citric Acid

,

NaOH

Cleaning

Temperature

20-40ºC
Note:
1.
The technical parameters and descriptions listed in the table are production standard values for reference. If there are special requirements, they can be adjusted accordingly;
2. The water production flow in the table refers to the design reference flux when the product is used for sewage treatment.
How Ultrafiltration Works
Ultrafiltration uses hollow fibers of membrane material and the feed water flows either inside the shell, or in the lumen of the fibers. Suspended solids and solutes of high molecular weight are retained, while water and low molecular weight solutes pass through the membrane. Ultrafiltration is not fundamentally different from reverse osmosis, microfiltration or nanofiltration, except in terms of the size of the molecules it retains. When strategically combined with other purification technologies in a complete water system, UF is ideal for the removal of colloids, proteins, bacteria, pyrogens, proteins, and macromolecules larger than the membrane pore size from water.
Benefits
No need for chemicals (coagulants, flocculates, disinfectants, pH adjustment)
Size-exclusion filtration as opposed to media depth filtration
Good and constant quality of the treated water in terms of particle and microbial removal
Process and plant compactness
Simple automation
Environmently friendly
What does ultrafiltration remove?
Endotoxins
Plastics
Proteins
Silica
Silt
Smog
Viruses
Maintenance
Ultrafiltration systems contain extremely fine membrane filters which need to be properly cleaned. The cleaning process used depends on whether a UF system is being used to remove organic or inorganic contaminants, or even both. To remove organic contaminants the general cleaning protocol for the cleaning of tubular membranes is to use a low foam, medium alkaline detergent at 0.6% to 1% for a maximum of 40 to 60 minutes. To remove inorganic contaminants the best treatment is with citric acid at a maximum concentration of 3.0 %. The acid should circulate for 1 to 3 hours. Hydrochloric acid can also be used to clean membranes, as can oxalic, sulfuric and nitric acid.
Applications
Municipal Drinking Water
Wastewater Reuse
NF/RO Pretreatment
Industrial Process Water
Mine Water Remediation
Retrofit Systems