Short Description of 50 kVA cummins diesel generators for sale,with 200 kW / 250 kVA prime power,and 200 kW / 250 kVA standby power;Voltage:400 / 230 V or 380 / 220 V optional,Frequency:50 HZ,Speed:1500 / 1800 rpm optional.Diesel Generator Set With Cummins Engine,and water cooled;Alternator is SHUANHUA,STAMFORD or MARATHON optional;Controller:KOMAP or DEEPSEA optional;We have Different Type Generator,such as Open Type Generator , silent / soundproof / quite type generator, Trailer Type Generator , Container Type Generator ,and Automobile Type Generator.Our partners are all famous diesel engine manufacturers such as Perkins,MTU,Volvo,Dongfeng Cummins,Chongqing Cummins,Yuchai of China,Shangchai,Weichai Deutz and so on.We have Different Brand Diesel Generator Set,such as diesel generator set with CUMMINS engine,Diesel Generator Set With Perkins Engine,Diesel Generator Set With YUCHAI Engine,Diesel Generator Set With MTU Engine,Diesel Generator Set With Chinese Engine;We have different kW generator,20-50 kW generator,80-200 kW generator,200-480 kW generator,500-1000 kW generator,and ≥1000kw generator.We have Different Kva Generator ,20-50kva generator,80-200kva generator,200-480kva generator,500-1000kva generator,≥1000kva generator.
HL200GF YUCHAI Diesel Generator Set Technical Data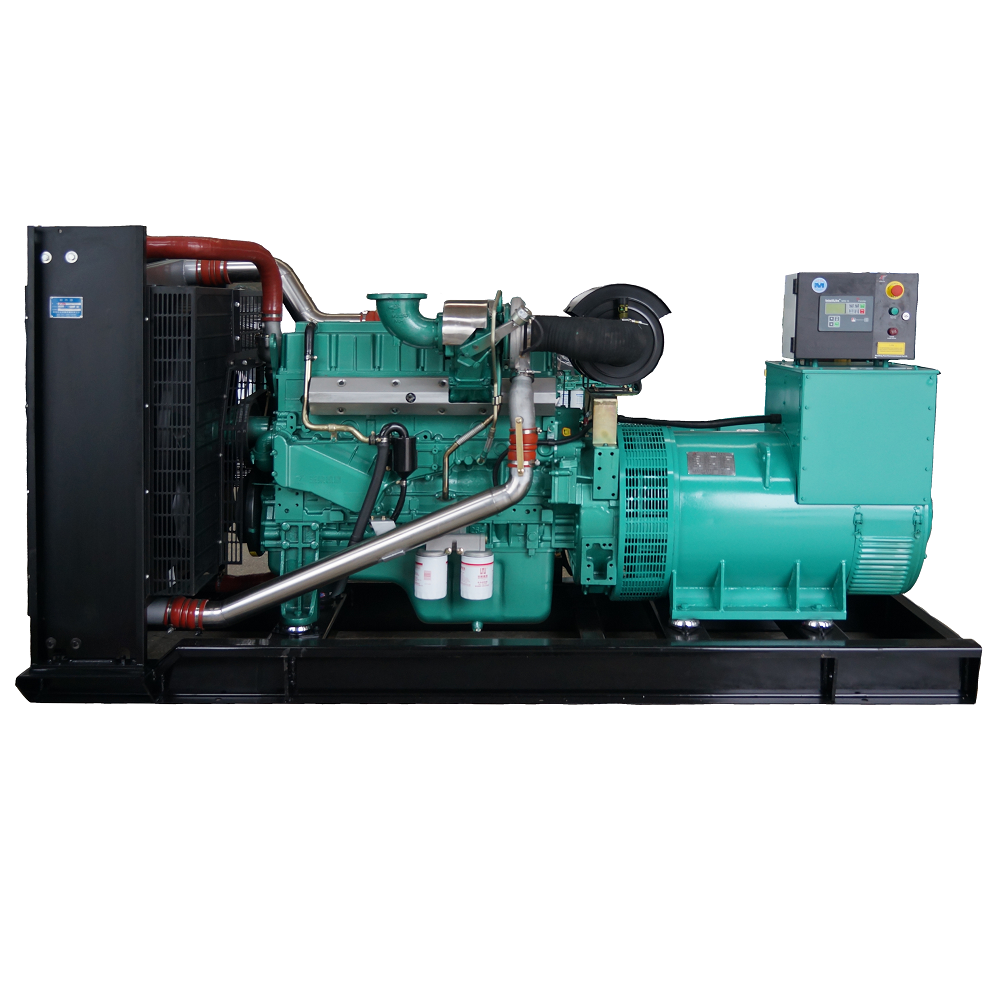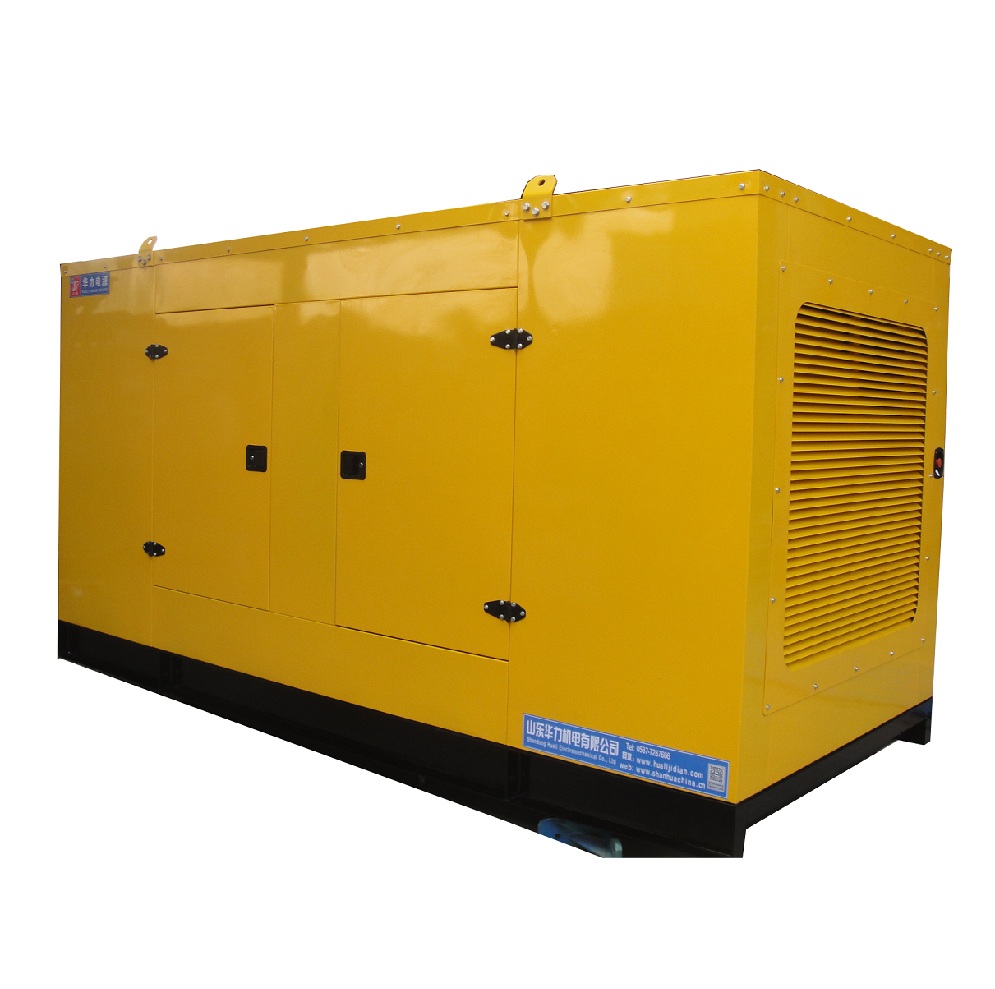 (Diesel Generator Set
Technical
Data)
Standby power
(50HZ)
220KW
/ 275KVA
Prime Power
(50HZ)
200KW
/ 250KVA
Voltage regulation : ≥±5%
Voltage Regulation, Stead State : ≤±1%
Sudden Voltage Warp (100% Sudden Reduce) : ≤+25%
Sudden voltage Warp(Sudden Increase) : ≤-20%
Voltage Stable Time (100% Sudden Reduce) : ≤6S
Voltage Stable Time(Sudden Increase) : ≤6S
Frequency Regulation, Stead State : ≤5%
Frequency Waving : ≤1.5%
Sudden Frequency Warp (100%Sudden Reduce) : ≤+12%
Sudden Frequency Warp (Sudden Increase) : ≤-10%
Frequency Recovery Time(100%Sudden Reduce) : ≤5S
Frequency Recovery Time (Sudden Increase) : ≤5S
DIESEL ENGINE
Engine Model
YC6M350L-D20
Manufacturer
GUANGXI YUCHAI MACHINERY Co.,Ltd
Number of cylinders
6
cycle
4-cycle
Air intake way
Turbo-charge
Bore(mm)
120
Stroke (mm)
145
Compression ratio
17.5:1
Displacement, total (L)
9.839
Engine weight,dry (kg)
980
Engine speed (rpm)
1500
Noise dB(A)
≤102
Base Output Power (kW)
235
Standby Power (kW)
258.5
Emission
T2
Starter Mode
Electric
Oil Capacity (L)
28
Oil Consumption g/(Kw.h)
≤1.0
Min. Fuel Consumption g/(Kw.h)
≤197
Applicable Altitude (m)
≤2500
ALTERNATOR
Alternator Model
①
shanhua HLF-200 Prime power (kW) 200KW
Frequency . Speed .Voltage
50 HZ .1500 rpm.400 v
Voltage regulation
±0.5%
Rated power factor
0.8


Alternators meet the requirement of BS EN 60034 and the relevant section of other international stan-dards such as BS5000, VDE 0530, NEMA MG1-32,IEC34, CSAC22.2-100, As1359, and other stand-ards and certifications can be considered on request.The 2/3 pitch design avoids excessive neutral currents. With the 2/3 pitch and carefully selected pole and tooth designs, ensures very low waveform distortion.Brushless alternator with brushless pilot exciter for excellent load response.The insulation system is class H, easy parallelling with mains or other generators, standard 2/3 pitch stator windings avoid excessive neutral currents. Backed by worldwide service network.
Genset Dimensions and Weights
OPEN STYLE
Overall Size L×W×H,mm
3000
1050
1700
Weight(radiator model),net,kg
2100
SOUNDPROOF STYLE
Overall Size L×W×H,mm
3900
1300
2080
Weight(radiator model),net,kg
3100
OPEN STYLE
SOUNDPROOF STYLE
Control System
(Work environment
Operating temperature :-20℃~60℃ Relative Humidity : 95%

Operating voltage :DC24V ( range :18-30V, pressure :50V/5 mm )
(General functions and features)
Control screen is small, reliable performance, simple operation, the internal circuits clear, easy detection. With automatic detection and protection features protect the engine safe and stable operation. Multi-interface display unit work and alarm state, intuitively clear, LCD displays the parameters of diesel engines. Microcomputer can be set on the control panel input, output, alarm, delay and other parameters. Maintenance, manual, automatic and other modes of operation. No non-normal electricity supply automatic starting, generator fault protection off, to provide historical state records. Generator over / under voltage, generator frequency / high frequency generator speed due to speed / overspeed, low oil pressure, high temperature, emergency stop, battery over / under voltage, over current / short circuit protection function.
Open Type
Silent Type

Description
Standard functions
Shutdown
Warning
Engine Control
Generator Monitoring
Generator Protection
Engine Monitoring
Clear Text Display

Loss of Speed Signal
Alternator Under / Over Voltage
Alternator Under/ Over Frequency
Mains Under / Over Voltage
Mains Under/ Over Frequency
Under / Over Speed
Low Oil Pressure
High Engine Temperature

Phase Sequence Electrical (Option)
Earth Fault (Option)
Alternator Under / OverVoltage
Alternator Under/ OverFrequency
Mains Under / Over Voltage
Mains Under/ Over Frequency
Under / Over Speed
Low Oil Pressure Pre-Alarm
High Engine TemperaturePre-Alarm
High/Low Battery Voltage
Over-current
Periodic maintenance