Introduction
Vertical impact crusher is a kind of forced crusher different from the common vertical composite crusher, cone crusher and roller crusher and grinding machines like ball mill, autogenous grinding and semi-autogenous grinding machines and traditional impact crusher and hammer crusher.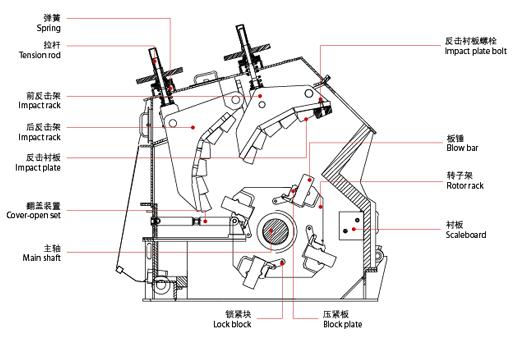 Working Principle
Materials fall freely into the rotary impeller from the upper part of the machine. Under the centrifugal force, they impact with other materials distributed around the impeller in an umbrella shape. Then, the vortex will be formed between the impeller and the casing for several times of impact, friction and crushing. At last, they will be discharged from the lower hopper. Closed-circuit is formed and the granularity of finished products is controlled by the screen equipment.
Performance Characteristics
1.Currently, it's a new machine for secondary and fine crushing as well as the one that is widely applied to replace the cone crusher, rolling machine and ball mill.
2.Novel and unique structure, stable operation.
3.Low energy consumption, high output and high size reduction ratio.
4.Small size, simple operation, convenient installation and maintenance.
5. It has shaping function with cubic products and high stacking density. 
6. Materials can form protective cover to reduce the abrasion of the body to make it durable.
7.Some abrasive parts are made of hard and wear-resistant materials, featured by small size, lightness and convenient renewal.
Model
| | |
| --- | --- |
| Model | Content |
| P | Crusher |
| L | Vertical Impact |
| | Specification(Impeller Diameter, mm) |
Technical Parameter
Model

Parameters

Impeller Rotary Speed r/min

Motor Power kw

Feeding Granularity mm

Discharging Granularity

mm

Volume

t/h

Reference Weight

t

PL-550

2000~3000

30~55

≤30

≦5 Volume Proportion (25%~50%)

15~35

~5300

PL-700

1500~2310

55~110

≤35

≦5 Volume Proportion (25%~50%)

30~70

~8500

PL-850

1200~1620

110~180

≤50

≦5 Volume Proportion (25%~50%)

75~120

~12400

PL-900

1200~1910

150~264

≤50

≦5 Volume Proportion (25%~50%)

90~160

~13300

PL-1000

1000~1630

180~320

≤60

≦5 Volume Proportion (25%~50%)

130~210

~17300

PL-1200

850~1350

320~440

≤60

≦5 Volume Proportion (25%~50%)

180~320

~22500

Note 1: The volume is determined based on the following conditions:

a) The compressive strength of materials ≦160MPa;

b) The moisture content of materials is no more than 20%;

c) The loose density of materials is 1.6t/m3;

d) Full and even feeding.

Note 2: According to specified volume scope, the crusher of the same specification can produce products with different discharging sizes to meet various needs.