The Best Energy Drink Hydrogen As a Selective Antioxidant
Incredible Negative ORP!
Product MFG Permission

Electrolysis Device

Feature
Electrolysis Method
Dissolved Hydrogen
Hydrogen Water
Continuous
0.8ppm~1.0ppm, -450 ~ 500ORP
Model
Hydrogen Water Output Rate
YW-400T
1L/min total flow
Input Voltage
Cleaning Device
AC 100~240V, 50/60Hz
Reversing Polarity (Cathode & Anode swaping)
Input Electricity
Electrode Materials
5.5A(150W) SMPS
Platinum Coated Titanium
Weight

Water Purifying Device

3.5kg
Filter Life
Overall Dimension
1,600L Approx 6 months, 4L/day
D300 x W175 x H420mm
Filter Composition
Applicable Water Inflow Pressure
Two Stage Filtration, Activated Carbon and Ceramic Ball
10~50psi
Water Supply
Applicable Water Temperature
Direct Connection to Tap Water, or Contained Water 4L
4~30°C
*The unit has water leakage detector & Filter replacement preinformation, with the blinking of red LED light
How Hydrogen Works
The electrodes are one of the most important components of Water Ionizer. It is sometimes suggested that there are units on the market that have stainless steel electrodes and this simply is not the case. All Water Ionizers currently manufactured have titanium electrodes that have been dipped in platinum, which is one of the biggest cost of a Water Ionizer. It is important to note that the electrodes are coated with platinum, not electroplated with it.
Electrolysis is redox reaction, reduction and oxidation. Electrolysis of water produces H2 gas at the cathode and O2 gas at the anode respectively. Electrolysius can be said to be a principle of plating. Electrolysis of soft water brings little plating of cations(protons) such as calcium or magnesium on the surface of cathodes, whereas electrolysis of hard water brings significant plating on electrodes; which should make it possible for hard water countries to develop such devices. The problem of plating in hard water electrolysis has been, however, solved by a new technology.
Water Electrolysis Reaction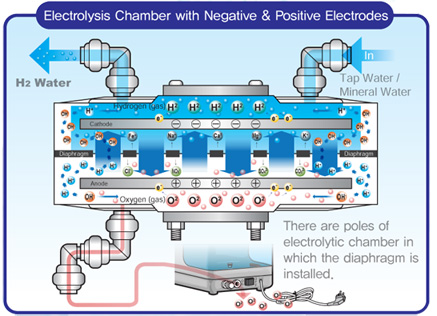 As we age our body contains less water. The water loss of an organism result from the organism's attempt to produce(H+) : to take them from the water. It is believed that shortage of hydrogen is the reason for human aging and illness.