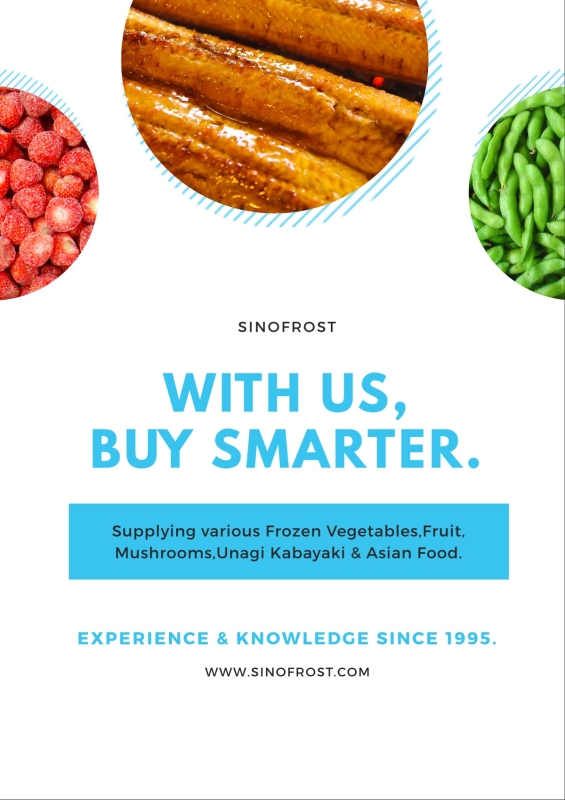 Membership

Free member

Registration Date

2004.09.06

Country/Region

China

City

Xiamen

Contact

William Chen(Mr.)
A reliable supplier of all kinds of good quality Frozen vegetables, fruit, berries, mushrooms ,Frozen roasted eel (Unagi Kabayaki) ,and Asian Food such as spring roll, samosa, taro cake, taro ball, taropastry, pumpkin cake, etc, with experience & knowledge since 1995.

XIAMEN SINOFROST co., Ltd was founded on May 10, 2004 in Xiamen. Our main products include Frozen vegetables,Frozen roasted eel and Frozen Asian food products, etc.

FROZEN VEGETABLES, FRUIT, BERRIES & MUSHROOMS: In 1995, the founder of the company, Mr William Chen started to export frozen vegetables & mushrooms. Thanks to the firm and friendly supports by our respectable clients and reliable suppliers, our company has been growing steadily every year. Today SINOFROST is well-known as a very reliable professional supplier of the good quality products in China.Over the past more than 25 years, we have got the rich experience about more than 150 different kinds of products to more than 30 countries. We have set up the long-term and very friendly cooperation relationships with more than 80 serious major producers in more than 10 provinces in China. Our clients from all over the world have been enjoying the successful long-term cooperations with us.

FROZEN ROASTED EEL (UNAGI KABAYAKI): In 2009,we started to export frozen roasted eel . Until now,we have more than 25 reliable suppliers in more than 5 provinces in China.We have grown to be one of the major suppliers of the good quality frozen roasted eel (unagi kabayaki) in several countries.

FROZEN ASIAN FOOD: We supply Frozen Spring Roll and Frozen Dim Sum inlcuding samosa, taro cakes, taro pastry, taro balls, sesame balls, pumpkin cakes, etc.

Our very good relationship with the strong and reliable producers in the different provinces enables us to get enough good quality supply sources anytime anywhere to fulfill our contracts with our clients from all over the world successfully.

Source from China,Ship to the World!