Hot Sale Industrial Fruit Dryer Price Machine Vegetable Food Vacuum Freeze Dryer Introduction:

Freeze drying(lyophilization) works by freezing the material and then reduce the surrounding pressure to allow the frozen water in the material sublimate directly from the solid phase to the gas phase. so, freeze drying causes less damage to the substance than other dehydration methods using higher temperature.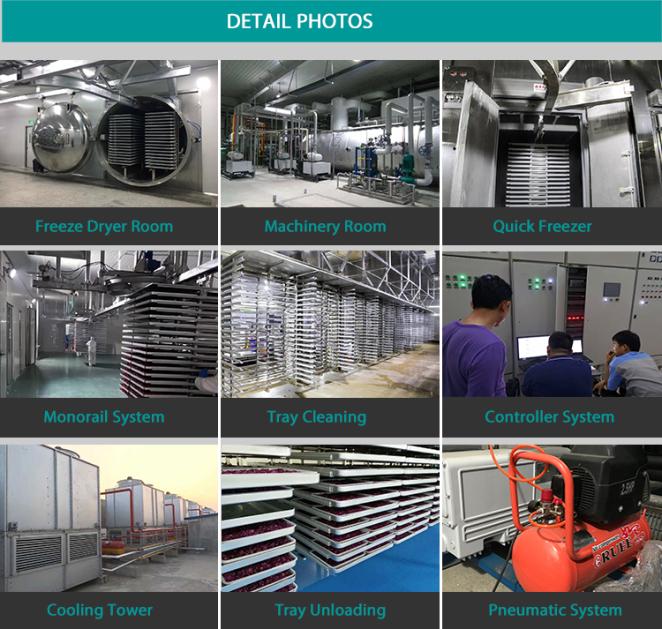 HUAYU BROTHER® Freeze Dryer Features

Among all the freeze dryer(lyophilizer) provider in the industry, HUAYU BROTHER® provide you the most reliable and power saving freeze drying equipment with advanced technology, which could help you get better dried products quality with less power consumption.

Modular design, quick deliver, easy maintenance and install.
Huayu Brother freeze dryer machine come with modular design, all branch system produce and install as individual, link together by high advanced PLC + touch screen +PC controller, benefit a lot whatever for produce, shipping, maintenance and install.

Most strict quality control system.
Our factory running totally under international concept like SGS, ISO, Huayu Brother also edit our own quality control system that from raw material, component, assembly till to machine test and packing.

Most reliable and super quality products.
With strict quality control and delicate design, produce, Our freeze dryer machine with very low failure rate help your plant stable and reliable running, indirect help you save running cost.

High automation level.
Adopt versatility PLC+Touch screen+PC control system, full automatic freeze drying process, in PC software or touch screen could all sides show entire machine working status as well as the freeze drying data online check or export.

Scientific design and power saving
From components model select, pipes or cables circuit till safety precautions, we consider more of reliable, beautiful, compact than just build a machine. our freeze dryer electric cost at least 30% lower than other brand.

Patent vapor guidance technology.
Our tens years' experience study and design the ice condenser with very high vapor condensing capacity, unique ice coils structure enable vapor uniform distribute and condensing to all coils surface, improve cold trap capacity and freeze drying speed.
Freeze Dryer Technical Parameters:
| | |
| --- | --- |
| Model | FD-60R |
| Shelf area | 58.9sq.m |
| Named capacity | 600kg/batch |
| Actual capacity | 500kg to 800kg as per raw material features |
| Condenser capacity | 750kg/24hr |
| Shelves | 17+1 |
| Shelf size | 630*2950mm |
| Material tray size | 610*710mm |
| Material tray quantity | 136pcs |
| Trolleys | 2sets |
| Shelves temp. | RT to +120ºC |
| Condenser temp. | -45ºC |
| Vacuum degree | <15Pa |
| Power install | 105kwh |
| Drying House Size | 6900*3100*4000mm |
| Min Install size (W/O monorail) | 18000*15000*5000mm |
| Voltage | 380V/50-60Hz/3P |
| Design standard | FDA, GB, CE |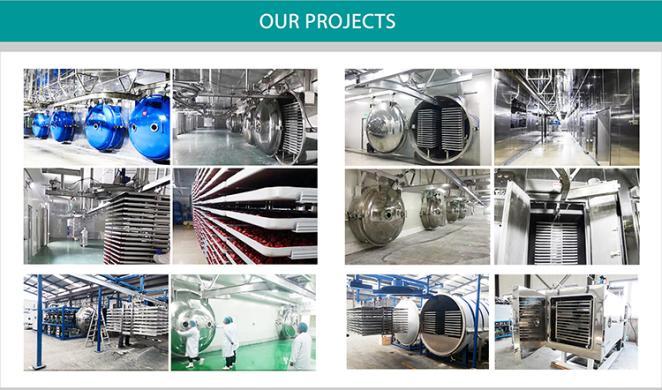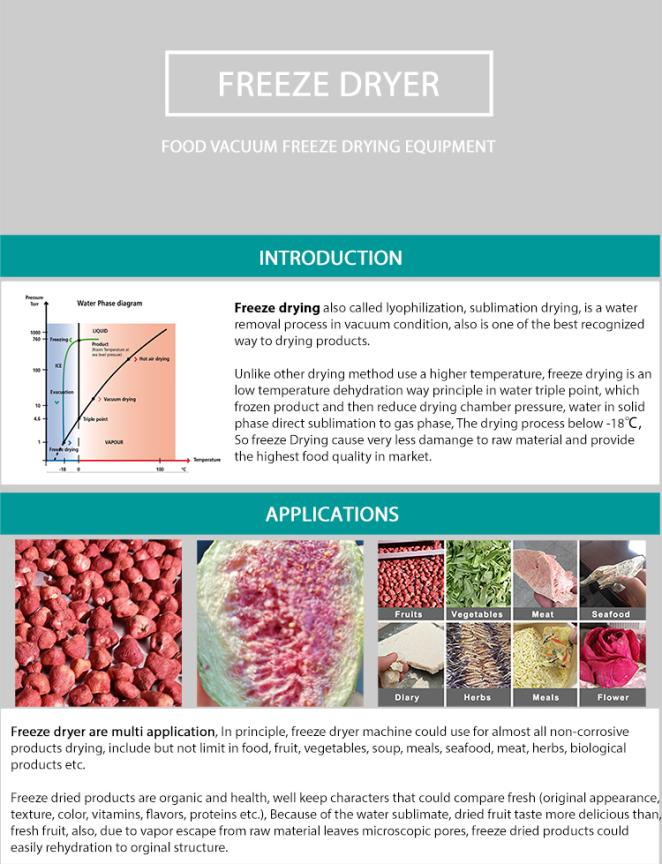 More Models Select:
| | | | | |
| --- | --- | --- | --- | --- |
| | FD-200R | FD-120R | FD-60R | FD-35R |
| Shelf area | 200sq.m | 117.8sq.m | 58.9sq.m | 34.9sq.m |
| Ice capacity | 2500kgs | 1500kgs | 750kgs | 450kg |
| Shelf size | 630*10200mm | 630*5850mm | 630*2950mm | 630*2700mm |
| Shelves | 17+1 | 17+1 | 17+1 | 11+1 |
| Material tray size | 610*710mm | 610*710mm | 610*710mm | 610*650mm |
| Material trays | 476pcs | 272pcs | 136pcs | 88pcs |
| Shelf space | 90mm | 90mm | 90mm | 90mm |
| Shelf temp. | RT to +120C | RT to +120C | RT to +120C | RT to+120C |
| Ice condenser temp. | -45C | -45C | -45C | -45C |
| Power install | 350kw | 235kw | 105kw | 80kw |
| Drying House | 18000*3100*4000mm | 11000*3100*4000mm | 6900*3100*4000mm | 6000*2700*3500mm |