Ingredients - REXFLAVONE
Colostrum Basic Protein: 1~30kDa of Fractions purificated from colostrum that can effect on promotion of growth)
Colostrum Basic Protein (CBP) is a complex fluid rich in nutrients and is also characterized by its high level of bioactive components, e.g. immunoglobulin (Igs), especially IgG1, growth factors, insulin-like growth factor-1(IGF-1), transforming growth factor beta-2 (TGF-β2) and growth hormone (GH) as well as lactoferrin, lysozyme and lactoperoxidase. Colostral antibodies provide passive immunity to the new-born calf and growth factor control some fundamental life processes such as cell division, cell differentiation or apoptosis, and stimulate the growth and development of the gastrointestinal tract of new-born animals.
Functional effects of Colostrum basic protein (Animal test result)
1. Bone lengths grow.

CBP 0.05%, 0.5% and 5% administrate were increasing bone length (37.52mm, 37.94mm, 38.11mm bone length)
2. Increasing of Serum IGF-1 and Growth hormone
Serum IGF-1 and Growth hormone was increasing dose dependent CBP.
Serum IGF-1 OF 5% (1337ng/ml) increased compared with the control (1100ng/ml)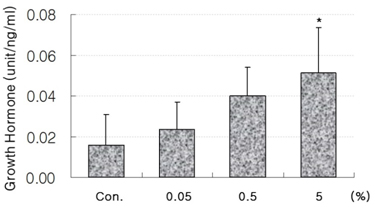 Growth hormone of 5% (0.05 unit/ng/ml) increased compared with the control (0.015unit/ng/ml)