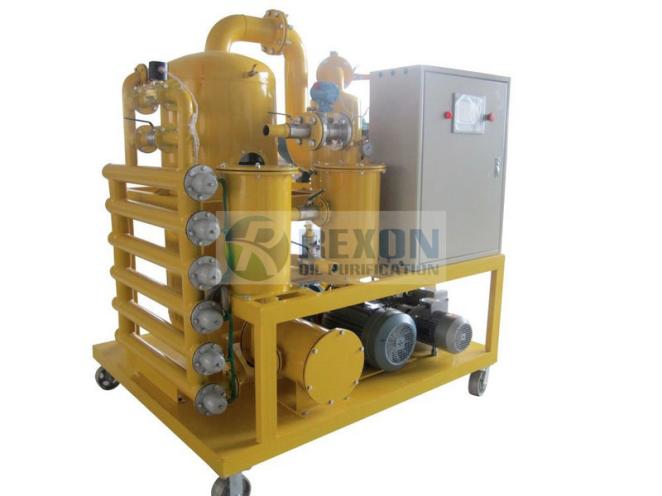 Insulating Oil Regeneration Equipment, Transformer Oil Recycling Plant
Application:


ZYB is special for purifying and regenerating the old insulating oil. This machine is not only purifying the oil, also it can regenerate the seriously deteriorated insulating oil. The treated oil can be used again in transformer, and other insulation system. Meanwhile, this machine can be as a dryer and oiling machine for drying the electrical apparatus, and injecting the insulating oil into the transformer under the vacuum situation. So it is very suitable for electrical apparatus manufacture factory, power station, power supply department, transformer in railroad station and other departments.



Feature:


1.Besides the common vacuum oil purifier's function of dewatering, degassing and eliminating impurities, this machine can regenerate the seriously deteriorated oil by removing the polarity materials, such as the deep oxides, free car bon from the oil effectively. It can make the seriously deteriorated oil reach to the normal index,like anti-oxides, acid- alkali, water-solubility




2.The performance and lifetime of insulating oil will be improved and extended awfully after purification and regeneration.




3. This machine can be as a dryer and oiling machine for drying the electrical apparatus, and injecting the insulation oil into the transformer under the vacuum situation. All functions in the machine can run at the same time. Also they can be used separately.

4. Operation is security and reliable.



Advantage:


The machine is mainly applied to transformer, which power is under 330KV. It can remove the water, gas and impurities from oil hi-efficiently. It also can remove the polarity material from the used oil and reduce the acid value, so improving the voltage value and quality of oil, making sure the security of electrical apparatus.
Technical Data
Parameters

Unit

ZYB-20

ZYB-30

ZYB-50

ZYB-100

ZYB-150

ZYB-200

Flow rate

L/min

20

30

50

100

150

200

Vacuum degree

MPa

–0.08ï½Âž–0.095

PH

≥5.5

acid

0.03mgkoH/g

flash point

145℃

Working pressure

MPa

≤0.3

≤0.5

Temperature degree

℃

≤90

Working noise

dB(A)

≤68

≤70

≤72

≤75

≤80

≤80

Electric heating power

kW

15

24

25

30

39

45

Total electric power

kW

16

26

28

35

44

50

Inlet (outlet) caliber

mm

Ø25

Ø25

Ø32

Ø42

Ø50

Ø50

Size

mm

1500×900×1550

1600×900×1650

1600×900×1700

1600×950×1700

1600×950×1800

1700×1000×1950

Weight

kg

300

410

650

800

850

900
Ms. Yolanda Lei . Sales Manager
Chongqing Rexon Oil Purification Co., Ltd
Tel: +86 023 6817 7456 Fax: +86 023 6817 7456
Mobile No. & Whatsapp: +86 18725628355 Skype: yolanda86123
►We are the leading manufacture near 20 years experience and supply best quality and highest cost performance oil purification machines. Our oil purifier equipment are built by high quality raw materials with newest advanced technology by many skilled technicians and professional workers. We are honest to every customer and responsible for every machine we sold, we offer great after sales service, anytime when customer need us, no matter before or after purchase, we are available online or calling, to make a fast and instant response to customer.
►we practiced in this industry during all these years, and have rich on-site experiences too. Any on-site cases, please contact us for a solution.
►For detailed product specifications, please leave us your email or mobile no. To send you the catalog. Thank you.